You have /5 articles left.
Sign up for a free account or log in.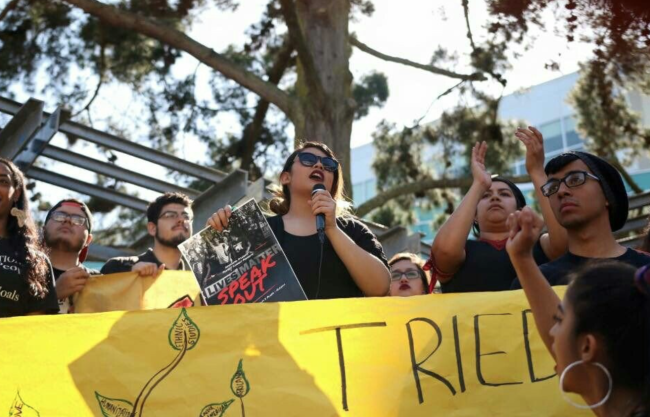 Student protests at San Francisco State University in 1968 led to the creation of the College of Ethnic Studies — the country's first and only such freestanding college and a pioneer in the field that has influenced departments nationwide. Now student protesters and faculty members are fighting to keep the college afloat in light of what they describe as cumulative, effective budget cuts that have had an outsize impact on their small unit.
"It was a powerful day and testimony to the national and international importance of this college," Andrew Jolivette, chair of the college's Department of American Indian Studies, said of a massive on-campus rally and meeting last week in support of Ethnic Studies. "This college is saving lives, as so many of our students are the first in their families to go to college. … But if we're this quote, unquote jewel or symbol, why has there been nothing done to advance ethnic studies before this?"
The protest was prompted by recent word from the university that it can't keep funding the college's consistent deficit of about $200,000 annually, given tight budgets across California public institutions. But the college says it's a lot more complicated than that and that the issue is one of chronic underfunding, not overspending.
"On day one [of the fiscal year] I receive less money than is necessary to pay the salaries of the people who work here, before I've even turned on the copy machine or purchased materials for classes or offered any faculty members professional development," said Kenneth Monteiro, dean of Ethnic Studies. "So when one says that you've spent more money than there was before it got to you, we don't enjoy that characterization."
Monteiro and other faculty members say the college's basic operating budget hovers above $5 million, but since the recession funding it receives from the university doesn't reflect that. Last year, for example, Ethnic Studies received an initial budget allocation from Academic Affairs of $3.6 million, with additional allocation of $1.3 million, and ran a deficit of about $244,000, according to information from the university. But Monteiro said that those allocations added up to $275,000 less than was required to pay mandatory salaries. The college is budgeted for 42 full-time-equivalent faculty, according to information from the university. Of 30,000 students at the university, 716 were enrolled in at least one College of Ethnic Studies course in fall 2015, according to information from the university. The college's numbers are different, at 6,000 students enrolled, with 1,300-1,500 full-time-equivalent students. Monteiro said enrollment's stayed flat for the last half-dozen years because the college can't offer more courses with its resources.
To run the college based on allocations alone going forward, as is being requested, would mean cutting all funding to the college's César E. Chávez Institute for research, community-based work, work-study for students, core graduate classes, classes taught by faculty members on sabbatical and more, Monteiro said. It would also mean suspending new hires for several years, even those to replace faculty members who have retired or gone elsewhere.
Monteiro described such cuts as straitjacketing the college, which he said is growing in terms of majors and minors and plays an important role in general education for many non-majors. There were 232 ethnic studies majors in fall 2014, according to the most recent information available from the university. Monteiro said there's evidence that students -- both white and of color -- who take ethnic studies are more likely to graduate than those who don't.
Dorothy Randall Tsuruta, chair of the Department of Africana Studies, said she felt backed into a corner by the situation, and was already concerned about covering classes next year in light of upcoming faculty departures. Pressure to run a department already on a bare-bones budget more efficiently doesn't bode well for academic offerings, she said.
"When you say you can't afford to offer those classes, then the eventual effect will be that you don't have a viable major," Tsuruta said.
Jolivette estimated the college needed $500,000 to $600,000 more funding annually to remain viable and serve the needs of its students.
Les Wong, president of San Francisco State, said in an interview that the university is dedicated to the College of Ethnic Studies, and that it may well be underfunded as a result of recession-era cuts. So he's asked the college to work with him, saying that he will foot the $200,000 deficit this year in exchange for longer-term talks about the future. Previously, Academic Affairs, not the president, covered the additional expenditure.
"We've not asked them to repay that, all we've asked them to do is live within their current budget," Wong said. "The whole university is stressed."
Monteiro agreed that the entire campus is strapped for cash, saying that the College of Ethnic Studies, with its four relatively small departments and one additional program, is probably the "canary in the coal mine." That's why it's important to have real conversations about its future and not continue to slap $200,000 "Band-Aids" on it here and there, he said. And those conversations probably need to include the taxpayers and policy makers who see the value in increasing funding for public education, he added.
"We live in a state with an almost obscene amount of wealth, but everyone needs to pay their fair share of taxes to pay the bills of public institutions," Monteiro said.
San Francisco State isn't alone in its budget woes. Even the University of California at Berkeley, the state's top public institution, recently announced a major academic restructuring to address systemic financial concerns. Administrators there said they had to act since public funding was unlikely to increase significantly in the foreseeable future. Ethnic studies on other campuses have been targeted for cuts (including conversion to programs from departments) since the recession, such as those at California State University at Long Beach and San Jose State University. Concerns about the future of ethnic studies in 2014 prompted Timothy White, chancellor of the California State system, to establish a temporary systemwide moratorium on significant changes to ethnic studies programs as a task force looked into the issue. The Task Force for the Advancement of Ethnic Studies is now finalizing its report, according to information for the chancellor's office. The moratorium remains in effect. Also within the last several years, San Francisco and Oakland public high schools have committed to providing ethnic studies courses for all interested students.
Student protesters gave Wong a set of demands to advance ethnic studies last week, including that he restore pre-2007 funding to the college and the César E. Chávez Institute and that all students be required to complete at least one lower- and one upper-division course in ethnic studies prior to graduation. They asked for more funding for the college's Student Resource and Empowerment Center, a full-time grant writer, and the creation of a Center for the Advancement of Black Life on Campus. Students also want an audit of the Academic Affairs budget and a public performance review of the provost, Sue Rosser, to understand why Academic Affairs can no longer cover the college's deficit.
Wong responded this week by reaffirming his personal commitment to the College of Ethnic Studies and reiterating "that there will be no reductions of funding for courses or lecturers as we evaluate the budgetary needs of the college. San Francisco State's legacy and support of the first (and only) independent College of Ethnic Studies is a point of pride for all of us."
He said he's increasing the allotment to the college by $200,000 this year and is working to review the students' other requests, in accordance with university policies and procedures. In order to increase budget transparency, he said, each college also will be asked to form an advisory committee made up of students, faculty and staff.
"San Francisco State is still recovering from systemwide budget cuts and consistent underfunding of the California State University by the state," he wrote in his letter to protesters. "However, our five values of equity, community, resilience, courage and life of the mind will see us through the decisions that will enable the College of Ethnic Studies to continue to thrive and serve our students for decades to come."