You have /5 articles left.
Sign up for a free account or log in.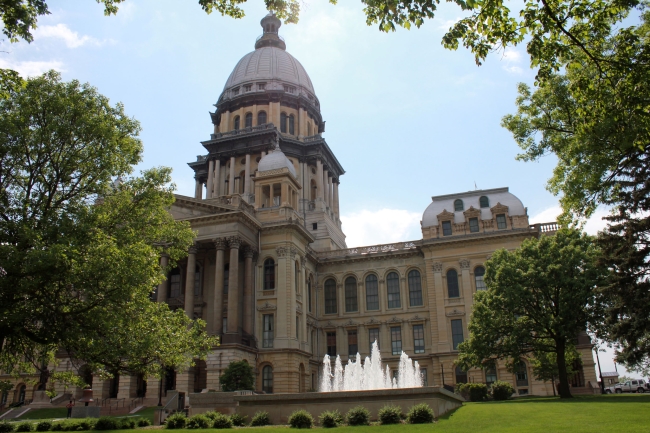 When Illinois failed to pass a budget back in July, Jack Thomas was sure the stalemate would end by August.
But August came and went, and with no end in sight, the clock kept ticking. Illinois's Republican governor and Democratic Legislature still haven't come to an agreement, and Thomas, president of Western Illinois University, hasn't seen state appropriations in eight months.
"We've put a lot on hold," Thomas said. "We're now having furloughs. We have a freeze on hiring. We're restricting travel."
When the stalemate began over the summer, Illinois colleges kept their doors open, hoping that a budget would pass soon. So far, most colleges are covering the costs of 125,000 students' Monetary Award Program grants, a state program for low-income students attending public and private colleges in Illinois.
Meanwhile, the same situation is playing out in Pennsylvania, but in reverse: this time, it's a Democratic governor and Republican Legislature that can't agree, and state colleges are out millions.
And while some Pennsylvania colleges have received low-level funding through a stopgap budget, the future is grim. "Everything is on the table," Nicholas Jones, Pennsylvania State University's executive vice president and provost, said last week. "Nothing is off the table." If a budget isn't passed soon, the university said, 1,100 workers could face layoffs, and agricultural extension offices could close.
As the months go by without state politicians agreeing to compromise on a budget, time is running out. Both states are facing the longest stalemates in their history, and colleges are suffering losses that could harm them for years down the line.
"We're very hopeful that the governor and the Legislature will come to some agreement very soon," Thomas said. "We're all in dire need."
State support for higher education is a perennial concern, but there's something different about budget stalemates. While public colleges always suffer from budget cuts, this time two states have been giving public higher education next to nothing for months. While some money is assumed to come through eventually, the timing is unpredictable and the shortages are severe -- especially for the many public colleges that don't have much in the way of endowments or other sources of revenue.
It's a gamble not knowing when -- or if -- the funding is going to come through. As time passes, some colleges wonder whether they will see any state funding this year.
"It creates enormous inefficiencies in the system when you can't predict anything from year to year," said James Applegate, executive director of the Illinois Board of Higher Education.
As a result, colleges have also started laying off staff members to save money. Last month, Eastern Illinois University laid off nearly 200. Western Illinois will be cutting 100 personnel, John A. Logan College will cut 55 faculty and staff, and Parkland will lay off nine.
Facing an uncertain future, other colleges have started announcing cutbacks that could happen -- if the gridlock continues -- while trying to delay the inevitable. A few weeks ago, Chicago State University, which gets about a third of its budget from the state, sent potential-layoff notices to all 900 of its employees. The university also canceled spring break and moved up the end of the semester in order to save money.
Come winter, some colleges spent hundreds of thousands of dollars to close up shuttered construction projects -- that's money they would have saved had the projects proceeded on schedule. "The unpredictability cripples the ability to engage in medium-term planning, and that's crucial," Applegate said. "Any businessperson would tell you that."
Illinois is still funding some critical services, including K-12 schools. But when, education leaders argue, do colleges become a critical service? If construction projects aren't a priority, what about scholarship funding?
So far, all attempts to fund the state's colleges have failed. In late February Republican Governor Bruce Rauner vetoed a bill that would have provided $721 million for community colleges and MAP grants. Last week, Senate Democrats voted to override the veto, but the override died in the House.
The days are gone, Applegate said, "when higher education could just assume its status as a public good."
Leaders like Applegate worry that the obligation states feel to higher education is weakening. After eight months, if colleges are still deemed a nonessential entitlement, what does that say about the future of public higher education?
Paul Lingenfelter, past president of the State Higher Education Executive Officers association, said higher education is different from other critical services because so much of its revenue comes from tuition and fees.
And in a budget crisis, when state services are triaged, higher education funding is easier for politicians to cut. "They can't do that for public welfare. They can't do it for the state police," he said. "Higher education is kind of a pressure-release valve."
John Thelin, a professor of higher education history at the University of Kentucky, said states have started taking colleges for granted over the last few decades. In many regions, colleges are some of the biggest landowners and the biggest employers, and it's hard for people to believe that they're struggling.
"They've got endowments, they've got fund-raising, they've got donors," Thelin said. "They're a convenient target."
But the reality is that only the wealthier colleges have the resources to scrape by, and long-term budget stalemates hurt colleges with the poorest students the most. In Illinois, colleges that accept more low-income students are more dependent on MAP grants, and they're often hit the hardest.
In recent weeks, Moody's has downgraded the credit of several Illinois colleges, and some institutions are also worried about losing their accreditation. Soon, an accreditor will make a site visit to Chicago State University, which gets $36 million from the state.
At Western Illinois, $51 million came from the state last year. This year, covering students' MAP grants has cost $11 million. And going forward? When asked about next fall, Thomas said he's hopeful that, by then, the state will have a budget.
"All of us are just really surprised at how long this has lasted," he said. "We just feel that we're caught in the middle of the political situation."
To fight back, colleges are trying to stay above the fray, calling on their governments to compromise. They argue that higher education is a bipartisan issue, caught in the partisan crossfire. "To be honest with you," Applegate said, "at this point, I don't know how we withdraw from the middle of that fight."
Education leaders are pitching colleges as a public good, vital for students to get the training they need to succeed in the job market, as well as a boon for the economy. Applegate is one of those leaders; he's confident in that narrative, and he's committed to convincing people as best he can that it's still true.
"We've got data, we've got stories," he said. "I know how you're supposed to do this."
But Thelin said that arguments that worked 30 or 40 years ago are falling flat. "Everyone has heard universities' pitch," he said. "I don't think it's resonating anymore."