You have /5 articles left.
Sign up for a free account or log in.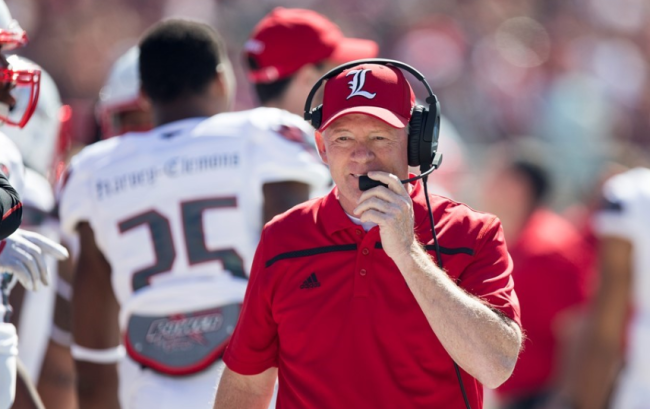 Big-time college football and men's basketball coaches whose teams meet a minimum threshold for academic success, as measured by the National Collegiate Athletic Association's Academic Progress Rate, are far less likely to be fired at the end of a season, according to a new working paper published by the National Bureau of Economic Research.
But there is little evidence that an increase in APR beyond that initial threshold can help advance a coach's career.
The NCAA and its members are facing increasing pressure to prioritize the academic success of athletes competing in revenue sports, and the association has placed greater emphasis in recent years on holding colleges accountable with its Academic Progress Rate, a controversial metric that the NCAA uses to track how many players on a team remain on track to graduate. The NBER paper -- written by Christopher Avery of Harvard University's Kennedy School of Government, Gavin Cassar of INSEAD and Brian Cadman of the University of Utah -- suggests that winning remains colleges' primary metric for measuring a coach's success.
An impressive 50-point increase in a team's APR, the researchers found, had the same effect on a football coach's job retention as just one additional win during a season.
"The lack of a significant relation between APR and promotions or salary changes combined with the significant relation between APR and termination suggests that APR only influences bad outcomes for coaches of each sporting discipline," the paper stated. "That is, there may be a threshold APR that is required to retain employment, while there is no incremental benefit for incremental APR above that threshold."
The researchers compiled 10 years of Division I data from the NCAA and the job history of all Division I basketball and football coaches employed during that time. Coaches of teams with lower academic scores were more likely to be fired than a coach of a team with a higher academic score. There appeared, however, to be no benefit for a coach if his team was able to exceed this initial threshold.
Salary increases, external promotions and contract renegotiation were all positively related to a coach's winning percentage. There was no evidence of a similar relationship between APR and those outcomes.
"If you get fired for cheating, you can get rehired, but if you get fired for losing it's like you have leprosy," the researchers quote Royce Waltman, former men's basketball coach at Indiana State University, as saying after he was fired in 2007. "Cheating and not graduating players will not get you in trouble, but that damn losing will."
It's not surprising that a coach's players would have to reach some kind of threshold, as the NCAA requires teams to have an average APR of 930 in order for a team to remain eligible. The NCAA says an APR of 930 means about half a team is on track to graduate. About three-quarters of coaches are offered bonuses for the academic performance of players, the new paper noted, and many of these incentives are based on similarly low thresholds.
When Jim Harbaugh was hired to coach football at the University of Michigan last year, the university offered the head football coach up to $150,000 a year for achieving an APR of 960 or higher. The average APR for Football Bowl Subdivision programs at the time was 956. When he was a coach at Stanford University -- and when he famously criticized other teams for having lower academic standards -- Harbaugh's teams mostly hovered in the 970s range, but so did Michigan's team under its previous coach Brady Hoke.
In 2014, the University of Louisville's head football coach, Bobby Petrino, received $500,000 as a bonus for surpassing an APR threshold. The university set the desired figure at 935, just five points over what the NCAA requires to remain eligible.
In recent years, some institutions have attempted to tie academic progress more directly into the bonuses given for athletic performance. In 2014, the University System of Maryland became the first system of colleges to adopt a policy that denies athletic directors and coaches athletic incentive bonuses unless players meet the minimum academic requirements already set by the NCAA
Last year, University of California Board of Regents shelved a similar policy that was proposed by the university's administrators. The policy would have required all teams to meet a minimum Academic Progress Rate in order for coaches and athletics directors to receive athletic bonuses. The Board of Regents tabled the idea, saying the threshold was too low.
In 2013, Arne Duncan, then U.S. secretary of education, and Tom McMillen, a former congressman and basketball player, co-wrote an opinion piece for USA Today urging colleges to "financially punish coaches" who are not graduating half of their team's athletes. "Poor academic performance means the team or the individual player -- not the coach -- gets punished," they wrote. "But no coach should receive financial bonuses when much of his team is flunking out or failing to get a degree."
David Ridpath, a professor of sports administration at Ohio University and an advocate for reforming the academic side of college sports, said he "is not a fan" of tying academics into coaching bonuses or using the APR to assess how much coaches care about the academic success of their players.
"The APR and academic bonuses are just window dressing," Ridpath said. "A lot of times, it's going to be advisers and tutors who are helping these kids. They should be the ones getting bonuses. A higher APR doesn't really mean that a coach is more interested in academics."