Princeton Keeps Wilson Name
University rejects student demands to drop name from public affairs school, but pledges to provide context on Wilson's legacy of racism. U of Mississippi, meanwhile, debates the right context for a statue of a Confederate soldier.
Princeton University announced Monday morning that it will keep the Woodrow Wilson name on the university's public affairs school and one of its residential colleges. At the same time, the university's board said that it would follow the recommendation of a committee it created that the university be "honest and forthcoming about its history" and transparent "in recognizing Wilson's failings and shortcomings as well as the visions and achievements that led to the naming of the school and the college in the first place."
The announcement came along with pledges by the university to take a number of steps to attract more minority students and to promote an inclusive campus environment.
Minority students at many campuses in the fall and continuing into this semester have protested what they see as a lack of true commitment to diversity. At Princeton, a major demand was to change the names of the Woodrow Wilson School of Public and International Affairs and Wilson College, one of Princeton's residential colleges. Princeton has long honored Wilson, who served as the university's president before he became president of the United States. But students pointed out his racist actions -- while the nation's president he blocked progress toward desegregation in the federal government (minimal compared to what followed, but significant at the time) that had taken place.
In an email to those on campus and to alumni, Christopher Eisgruber, Princeton's president, took care to talk about his mixed feelings about Wilson, and to praise students for broadening the discussion about the historical figure.
"Last fall's student protests and the thoughtful discussions that followed have changed how this campus will remember Woodrow Wilson and, I suspect, how our country will remember him as well," Eisgruber wrote. "Over the past few months, many Princetonians remarked to me that they had little knowledge of Wilson's racism. I count myself among those who have learned from this process. I now have a deeper appreciation for Wilson's failings and for what those failings have meant to this country and our campus. While I continue to admire Wilson's many genuine accomplishments, I recognize the need to describe him in a way that is more balanced, and more faithful to history, than this university and I have previously done."
Many who have criticized (and in some cases mocked) the push to remove the Wilson name have argued that he is being judged by the standards of today. But students and others have noted that Wilson moved federal policy on race backward while he was president, and took away rights black federal employees had won.
The Black Justice League at Princeton, which pushed for ending the use of the Wilson name, issued a statement Monday criticizing Princeton's decision not to do so. The statement called Princeton's actions "largely meaningless platitudes."
"Princeton continues to demonstrate its seemingly intractable investment in white supremacy and its vestiges," the statement added. "Princeton's decision today demonstrates unambiguously its commitment to symbols and legacies of antiblackness in the name of 'history' and 'tradition' at the expense of the needs of and in direct contravention with the daily experiences of black students at Princeton."
Princeton is not alone in debating the legacies of honored figures whose racism has been ignored in the past. Many minority students and others have said that when universities honor such figures, they promote a poor understanding of history and glorify people who should not be glorified.
Among the campuses that have debated such issues are Clemson University (which declined to rename a building that honors a white supremacist politician who boasted of involvement in the murders of black people), the University of Texas at Austin (which changed the name of a dormitory that honored a man who was a leader of the Ku Klux Klan) and Yale University (which is studying whether to change the name of a residential college that honors John C. Calhoun, known for his defense of slavery).
Who Decides on the Context?
Princeton's approach is based on honoring Wilson in ways that also include the context of his racist attitudes and policies. Just as Princeton has embraced the context strategy for dealing with Wilson's legacy, the University of Mississippi has been seeing how not everyone agrees on what context matters when discussing the troubled history of race in the United States.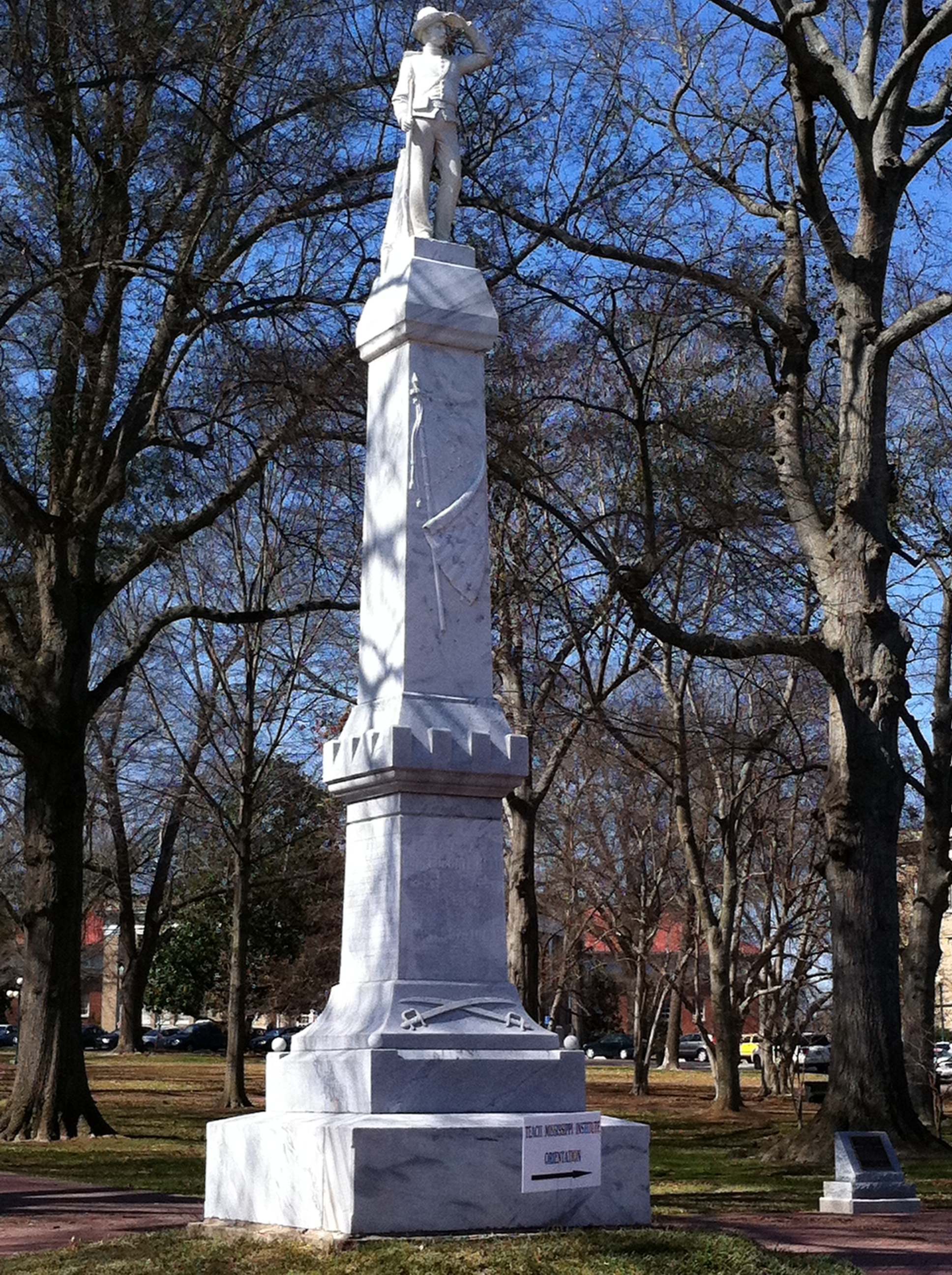 The University of Mississippi has struggled for years to deal with traditions beloved by some alumni but seen as racist by black students. The latest debate concerns the university trying to "contextualize" a statue featuring a Confederate soldier (at right).
The university last month placed a plaque in front of the statue, saying the following:
As Confederate veterans were passing from the scene in increasing numbers, memorial associations built monuments in their memory all across the South. This statue was dedicated by citizens of Oxford and Lafayette County in 1906. On the evening of September 30, 1962, the statue was a rallying point where a rebellious mob gathered to prevent the admission of the university's first African-American student. It was also at this statue that a local minister implored the mob to disperse and allow James Meredith to exercise his rights as an American citizen. On the morning after that long night, Meredith was admitted to the university and graduated in August 1963. This historic structure is a reminder of the university's past and of its current and ongoing commitment to open its hallowed halls to all who seek truth and knowledge and wisdom.
But now, only weeks later, the university is reconsidering that language and how it should "contextualize" other parts of its history. This follows criticism from many historians and black leaders that the truly important context was left out.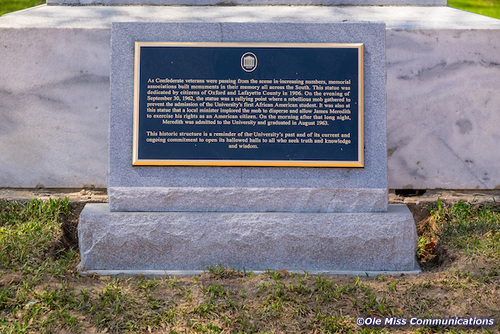 The history department at the university is among the groups that have called for the plaque (at right) to be changed, citing its failure to mention slavery or the way lost cause ideology combined reverence for the Confederacy with white supremacist ideology and laws. The professors in the department have submitted their own suggestion for how to contextualize the monument, adapted from a template created by the Atlanta History Center:
From the 1870s through the 1920s, memorial associations erected more than 1,000 Confederate monuments throughout the South. These monuments reaffirmed white Southerners' commitment to a "Lost Cause" ideology that they created to justify Confederate defeat as a moral victory and secession as a defense of constitutional liberties. The Lost Cause insisted that slavery was not a cruel institution and -- most importantly -- that slavery was not a cause of the Civil War. It also conveyed a belief, widely accepted throughout the United States, in white racial supremacy. Campaigns for legally mandated "Jim Crow" segregation and for the disfranchisement of African-Americans accompanied celebrations of the Lost Cause; these campaigns often sparked racial violence, including lynching.

Historians today recognize slavery as the central cause of the Civil War and freedom as its most important result. Although deadly and destructive, the Civil War freed four million enslaved Southerners and led to the passage of constitutional amendments that promised national citizenship and equal protection of laws, regardless of race. This monument, created in 1906 to recognize the sacrifice of Mississippians who fought to establish the Confederacy as a slaveholding republic, must now remind us that Confederate defeat brought freedom, however imperfect, to millions of people.
You may also be interested in...
Today's News from Inside Higher Ed
Inside Higher Ed's Quick Takes