You have /5 articles left.
Sign up for a free account or log in.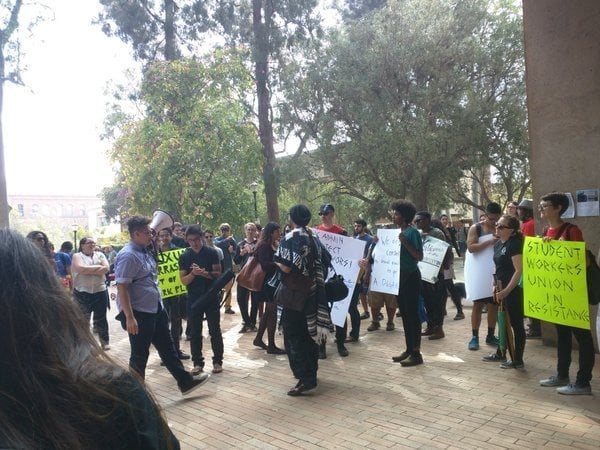 Should a professor who can't be trusted to be alone with students be trusted to teach at all? Students at the University of California at Los Angeles say no, and they're protesting the university's decision to allow a professor accused of serial sexual harassment and assault to return to campus, despite a university agreement that stipulates he must leave his door open when meeting with students, among other requirements.
He "harassed, assaulted and really psychologically terrorized these women … on the clear understanding that he had the impunity to do so," said Matthew Kelly, a recent Ph.D. from UCLA's history department, in which Gabriel Piterberg, the accused professor, teaches. "If the university's final response is to allow him to return to the department after paying [a fine] -- what is it, a sexual assault fee? -- and agreeing to leave his door open, then he was right. He has effective impunity."
Kelly's comments echo those students shared at a rally last month in opposition to Piterberg's planned return to campus this summer. He was put on leave after being accused of sexually harassing and assaulting two female graduate students. A university investigation into those claims resulted in punishments for Piterberg -- including a $3,000 fee and the open-door office rule -- that students say are too light, and effectively condone his alleged behavior. Faculty members and other alumni also have spoken out against his return.
The complaints against Piterberg are detailed in a lawsuit filed last year by two graduate students who have been public about their involvement in the case, Nefertiti Takla and Kristen Glasgow. According to the suit, which names the regents of the University of California as co-defendants, Piterberg consistently attempted to bring up sexual topics with and make advances toward Takla, starting in 2011. For example, Piterberg told Takla, his former research assistant, that he'd been "distant" lately because he'd been feeling "frustrated," and, later, that if she hadn't been his student, he would have "risked everything" and really kissed her, the suit says.
On another occasion in 2013, according to the complaint, during a meeting at Piterberg's home (where Takla says she felt safe going only after she told Piterberg that she wanted to keep the relationship strictly professional), he allegedly told Takla intimate details about his relationships with other women, including his wife. When she got up to leave, Piterberg allegedly tried to caress and grope her and stuck his tongue into her mouth.
Later that year, Piterberg again groped Takla, grabbing her posterior and trying to kiss her, despite her repeated pleas that she wanted to keep things professional, according to the complaint. Worried that breaking with Piterberg, one of just two Middle East specialists in the department, would ruin her career, Takla called Piterberg the next day and asked him for a letter of recommendation for a Fulbright fellowship, the suit says.
According to the complaint, he responded, "Why can't we just be lovers?" Piterberg allegedly soon told Takla that he was having trouble controlling himself around her, and that he wouldn't blame her for switching advisers, but that it would be very bad for her academically.
Takla took that as a threat, which seemed to bear out a few months later when she discovered that Piterberg's letter of recommendation was missing necessary information and was "lukewarm," according to the complaint. Piterberg continued to discuss sex with her, despite her insistence that the relationship be professional, saying at one meeting that he and a graduate student had had sex on a desk and that the student demanded multiple orgasms. At another meeting, he allegedly said he wished he could use his research funds to hire a mistress instead of an assistant.
In mid-2013, Takla finally told Piterberg that she could no longer have him as an adviser. He responded by saying that philosophers Hannah Arendt and Martin Heidegger had had a career-long love affair, and that "if done right, professor and student relationships are supposed to [be] intimate," according to the complaint. He also allegedly said he masturbated while thinking about her, and said that "if anything happened between us, it would be while you are writing your dissertation."
Takla took that to mean Piterberg might insist on sex in exchange for signing off on her dissertation. Based on the advice of a university ombudsman, she reported the harassment to Pamela Thomason, at the time UCLA's coordinator for Title IX of the Education Amendments of 1972, which bans sex-based discrimination in education. Takla also tried to secure a new adviser but was allegedly encouraged within the department to stick with Piterberg, based on his expertise, and then later encouraged not to talk about the harassment.
Thomason never advised Takla of her rights under Title IX, according to the complaint. She eventually informed her that she'd interviewed Piterberg, who admitted to the basic facts but denied manipulating or trying to coerce Takla, the suit says. Thomason also allegedly said that another graduate student and a faculty member had come forward with complaints against Piterberg, but that she was only concerned about those students whom he advised.
Responding to news that Thomason wanted to deal with the case via an early resolution, distinct from a formal hearing, Takla said she wanted a hearing before the Academic Senate instead. Thomason allegedly discouraged Takla from that tack because the senate would side with Piterberg, and said early resolution would ensure that she would learn of Piterberg's punishment anyway.
Despite what eventually amounted to additional reports of harassment concerning Piterberg, UCLA treated Takla's complaint like a "one-off," according to the suit. Moreover, early resolutions are not supposed to apply to cases in which the facts are in dispute or those involving sexual assault or patterns of sexual harassment.
The Title IX investigation took nine months and resulted in no findings of any kind, in contravention of Title IX requirements, according to the suit. And despite Thomason's alleged assurance that Takla would know how Piterberg had been punished, she was later denied that information.
Glasgow's claims are similar to Takla's. She met Piterberg socially through another faculty member in the department in 2008, according to the complaint. During a conversation over coffee, Glasgow revealed that she had recently been divorced, prompting a flood of questions from Piterberg, such as how a man could lie in bed next to her and not "molest" her.
After walking to their cars, parked in the same lot, Piterberg allegedly forcefully tried to kiss her. Glasgow raised her hands to defend herself and avoided Piterberg for a year, until they came to work in the same building. He started to join her for smoking breaks, steering the conservation toward sexual topics such as his favorite sexual position, and asking her out, according to the suit. He once called her in the evening, saying he was in the neighborhood and "was going to stop by so we could make love." Glasgow denied his advances but worried about angering Piterberg because he sat on the department's funding awards committee.
In 2013, Glasgow learned that Takla had filed a complaint against Piterberg and quickly filed her own. Despite asking Thomason to keep her informed of developments in the case, Glasgow said she heard nothing for four weeks. When she followed up with Thomason, according to the suit, the Title IX coordinator said she didn't remember meeting with her. She also allegedly said that taking Glasgow's report before the Academic Senate would result in all of Piterberg's peers siding with him.
Glasgow was eventually informed that Thomason had left UCLA. She is now the Title IX compliance officer for the California State University System.
The lawsuit is ongoing. UCLA has denied some of the allegations concerning Thomason, saying she never attempted to obstruct reporting procedures. Under pressure from graduate students, the university only recently released the terms of Piterberg's 2014 settlement based on the Title IX investigation -- the findings of which, if any, are still unclear.
Too Little, Too Late?
"In order to avoid the cost, uncertainty and inconvenience of an administrative proceeding related to this matter, and to settle fully and finally the differences that may exist between them, the parties have reached the mutual decision to resolve the dispute on the terms and conditions outlined," the document reads. "Piterberg does not concede or admit the truth or accuracy of any allegation made by [the] complaint … or that Piterberg has engaged in improper or unlawful conduct."
Under the agreement, Piterberg was suspended without pay for one quarter, charged $3,000 by the university and made to write a letter of recommendation for Takla. He also acknowledged university policies against sexual harassment and consensual relationships between faculty members and students wherein a supervisory relationship exists. He was assigned Title IX training and prohibited from engaging in relationships with students. He may not contact Takla.
For the three years following the agreement, Piterberg also is prohibited from meeting with students outside of office hours or off campus, and must meet with students with the door open "at all times." Any future claims against him shall be promptly presented to the Committee on Privilege and Tenure for an immediate hearing. Possible sanctions include suspension without pay or dismissal.
Piterberg, who is on sabbatical in Europe and did not respond to a request for comment, is scheduled to return to UCLA this summer, prompting the recent on-campus protest by undergraduate and graduate students.
One Ph.D. candidate in history, Cassia Roth, on the popular blog The Professor Is In also questioned the timing of Piterberg's suspension -- spring 2015, which coincided with his Fernand Braudel Senior Fellowship at the European University Institute.
"This means that Piterberg applied for the fellowship in September 2013 (after the initiation of the UCLA early resolution process)," Roth wrote. "Essentially, UCLA allowed Piterberg to delay the settlement for nine months, so he could take a fellowship that coincided with the quarter he took off in spring 2015 …. More important than the individual figures, however, is the issue of prestige. Reputation and prestige are everything in academia. By covering up the sexual harassment case and allowing Piterberg to get the Braudel fellowship, UCLA protected Piterberg's reputation. Piterberg's 'quarter off' may have cost him financially, but it actually boosted his real academic capital, his research status. And it also enhanced UCLA's own academic standing."
Although some faculty members were allegedly indifferent to Takla's and Glasgow's harassment, 38 history professors also signed a recent letter expressing "grave concerns" about Piterberg's return to campus. Among them is that his "public presence on campus will signal that an effective climate of tolerance for harassment persists at UCLA." Department alumni who are now faculty members at other institutions have expressed similar sentiments.
Jerry Kang, UCLA's vice chancellor for diversity, equity and inclusion, responded to such concerns in letters of his own last month. In his response to graduate students, he wrote, "Even if many believe that the discipline imposed wasn't harsh enough, it's important to have an accurate measure of what the consequence actually was. For example, Piterberg did not lose only $3,000 … but was suspended without pay for a quarter, which meant losing a third of his salary ($50,333). He was also barred from directing a center during his suspension, which meant losing a third of the payment associated with that position ($13,419 in summer monies and stipend). … For many, this may not be enough. And the talk of dollars, I know, risks commodification. My modest point is that the sanctions weren't trivial."
Regarding the alleged "opacity" of the investigation, Kang said that "those with concerns today must understand that this matter all took place before the new Title IX Office was created, before the Office of Equity, Diversity and Inclusion was created, and before new policies and procedures on sexual harassment and violence were adopted. Going forward, these new procedures greatly increase transparency by providing key information to the complainant about the investigation, its findings and their consequences."
While Piterberg's settlement already includes various constraints on how he may interact with students, Kang added, "Our goal continues to be crafting some arrangement that responds to the concerns expressed while making sure that bad behavior is not inadvertently rewarded (for instance, with less work or responsibility). What society does with those who have violated institutional norms when they return to the community presents hard questions about retribution, deterrence, rehabilitation and closure. The university is no exception."
Kang's response displeased graduate students, who continue to organize in opposition of the university's position. Scottie Buehler, a Ph.D. candidate in history, said via email that administrators' "focus on the future without any appreciation of the past, demonstrates a lack of understanding about the ways that Piterberg's actions have changed the way our department functions and interacts with each other, as well as a failure to recognize how their actions have contributed to a culture of silence around sexual violence on campus."
Ricardo Vazquez, university spokesperson, said in a statement that UCLA is "committed to maintaining an atmosphere where all students can live and learn free of discrimination, harassment, exploitation or intimidation. UCLA views sexual harassment and sexual violence not only as violations of university policy, but also of the dignity and safety of the individuals affected and, indeed, of our entire community. Deliberate action will be taken in response to all reports of sexual harassment and sexual violence."
The statement also referenced a University of California systemwide task force on sexual assault and harassment that is looking at reforms. Some of that effort was prompted by a similar case at the Berkeley campus in which a prominent astronomer, Geoff Marcy, was found to have repeatedly harassed graduate students over many years. Berkeley warned Marcy not to repeat the behavior or risk immediate dismissal, but many said the punishment was too light. Marcy eventually resigned, amid public outcry.
Regarding Takla and Glasgow's lawsuit, Vazquez said the university "vigorously disputes allegations made in the lawsuit and will respond in due course."
Michael Porcello, an attorney for the plaintiffs, said the university has substantively challenged few of his clients' claims thus far, and its actions continue to exhibit disregard for students' safety.
"The most egregious piece of this to us is that Piterberg has gotten off with more or less a slap on the wrist," he said. "This professor had a long campaign of sexual harassment against both clients, and there are rumors and reports of other women he sexually harassed in the past. Yet the settlement terms allow him to continue teaching under a number of terms that already are required by Title IX and university policy. We do not consider these terms, when you look at them closely, to be those that would protect other clients who could harassed in the future by this predator."