You have /5 articles left.
Sign up for a free account or log in.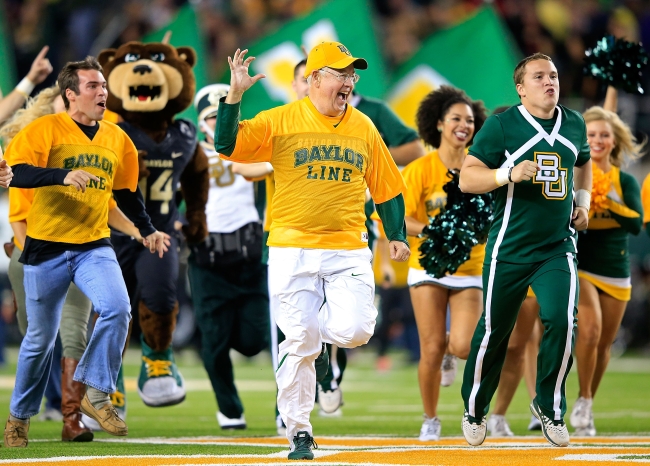 This developing story has been updated.
Sitting in his office last November, surrounded by football regalia and ornaments featuring Bible passages, Kenneth Starr, the president of Baylor University, defended his institution's handling of sexual assault and domestic violence.
"If you look at the way we approach the issue of interpersonal violence," Starr said, "I believe a fair-minded judge would say, 'You're doing everything that you can.'"
Baylor's Board of Regents seemingly would disagree. After months of allegations that the world's largest Baptist university has continuously mishandled -- and sought to suppress public discourse about -- sexual assaults committed by its football players, the board reportedly was moving this week to fire Starr, and his resignation is now expected.
According to sources close to the situation, the university's athletic director, Ian McCaw, and its head football coach, Art Briles, are "also on the chopping block," but their fate remains less clear. Starr has not been fired, though an announcement about his job status is expected sometime near the end of this month. Starr could have the option to remain on campus as part of the faculty. Starr currently has dual positions of president and chancellor, the latter job largely focused on external relations. One possibility is that he will remain on as chancellor but not president.
Earlier this month, Pepper Hamilton, a law firm the university hired to investigate how it has handled allegations of sexual assault, presented a lengthy oral report to the board summarizing its findings. The report places ultimate blame for the mishandling of several sexual assault cases squarely on Starr.
"The Baylor Board of Regents continues its work to review the findings of the Pepper Hamilton investigation, and we anticipate further communication will come after the board completes its deliberations," the university said Tuesday in a written statement. "We will not respond to rumors, speculation or reports based on unnamed sources, but when official news is available, the university will provide it."
The Pepper Hamilton report, according to the sources, found that Starr encouraged a culture of second chances, while providing little oversight to the athletic department and the football team, and failed "to provide consistent and meaningful engagement with Title IX," the federal antidiscrimination law that dictates how colleges should investigate and adjudicate cases of campus sexual assault.
Baylor hired its first full-time Title IX coordinator in November 2014, three years after the U.S. Department of Education told colleges to do so. 
Starr is a renowned judge and lawyer, having argued nearly 40 cases before the U.S. Supreme Court and served as independent counsel during the investigation that led to the impeachment of President Bill Clinton. He became president of Baylor in 2010. When Starr first took the job, he said last year, he visited Fred Cameron, a prominent lawyer and former member of the university's board, and asked him for advice.
"Win some football games," Cameron replied.
Starr took the advice to heart and made an immediate splash as president by threatening legal action against the Southeastern Conference and Texas A&M University when that university decided to leave the Big 12 Conference, a move that many at the university feared would break up the league and leave Baylor without a big-time conference home. Texas A&M ultimately bolted for the wealthier SEC, but Starr's threats are credited with helping give other waffling Big 12 teams enough pause that they decided to remain with the league.
The rise in stature of Baylor's football program under Starr is frequently described as "meteoric," though it also has concerned some on campus, who worry that a university so focused on football could lose sight of its Baptist mission.
In 2010, the head coach, Art Briles -- who had already begun laying the groundwork for the program's revival two years earlier -- led the team to the Texas Bowl, finishing off the Bears' first winning season in 15 years. A stream of successes followed, culminating in the construction of a new $266 million stadium to house the team.
The success and higher profile of the football program have, university officials assert, helped Baylor raise $400 million since 2012 to support a flurry of construction and other projects around campus, including a new building to house the business school and a $100 million scholarship initiative.
"As we would say in Christendom, it's like an early rapture," a member of Baylor board said in 2012. "We spent 40 years wandering the wilderness. I hope this is our exit."
Later that year, a Baylor linebacker was arrested and later convicted of sexual assault. At the player's trial, four other witnesses said he had raped them as well. The victim in that trial is now suing the university, alleging officials already knew of at least some of the other assaults committed by the player. 
In 2013, Samuel Ukwuachu -- then a freshman all-American at Boise State University -- was dismissed from that university's football team for "violating team rules" after a drunken dispute with his then girlfriend ended with the player putting his fist through a window. The woman later alleged that Ukwuachu hit and choked her. Just weeks after he was dismissed, Ukwuachu transferred to Baylor to play football there.
That October, Waco police received a call saying that Ukwuachu had sexually assaulted a fellow student. The victim, a soccer player at Baylor, testified that she screamed "no" as Ukwuachu raped her in his apartment after homecoming.
In June 2014, Ukwuachu -- who still had not played a game at Baylor -- was indicted by a grand jury on two counts of sexually assaulting the female student. Even then, the football team's defensive coordinator said he expected Ukwuachu to play that fall. Ukwuachu was found guilty of sexual assault last August. He was sentenced to six months in jail and 10 years on probation.
Sexual assault is a famously underprosecuted crime, yet not only did local law enforcement officials move forward with the case, they successfully charged and convicted Ukwuachu. Meanwhile, according to a Baylor official who testified during the trial, the university never held a campus hearing because there was not enough evidence to move forward. In August 2015, Texas Monthly published an article raising questions about whether Baylor officials knew of Ukwuachu's previous violent behavior.
Over the next several months, ESPN published a series of reports detailing a number of other sexual and physical assaults seemingly kept quiet by the university and committed mostly by football players. In one case a female student said she was twice physically assaulted by a Baylor football player. In another, a woman told police a football player threw her against a wall.
In a 2011 assault case involving two football players, according to ESPN, local police pulled the case "from a computer system so that only persons who had a reason to inquire about the report" would be able to find it. In all, at least five football players have been accused of assault since Starr became president.
Earlier this month, the Waco Tribune-Herald reported that a Baylor tennis player is also under investigation for sexual assault and that a Baylor fraternity president was indicted on four counts of sexual assault after an incident in February.
"Sexual assault education and prevention are vitally important to our university," Starr said in a statement in April. "Throughout Baylor's storied 171 years of operation, the hallmark of a Baylor education has been our unwavering Christian faith. Our faith binds us together and calls us to love one another as Christ Jesus loves us. By God's grace, our distinct Christian mission will continue to provide a guiding light for Baylor nation."