You have /5 articles left.
Sign up for a free account or log in.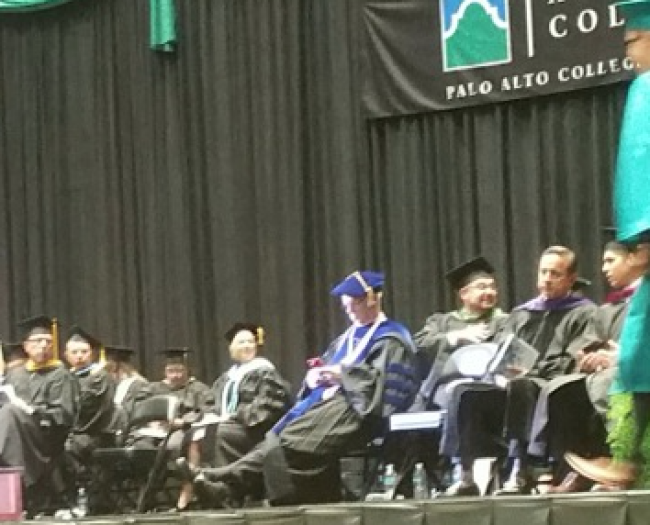 Alamo Colleges Chancellor Bruce Leslie got people talking — not in a good way — last week when he spent a reported 40 minutes scrolling on his smartphone onstage during graduation. And while Leslie's history leading the San Antonio-area college system makes him red meat for faculty criticism in particular, he's not the only person in academe guilty of faux pas on or off a phone — even if his is the most egregious in recent memory. 
First, a little bit of background on Leslie. If you're not familiar with Alamo but the name sounds familiar, it might be because of his controversial move to make the self-help book The 7 Habits of Highly Effective People a major part of the system curriculum, replacing a required humanities course. Perhaps ironically, Leslie told Inside Higher Ed in 2014 that he became interested in 7 Habits in part after realizing that some graduates hardly looked him in the eye or knew how to shake his hand as they were accepting their diplomas during graduation. 
Leslie further roiled faculty members with a later plan to do away with including the colleges' equivalent of majors on transcripts, among other initiatives.
"Since he arrived he has made incredibly poor decisions and has gotten away with most of them," said one Alamo faculty member who did not want to be identified by name, citing job security concerns. "He has schemed many ways to disconnect valuable input from the decision-making process. Millions of tax dollars are wasted on poor decisions. The list goes on and on and no one does anything about it."
For the record, Leslie through a colleges spokesperson has apologized "if he offended anyone."
The faculty member and others who have commented on Leslie's digital perusing during the ceremony at Palo Alto College — which professors onstage with him reportedly timed — said the behavior was especially disrespectful given campus demographics. Many are first-generation college students and the children of immigrants for whom such events are major family milestones.
"Demeanor is everything when you're up in front of people," the faculty member said, noting that one of the photos captured by audience members and posted to social media show a veteran walking across stage as Leslie attends his screen. "This is a low-income, predominantly Mexican-American community in which most people don't have a high school diploma."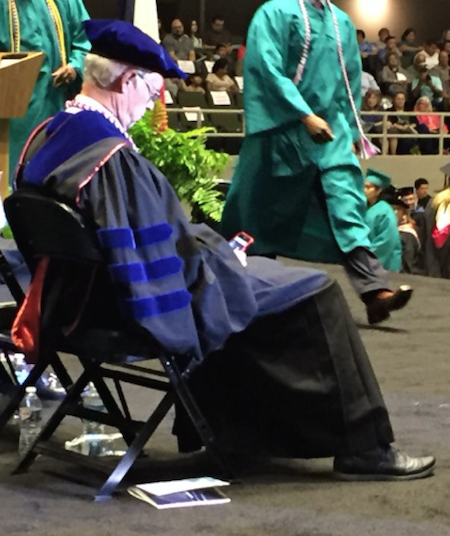 Yet Leslie's far from the first administrator — or faculty member — to exhibit poor behavior at professional events, from faculty meetings to commencement ceremonies. 
Karen Kelsky, a tenured professor-turned-academic job consultant and moderator of the blog The Professor Is In has heard a lot if not it all during her career. In her recent book she describes the "Most Famous Anthropologist" who reclined on the sofa during her conference interview in a hotel room, dramatically "sighing his questions from a supine pose." She shared some additional lowlights with Inside Higher Ed: a friend's dean seen texting throughout students' senior presentations; a former department chair who falls asleep during every single talk by any faculty job candidate; and someone who brings a flask to graduation.
It seems the regalia's big sleeves might encourage that last behavior. Debra Humphreys, senior vice president for academic planning and public engagement at the Association of American  Colleges and Universities, said an acquaintance reported that some faculty and administrators — including board members — have been known drink (and sleep) their way through commencement.
Educators behaving badly isn't a new phenomenon. Robert O'Neil, former president of the University of Virginia and professor of law emeritus there, said that the entire law faculty at the University of California at Berkeley, where he began his teaching career, faculty, for example, would convene briefly at 10 a.m. on graduation day and leave for a leisurely lunch while graduates filed slowly through. Professors returned "as the last graduates filed on stage and and we regrouped oblivious to or unnoticed by parents and families," he said.
Kevin Kistler, an instructional dean in the Merced Community College District, said that in his career he's seen "open hostility, yelling" between an administrator and a faculty member during curriculum meetings, with both sides claiming to be arguing for the "true interests of the students." Administrators have been put on leave for nothing beyond apparent personal animosity, he added. Then there's the more basic professional misdemeanors committed by both faculty members and administrators: sleeping during meetings, skipping or using one's cell phone during convocation, and reading one's notes on a panel while a fellow speaker is talking. 
Poor etiquette isn't exclusive to U.S. institutions, either. Inger Mewburn, director of research training at the Australian National University and moderator of the popular blog the Thesis Whisperer, said a colleague she worked with years ago used to field calls for his side restaurant business while on campus. "He had no shame at all interrupting class time or meetings to take calls from his chef or suppliers, telling us that it earned him more money than his academic job, anyway," she said.
One perceived faux pas: live-tweeting a conference, sometimes mistaken for rudeness. 
One undeniable one: 
In the wake of Leslie's scrolling, some have pointed out that many students were probably doing the same thing throughout graduation. But those interviewed for this article had little sympathy for him, and said that students' behavior is no excuse for faculty and administrators — especially presidents — to emulate it.
"It goes without saying that faculty and administrators should be held to the highest standards of comportment and professionalization," said Kelsky, of The Professor Is In. "They are the face of the institution and its ideals and standards, for heaven's sake."
O'Neil, the former president, said that having spent "countless unproductive hours presiding over commencements and graduations during my two decades at or near the podium, I would view the chancellor's behavior as inexplicable and intolerable for a presiding officer." Leslie's "disdain for formality and protocol were simply unconscionably rude to students, colleagues and families," he added. 
Adrianna Kezar, a professor of higher education at the University of Southern California, said she thought Leslie's behavior was bad form because leaders set institutional culture. "If it's OK for administrators to be on phone and ignoring our most important events then everyone thinks it is fine," she said. "I see that as a real breakdown of academic culture and leadership."
Susan Pierce, author of On Being Presidential, president of SRP Consulting and president emerita of the University of Puget Sound, agreed.
 "Chancellors (and presidents) set the tone for their campus," she said via email. "I advise those I coach that they must always be 'presidential,' which in part means that without fail, they always represent their institution, are always engaged in what is happening around them and are excellent listeners. I also advise them never to show anger, disdain or disregard for others including students, faculty, staff, alumni, trustees, the local community and strangers." 
Pierce also said she thought it was reasonable for graduates and their families to expect the head of the institution to be "present" throughout the graduation ceremony. "Indeed, most chancellors or presidents hand out diplomas, shake the hands of every graduate, congratulate each one individually and have their photograph taken together," she said. 
But when all else fails, what about jamming cell phones during public events? Keith A. Williams, visiting professor of electrical and computer engineering at Virginia, said he seriously looked into the issue after faculty members complained about students using devices in their classes. (That's only after his counter-argument about making class more engaging was shot down, he joked.)
Turns out, active jamming devices are illegal for cell phones, he said, and a Faraday cage of conductive foils around a lecture hall might get in the way of emergency calls. That leaves Wi-Fi jamming, which might have helped in Leslie's case.
Or maybe just an explicit no cell phone policy for those onstage? Williams said he'd definitely support one. "Using them for selfies and such is one thing, and that is actually good and fun," he said in email. "I think if I were an actual commencement speaker I would make a spectacle of the issue somehow, maybe try to zap everyone's phones with an 'emergency' message telling them to turn the thing off, be wholly present, and live in the moment!"
As for Williams' take on why Leslie's behavior has resonated so poorly with so many, he said, "we all know that these ceremonies tend to be endurance events, with everyone sitting there for long, perfunctory enumerations of personnel and their credentials. So the obvious question is: if the ceremony is really so tedious, then why do it at all? Why come? Why not change it so that people actually want to be there, in the moment, actually celebrating their achievements?"
More from Tech & Innovation