You have /5 articles left.
Sign up for a free account or log in.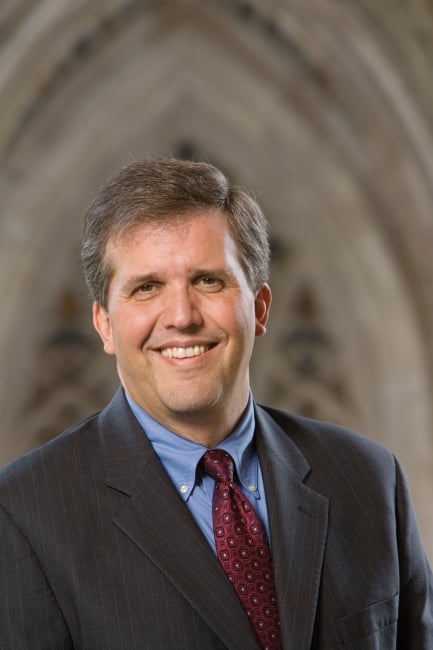 Speaking to Inside Higher Ed during a three-day symposium about faith and sports at Baylor University in November, L. Gregory Jones said the university needed to act as "leaven in the loaf." The loaf, of course, being big-time college football, with all the dangers and risks that can come with competing at such a level.
At the time, Jones was the senior adviser of Baylor's Institute for Faith and Learning, which organized the symposium. In April, the university hired him to be its executive vice president and provost.
A month later, Baylor's Board of Regents fired the university's head football coach and urged its president to resign amid allegations that the world's largest Baptist university has continuously mishandled -- and sought to suppress public discourse about -- sexual assaults committed by its football players and other students.
Pepper Hamilton, a law firm the university hired to investigate how it has handled allegations of sexual assault, presented a lengthy oral report to the board in May, and the report placed blame on the university's president, athletics director and football coaching staff, noting that the staff covered up assaults involving players. The firm also gave the university a list of 105 recommendations on how to improve how it investigates and adjudicates claims of sexual assault.
Jones agreed to a telephone interview on Tuesday. The following has been edited for length and clarity.
Q: The last time we spoke, you said Baylor, as a religious institution, needed to act as a "leaven in the loaf" for college athletics. With so much of what went wrong at Baylor stemming from football, would you say Baylor has failed to do that?
A: Certainly parts of Baylor have not been as effective as we would have liked. But we have taken seriously the parts of our athletics program and our university that have failed. It's a clarion call for us to address those concerns and to rededicate ourselves to being a leaven in the loaf in a way that shines forth with integrity and character.
Q: How does the university plan to win back the trust of its students, particularly those who were and are victims of sexual assault?
A: There's a lot of work we need to do, particularly with those who were victimized by the sexual assaults and are now survivors. Those are the first people we need to help. And we have to do a lot of work to restore trust and to help with their healing. Our hearts and minds go out first to them and more broadly to students and parents and faculty and staff and the entire Baylor community. We have to reassure them that this is a safe campus for them to teach and to learn and grow.
Q: But how do you do that?
A: We're doing that through taking seriously the findings of Pepper Hamilton and the 105 recommendations that were proposed. Our interim president, David Garland, said those recommendations are actually mandates. There will be a sexual assault task force helping to do that. We are also creating a second task force focused on spiritual life and character.
We think we can have excellence and be consistent with the Baylor way. I think the most important finding from Pepper Hamilton is how to better integrate athletics into the university's overall mission. We'll be working on that this summer and next year to make it more integrated into the overall life of the university.
Q: Would that include stronger checks within the athletics department and football program? A large issue here was reports of sexual assault making it to coaches and not any farther up the chain.
A: Yes, we want the lines of communication to exist in clear and consistent and fluid ways across the university. That will be part of the integration.
Q: Why wasn't that already the case?
A: It was largely a matter mostly of people just doing their jobs but not having the structures and relationships to integrate things as well as we should have.
Q: Some argue that part of the problem was [former head football coach] Art Briles's philosophy of second chances for his players. In a recent interview with ESPN, [former president] Ken Starr said not offering second chances would be un-American. Overall, there's been a lot of talk about second chances and how that's something that is valued and is important at Baylor. We see it in the comments on various petitions supporting those who have been fired, too. But second chances also can lead to repeat violators of sexual assault. Is the university rethinking its commitment to this notion?
A: Christianity is a faith that emphasizes the value of second chances, but it also includes an emphasis on accountability and repentance. What we have to do now is provide opportunities for second chances, whether that's athletic or academic, but we do it with rigorous accountability, and we create the climate where those second chances will be rewarded with opportunities that will lead to a repentant life. That hopeful future has to be accompanied with a strong sense of accountability and a culture that doesn't tolerate repeat bad behavior.
Q: Baylor's Board of Regents received an oral report of Pepper Hamilton's findings, and it released a 13-page findings of fact. Does the university plan on releasing the full Pepper Hamilton report?
A: We believe we've made the findings of fact available so we could be as forthright as possible. It's really critical, given the focus of Pepper Hamilton's investigation was on the experiences of students impacted by sexual violence, to protect the details of those cases. It's really crucial we honor those experiences. It was incredibly brave for those students to be willing to talk to Pepper Hamilton, and they did so in a confidential manner. We believe that needs to be honored.
Q: So, there will not be any other document released regarding the Pepper Hamilton investigation?
A: We think the findings of fact showed the severity of the problems. Our focus now is on how to make improvements and on what we've learned.
Q: Many say there's not enough detail in that summary. For example, it doesn't give us a sense of just how many cases of sexual assault were reported to the football program and covered up.
A: We're still investigating some of those issues, and we're not in a position to discuss specific cases. But we believe what Pepper Hamilton uncovered was the heart of the issue and they've gotten to the core of the culture of Baylor. It's important and urgent that in developing our response that we're focused on addressing the culture.
Q: Was there something rotten or damaged about Baylor's culture, then?
A: The sense of Baylor's commitment to being a first-rate Christian university is an aspirational commitment to the faculty who come here, the students who come here, the alumni, the parents, the friends. There's a very strong belief in Baylor's culture, and whenever you find out you've done something wrong and failed, that's really humbling. That sense of sadness and that sense of shame has been very real.
At the same time, we also know people believe in Baylor's 171-year history, and we've been through rough times before. It's a resilient institution.
Q: Some of those other rough times were also related to big-time sports. Specifically, a Baylor basketball player was murdered by a teammate and the head coach tried to cover up the fact that he had earlier been paying the murdered student under the table. Can you really change the culture while still having the same goal of pursuing and prioritizing prominence in big-time football and other sports? Is it time to retreat from that goal?
A: There will always be rogue individuals who engage in behavior that is inappropriate and need to be taken seriously and into account.
At its best, athletics are integral to a really well-lived life and a robust education. The question is not to retreat, but how to advance. How do we make sure to do things with higher standards of integrity across the university? The issues here were not just about athletics, but how we cared about students across the university.
There's risk with any aspect of a program that seeks to achieve genuine excellence. But are there also rewards? You bet. It's about minimizing the risks and maximizing the rewards for the sake of our university and the education we provide.