You have /5 articles left.
Sign up for a free account or log in.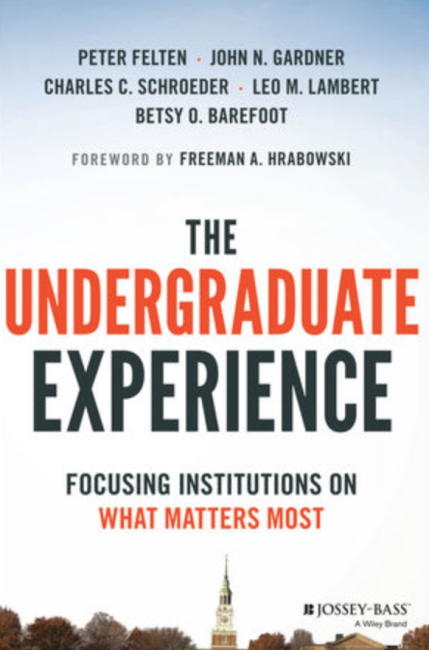 There's good news and bad for colleges wanting to enhance undergraduate education, based on a new book on the subject: you've already got everything you need and you've already got everything you need. The Undergraduate Experience: Focusing Institutions on What Matters Most (Jossey-Bass) contains no quick fixes, no gimmicks and, well, nothing really new. But its five authors draw upon their decades of experience studying successful undergraduate programs to distill their common features into six themes -- themes that the book argues can be applied across all manner of institutions working toward excellence.
All it takes is optimism, patience and teamwork -- and muscle. (In case you're wondering, the authors acknowledge they may sound Pollyannaish. But they say naysaying is too easy, and they're waiting to prove you wrong.)
"People get very, very caught up in the latest and greatest trends and will make these mammoth purchases without attending to whether whatever we just spent $200,000 on aligns with our mission," said Betsy Barefoot, one of the book's co-authors and co-founder of the John N. Gardner Institute for Excellence in Undergraduate Education. "We are defining an approach that says, 'These are the basic or essential characteristics of [institutional excellence with regard to undergraduate education],' and they are definitely not sexy or fancy."
So what matters most? Real learning, relationships, clear expectations, alignment of resource policies and practices with educational mission and student characteristics, improvement and leadership. (More on all those later.)
The Undergraduate Experience was inspired in part by George Keller's 2004 book about Elon University, Transforming a College: The Story of a Little-Known College's Strategic Climb to National Distinction. Indeed, all the new book's authors have ties to Elon: Peter Felten is assistant provost for teaching and learning and a professor of history there, and Leo M. Lambert is its longtime president. Barefoot is married to John M. Gardner, professor emeritus of library and information science at the University of South Carolina and president of the Gardner Institute, whose son attended Elon. And Charles C. Schroeder, former vice chancellor of student affairs and professor of educational leadership and policy analysis at the University of Missouri at Columbia, has advised the institution.
Yet The Undergraduate Experience doesn't focus on Elon over any of the other dozens of examples of successful undergraduate initiatives that fill its pages. The authors take care to include examples of what they define as excellence at small, private institutions -- wealthy and not -- as well as large public and private institutions (including community colleges) and even online programs. Existing research on undergraduate education -- which the book argues is strong, voluminous and largely ignored -- is infused throughout. Chapters are organized around the six tenets of what matters most, and each discussion includes action principles and questions for reflection.
Despite -- or maybe because of -- their many combined years studying undergraduate initiatives and institutional excellence, the authors developed their list of traits with relative ease. They admit, however, that certain terms, such as "alignment," weren't as obvious as some of the others. The list isn't meant to be exclusive, and Felten described it as a heuristic -- an imperfect but useful guide to the puzzle of undergraduate education.
"What we're saying is that there are a handful of things that are important, and this is how we might wrap our hands and heads around the complicated discussions surrounding institutional change and growth," Felten said. "The more we talked, the more we kept circling back to these sorts of themes that resonate at different levels of the institution."
Diversity, technology and assessment also came up, he added, but turned out to "cut across" each of the six other themes.
The six characteristics are meant to be familiar and simple. But discussions of each are far from simplistic. Regarding learning -- the most important tenet -- the authors urge institutions to push beyond significant but ultimately crude measures of success, such as retention. They reject the argument that students are solely responsible for their own educations by saying that institutions "create the environment for learning." That means, in part, adopting the high-impact practices articulated by George D. Kuh, such as first-year seminars and experiences, learning communities, and undergraduate research -- even in settings where it might not seem immediately possible.
Not all students can study abroad, for example, the book says, but "all institutions can enhance student learning by focusing more on the qualities that make any experience or pedagogy high impact rather than concentrating solely on a circumscribed list of practices. … All high-impact pedagogies or experiences should prompt students to engage in challenging work, interact with peers and mentors in meaningful ways, and reflect on what is being learned. When these elements are prioritized in the design and implementation of an educational activity, they allow many experiences in and out of the classroom to have positive impacts on student learning."
That idea leads the authors to another argument about learning: that it really only happens when students integrate what they're studying across their courses and extracurricular experiences. Yet too often institutions leave this integration to chance, they argue, and never explicitly ask students to consider how what they're learning fits together and might help them in their future endeavors.
The book praises Mount Holyoke College for its Making the Lynk program, a faculty-driven career-to-curriculum initiative, along with the University of Iowa's Guided Reflection on Work. That program requires supervisors and student workers to meet twice per semester for a conversation framed around questions such as, "How is this job fitting in with your academics?" or "Can you give me a couple examples of things that you are learning here at work that you will be using in your future profession?"
A discussion on the complexity of meaningful learning also urges colleges to embrace students' mistakes as well as their successes. If a Spanish teacher doesn't align her grading system with her goal of making conversant, confident speakers, and deducts points for even minor errors, for example, she might inadvertently encourage her students to take fewer risks -- and ultimately learn less. The book cites Northern Arizona University's First Year Learning Initiative as a successful counterexample, saying that its "small-bites approach" to assessment offers students regular feedback, often online.
Finally, the authors say that everyone should be motivated to learn on campus -- not just students. Faculties, for example, either operate under a "narrative of constraint" -- in which professional development is often "done to" them rather than with their cooperation, leading to a "culture of compliance." In the latter narrative, faculty development initiatives emerge "from the professional goals and habits of a busy faculty who willingly seek the expertise and perspectives of peers."
As for the other tenets, here's a brief summary:
Relationships of all kinds matter. Student-faculty, student-staff and student-student, yes, but also those between academic affairs and student affairs, student success initiatives and the faculty, governing boards and administrators, and alumni and the college. A "vibrant and inclusive" community emerges from the quality of the relationships that the underlie it, so they must be nurtured.
Clear and high expectations make a difference -- and they must be intentionally set and communicated to all campus groups.
Alignment of resources, policies and practices with educational purposes and student characteristics matters, too, "just as well-designed courses align goals and assessments." Too often institutions operate as "collections of strong but separate programs," but that can be resolved by transforming departmental silos into systems through cross-unit coordination and "by paying more attention to the student experience than how the organizational chart divides up the campus."
Improvement counts, and excellent institutions "critically assess student progress and their own effectiveness on specific, relevant measures." Those data are then used to help students deepen their learning and faculty improve their teaching, and all such efforts are connected to the institution's mission and students' goals.
Leadership matters, and leaders at all levels share a common vision and purpose. Those at the top are "crucial actors," but they can't shoulder the burden alone. Collaboration is key, and that happens when all campus constituencies feel heard and involved in the process of institutional progress.
The Undergraduate Experience is designed to appeal to faculty and administrators alike; the original concept is that it could be used in a workshop setting, but individual readers may benefit, as well. The project also has its own website.
"We really encourage readers to take a leap of faith and learn from other institutions that may be very unlike their own," Barefoot said.