You have /5 articles left.
Sign up for a free account or log in.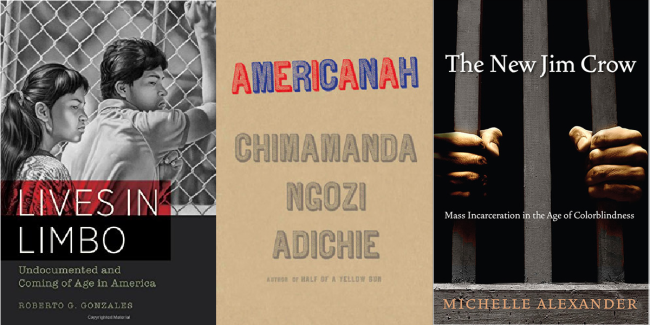 In a year when presumptive Republican presidential nominee Donald Trump has spouted anti-immigrant rhetoric and black men have died at the hands of the police, college freshmen are reading works that reflect the current turmoil. Many colleges and universities are asking incoming students to read books that treat themes of immigration and racial injustice.
Colleges have increasingly come to rely on reading assignments as a way of providing a common intellectual experience for the incoming freshman class. Students typically read the same book over the summer and discuss the work during their first week on campus.
Many administrators expressed hope that this year's books will help students engage with difficult problems facing society. Some also view the small-group discussions about the books as opportunities for teaching freshmen about ethnic and racial groups that may be different from their own.
"Students are interested in diversity and understanding other perspectives, and it's something they may or may not have gotten in their own backgrounds and their own high schools," said Patricia Maccorquodale, dean of the Honors College at the University of Arizona. "The book should make them uncomfortable. It should get them to think outside their comfort zones and their own experiences. It should get them to think about privilege and how it's produced structurally in society."
Immigration
The immigrant experience -- and in particular the experience of undocumented students -- has emerged as a popular theme this year.
Freshmen at Miami University of Ohio will read Spare Parts: Four Undocumented Teenagers, One Ugly Robot and the Battle for the American Dream (MacMillan) by Joshua Davis, a contributing editor at Wired magazine. The book -- which inspired a film -- is based on the true story of undocumented high school students who entered a national robotics competition.
"It's a quite inspiring story of how these particular students, with very exceptional mentoring, were able to confront and overcome these challenges," said Richard Taylor, chair and director of liberal education at Miami. "It very much puts a human face toward undocumented members of our society and the struggles they face."
Students will hopefully have robust conversations about these struggles within their discussion groups, Taylor said. They will also have the opportunity to see the author deliver this year's convocation speech, he said.
Favoring an ethnographic approach, Tufts University chose Lives in Limbo: Undocumented and Coming of Age in America (University of California Press) by Roberto G. Gonzales, an assistant professor at the Harvard University Graduate School of Education. The book examines the results of a 12-year study that followed 150 undocumented young adults in Los Angeles. Gonzales relies on these results to craft a portrait of the two million undocumented immigrants -- out of 11 million total -- who have lived in the United States since childhood.
Opting for a personal narrative, California State University East Bay chose the memoir Illegal: Reflections of an Undocumented Immigrant (University of Illinois Press), in which the author recounts his attempts to gain an education and build a new life in America. Due to legal concerns surrounding his immigration status, the author published the memoir under the name José Ángel N.
"Of course immigration is going to be one of those hot-button political issues this coming election, so there is that aspect for discussion," said Nancy Thompson, interim director of general education and chair of general studies at East Bay. "I hope students come out of this with an appreciation of that and the struggles some people have to go through to get a good education."
Students will read the memoir once they arrive on campus, rather than over the summer as most institutions mandate, Thompson said. The author has also agreed to visit campus in February during the Week of Inclusive Excellence, which features events related to diversity and social justice, she said.
Lehigh University stands out as the only institution to pick a book about an immigrant with citizenship. The memoir Stealing Buddha's Dinner (Penguin Books), in which Bich Minh Nguyen recounts her experience hungering for American junk food and identity as a Vietnamese immigrant in the Midwest, will be offered as one of two possible summer reading assignments.
"College students coming to campus are coming to a new place and being exposed to new things, so I would imagine some of them are going through similar challenges," said Stefanie Burke, assistant dean and director of first-year experiences at Lehigh. "It's a great opportunity to talk about family and culture and community, and that's something we want to encourage conversation about."
Racial Injustice
As police killings of black men and the Black Lives Matter movement command national attention, four institutions selected books that examine racial injustice.
Students entering the Honors College at Arizona will read Citizen: An American Lyric (Graywolf Press) by the poet Claudia Rankine, a fusion of poetry, art and criticism that explores the intersections of race, language and the body. The first chapter relates microaggressions directed at Rankine and her friends, while the seventh chapter features a list of African-American men involved in recent police shootings that concludes with the phrase "because white men can't police their imagination black men are dying."
"It's a story about an African-American woman thinking about her identity. It's about being black in America today," Maccorquodale said. "That's obviously an issue we're facing as a society and as a culture."
"I think the book will be controversial," Maccorquodale added. "I think it will also challenge the faculty who are teaching it."
Rowan University will have students confront both immigration and racial injustice through the lens of fiction, with the selection of Americanah (Anchor) by Chimamanda Ngozi Adichie. The novel follows a young Nigerian woman who comes to the United States to receive an education and stays to work.
"Given so many of the issues that we're seeing across the country right now regarding race and social justice and immigration, we really thought we could use this book as a vehicle to explore a lot," said Rory McElwee, associate vice president for student retention at Rowan.
Wesleyan University picked The New Jim Crow: Mass Incarceration in the Age of Colorblindness (The New Press) by Michelle Alexander, associate professor of law at Ohio State University. The book seeks to challenge the idea that we live in an era of colorblindness, tracing how the war on drugs targeted black men and suggesting that mass incarceration replaced segregation as a system of social control.
"It builds a lot on the issues of Black Lives Matter that we and many universities dealt with last year. It's about the systematic aspect of racism, in the sense that the incarceration rate is so much higher for minorities," said Wesleyan Provost Joyce Jacobsen. "It's the kind of book that students would start grappling with in college and keep reading after college."
Other Themes
Other reading assignments varied widely among institutions. But some other common themes that surfaced were the food industry and the environment.
Two books offer a graphic glimpse into the production of processed food. Trinity University, in San Antonio will ask freshmen to read Salt, Sugar, Fat: How the Food Giants Hooked Us (Random House) by Michael Moss, while Lehigh, in addition to Stealing Buddha's Dinner, will give freshmen the option of reading The Dorito Effect: The Surprising New Truth About Food and Flavor (Simon & Schuster) by Mark Schatzker.
Environmental picks included both a classic and a recent best-seller. Students at Connecticut College will learn how DDT decimated bird populations by reading Rachel Carson's seminal 1962 work Silent Spring (Houghton Mifflin), while students at Villanova University will learn how fossil fuels are forcing species into extinction by reading Elizabeth Kolbert's 2015 Pulitzer Prize winner The Sixth Extinction: An Unnatural History (Picador).
Silent Spring was chosen for its interdisciplinary approach to environmental issues, as Connecticut College's new general education program will aim to encourage interdisciplinary thinking, said Jefferson Singer, dean of the college. An alumna also wrote the introduction to the 50th anniversary edition of the work, he said.
"Powerful environmental issues are happening in the world, such as global warming and the Zika virus and questions about how it should be controlled," Singer said. "We thought it would be so meaningful for students to see that while these questions are so contemporary, they're not new."