You have /5 articles left.
Sign up for a free account or log in.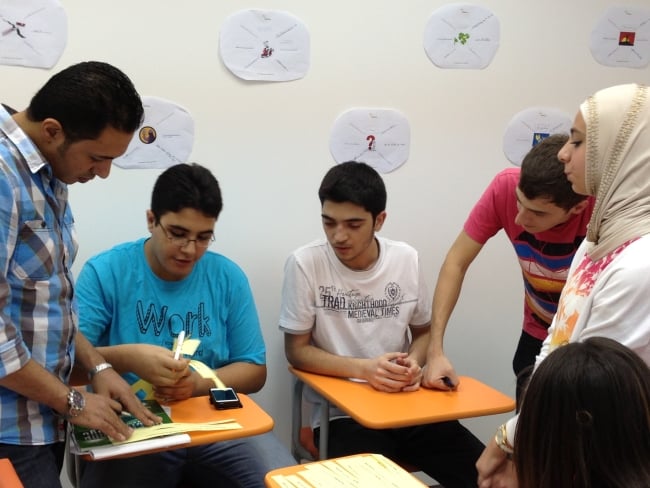 The number of Saudi Arabian students enrolled at American universities has skyrocketed since the launch of a massive Saudi government scholarship program in 2005, increasing more than 17-fold. But after more than a decade of growth, many universities with sizable Saudi populations are anticipating significant declines in new Saudi enrollments as the government has retooled the scholarship program.
Steep drops in enrollments at the English language level, the initial landing point for most Saudi students coming to U.S. universities, signal further declines ahead. The enrollment declines will prove challenging to the many public and private universities that have grown to count on the tuition revenue from Saudi students, who number in the hundreds at many campuses.
Ohio's Wright State University, for example, enrolled 480 Saudi students in fall 2015 and has experienced a 51 percent decline in applications from Saudi students from last year to this year. The drop has been greater for undergraduate and intensive English applications, which are down 74 percent, than for graduate applications, which declined by 35 percent.
Kent State University, another Ohio institution that enrolls large numbers of Saudi students -- 669 in fall 2015 -- is also seeing declines in Saudi applications at the undergraduate and English as a second language levels.
Cleveland State University has seen its applications from Saudi students fall to a quarter of last year's level. The university expects to enroll a total of 400 Saudi students this fall, down from 574 a year ago.
Cindy L. Skaruppa, Cleveland State's vice president for enrollment services, said the university is hoping to diversify the international student population through several partnerships in China and by recruiting in places like Bangladesh, Kuwait and Nigeria.
Saudi Arabia "was just kind of a given," Skaruppa said. "Well, it's not a given anymore."
David Anderson, vice president for recruitment and partner support for ELS Educational Services, a Princeton, N.J.-based private English language provider with 69 locations in the U.S., 50 of which are based on college campuses, said that some university partners have asked where they can find Saudi students now. "Some of them were a little bit spoiled for a number of years," Anderson said. "They didn't have to work so hard for their Saudi students. Now they're realizing there aren't so many of them out there."
Anderson estimated that the ESL industry as a whole is looking at 60 to 70 percent declines in Saudi students this summer compared to last. "We're sort of typical of the industry," he said of ELS. "We've experienced the decline and we do not anticipate over the next several years that we'll have Saudi numbers close to what they had been prior to 2015."
Changes to the Scholarship
The Saudi government, facing budget shortfalls caused by declines in oil prices, has moved in recent months to tighten academic eligibility requirements for its flagship foreign scholarship program and to tie it more closely to economic development needs by linking awards to job offers.
An article published in the state-run Saudi Press Agency in February outlined strict new eligibility requirements for the subset of scholarship recipients who self-fund their initial studies and apply for government scholarship support after they've enrolled at a foreign institution. (This so-called back door route is one of two main ways that students access the scholarship program -- the other is to apply through the "front door" from within Saudi Arabia.) The Saudi Press Agency article stated that self-funded students applying to join the scholarship delegation would have to attend a top-100 global university, or a top-50 program in their field, according to lists maintained by the Ministry of Education.
The article also stipulated grade point average requirements for candidates and said that undergraduates seeking to join the scholarship program through this route would need to have completed 30 credits. In the past many students would apply for and receive scholarship funding while still enrolled in ESL programs.
It is not clear how consistently the new rules are being enforced. Officials at the Saudi Arabian Cultural Mission, which administers the scholarship, did not respond over multiple days to questions about changes in the scholarship and whether there have been reductions in the number of awards.
Not every university outside the global top 100 is seeing declines in Saudi enrollments. At Wichita State University, for example, application and admission numbers for Saudi students appear stable for the fall.
Vince Altum, the executive director of Wichita State's Office of International Education, estimates that roughly three-quarters of Wichita's State's Saudi students apply for the scholarship through the back door route.
"Because of that I assumed that our numbers would drop precipitously," Altum said. He still expects the drop will come, but said it hasn't yet. The university enrolled 318 Saudi students last spring.
"Several months ago I alerted the administration that we were going to start seeing decreases in the population of [Saudi] students, but strangely, for our benefit, that hasn't materialized," Altum said. "For fall of this year we currently have 170 applications from Saudi Arabia and we had 178 last year, so we have eight less, but we've admitted two more. We admitted 106 as of the same date last year versus 108 this year."
Other universities that reported steady Saudi enrollments for the fall include Western Illinois University and Robert Morris University, a private institution outside Pittsburgh. Minnesota State University at Mankato is forecasting an increase in Saudi students, in part due to a new partnership with Saudi Arabian Airlines to sponsor aviation students. The Mankato campus is also launching an intensive English program that will allow it to accept students at lower English levels this fall.
Virginia Commonwealth University hopes to bounce back from a big decrease in Saudi students it saw from the fall to spring, when the overall Saudi student population fell from 405 to 351 and the number within the English language program fell from 139 to 103. Amber Bennett Hill, the director of VCU's international student and scholar programs and English language program, said the university has 203 applications for degree-seeking students from Saudi Arabia for the fall at this point -- a number that she said will likely rise -- compared to 253 total applications last year.
"At this point I would say for the next three years I think our Saudi numbers are probably going to be stable," Hill said. "The real question is going to be whether we continue to get new students. We're closely tracking applications, both English language and undergraduate, and those numbers appear to be on course with what we've seen in the past several annual cycles, perhaps a little bit smaller, but it's certainly not that big dip we saw in January. I have reason to believe those numbers will continue. If we see a drop-off now, it will be more gradual, and we can recruit to fill those spots."
Nationally the most recent data available from the Department of Homeland Security on the number of Saudi students on F and M visas show a decline of about 11.5 percent from February 2015 to March 2016.
The Diversification Imperative
The decline in Saudi enrollments at many institutions has underscored the need -- always known but now urgent -- to recruit and admit international students from a broad range of countries, not only for academic- and diversity-related reasons but also for financial and enrollment management purposes.
At some universities Saudi students are the largest or second-largest international student group, so a sharp decline in their numbers can be a significant enrollment (and tuition) hit. Nationally Saudi Arabia is the fourth-biggest source country of international students, after China, India and South Korea.
At Northern Kentucky University, the 357 Saudi students enrolled in fall 2014 represented about 65 percent of the total population of 552 international students.
The number of Saudi students fell to 248 the next fall, a decline that François Le Roy, the executive director of the Center for Global Engagement and International Affairs, attributed to the cultural mission's decision to close off new sponsored Saudi enrollments in several programs, including ESL, on the grounds that they were "saturated" with Saudi students. Le Roy said that all NKU programs have since been removed from the "saturated" list, but the decline in Saudi students is continuing. The university expects to enroll just 39 new students from Saudi Arabia this fall, including 28 transfer students, compared to the 75 new Saudi students it enrolled two years ago.
"We were always kind of uneasy about this dependence on Saudi students," said Le Roy. "The goal as soon as we got into a position to conduct effective international student recruitment was to diversify. So starting especially last year we have focused our attention on other parts of the world. This new class of international students that's coming this fall is going to be much more diverse than previous classes of international students." Northern Kentucky is projecting an international enrollment of around 500 students this fall, including about 200 Saudi students.
The University of Northern Iowa is also having to adjust to a big decrease in its largest group of international students. The university enrolled 187 Saudi students out of a total international population of 567 last spring. Applications from Saudi students for the fall have dropped precipitously.
Scott Ketelsen, Northern Iowa's director of university relations, said that year-over-year comparisons of applications received as of July 11 show that the number of applications from Saudi students declined from 64 last year to 13 this year, while the number of confirmed acceptances fell from 29 to two. Total international applications from students from all countries fell from 537 to 439.
Despite the application drop, Ketelsen said the university actually has a slight increase in the total number of international students who have confirmed plans to come for the fall: 97 last year versus 101 this year. (These numbers differ from ones recently reported by the Des Moines Register, which also documented a dramatic decline in Northern Iowa's Saudi applications but from a different base. Ketelsen said the application figures provided to the Des Moines Register were incorrect and included students who'd been miscounted.)
"It wasn't something that surprised us," Ketelsen said of the decline in Saudi applications. "We knew it was coming down the tracks. It was a change in Saudi policy. We've adjusted to the recruiting situation."
Fluctuations are a given in international recruitment: international enrollments from various countries rise and fall with political and economic fortunes. But the vulnerability of universities to a sudden decline in Saudi enrollments stands out both because of the sheer size of the Saudi student population and because so many are funded through a single source, a government scholarship program. An analysis from Moody's Investors Service issued in February observed that universities facing a loss of Saudi students "will be hard-pressed to replace these price-inelastic students in an increasingly competitive market for international students."
The changes to the Saudi scholarship program follow closely on the suspension last fall of another large-scale government scholarship program, Brazil's Science Without Borders program, which is similarly responsible for rapid increases in the number of Brazilian students at U.S. universities over the past few years.
The combined effect of declines in both Brazilian and Saudi students has contributed to sharp drops in enrollment in the intensive English program at California State University at Long Beach. Enrollment in the ESL program this summer is down 49 percent compared to last summer. While numbers for the fall haven't been finalized yet, Jeet Joshee, the associate vice president for international education and global engagement, said the year-to-year decrease in fall ESL enrollment could be as high as 80 percent.
"Our recruitment strategy has always been to diversify in terms of different countries and different regions of the world, but in the meantime we did have this influx of Saudi and Brazilian students," he said. "Now we really need to be deliberate in focusing our recruitment efforts in other countries."
David L. Di Maria, the associate provost for international programs at Montana State University, said his main worry as the number of Saudi students shrinks is the lost opportunity for exchange between young Saudis and Americans. Montana State enrolled 137 degree-seeking (non-ESL) Saudi students last fall, out of a total international enrollment of 732.
"As the Saudi enrollment drops, I can't replace that," Di Maria said. "I can replace enrollment, but I can't replace Saudi students -- and particularly with everything that's going on in the world today I think it's very important having those exchanges take place on a college campus."