You have /5 articles left.
Sign up for a free account or log in.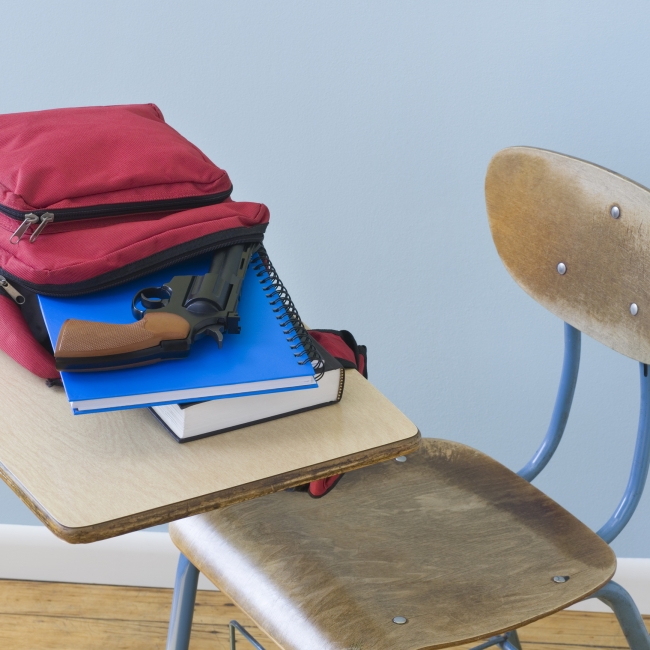 Three professors at the University of Texas at Austin are suing the institution over its response to the state's new campus carry law, which explicitly permits licensed, concealed weapons on campus. The law is supposed to go into effect Aug. 1 on public university campuses in the state, and a year later at community colleges.
Specifically, the professors seek the right to ban guns from their classrooms -- something the university has maintained would put it out of compliance with the new law. The professors, who argue that both state law and university policies are vague on that point, on Friday were granted a hearing for a preliminary injunction on having to allow weapons in class. It's scheduled for early next month. Fall classes resume at the end of August.
The campus carry law allows private colleges and universities in Texas to opt out entirely, and many have. Public institutions must establish their own "reasonable" rules and regulations about concealed weapons, but can't "generally prohibit" guns across broad swaths of campus. The plaintiffs challenge interpretations of the law -- namely Austin's -- that assert the general prohibition ban applies to individual professors' classrooms.
"These professors aren't trying to tell other professors what to do," said Renea Hicks, a lawyer for the plaintiffs. "They're arguing that they should retain the option to exclude guns from their classroom."
In addition to criticizing the university's handling of the new law, the lawsuit alleges violations of the First and Second Amendments, as well as equal protection under the law.
The complainants are Jennifer Lynn Glass, Barbara Bush Professor of Liberal Arts in the department of sociology; Lisa Moore, professor of English; and Mia Carter, associate professor and University Distinguished Teaching Associate Professor in English. Their suit, filed in a federal court earlier this month, reads as kind of screed against state and national gun control policies, or, in their view, the lack thereof.
The complaint says, for example, that handgun regulation "in Texas and nationwide is notoriously weak and inefficient, with gaping loopholes and outright voids." It says that more than 20 shootings occurred on college campus in 2015 alone.
Like many previous faculty arguments against campus carry, the complaint also asserts that it can only chill free speech. That's because professors who teach controversial subjects in class must now fear the presence of guns in their classrooms, according to the suit.
"Compelling professors at a public university to allow, without any limitation or restriction, students to carry concealed guns in their classrooms chills their First Amendment rights to academic freedom," it says.
All three professors teach hot-button issues, from women's reproductive rights and power structures related to race and gender to lesbian, gay, bisexual and transgender issues, according to the suit. All say they either been previously threatened or intimidated by students.
The surprising element to many in the suit was that it also cites the Second Amendment, which is more typically the legal basis for cases seeking to expand gun use -- not limit it.
The complaint asserts that the right to bear arms is "not a one-way street," and the Second Amendment's protections for a "well-regulated militia" means the "imposition of proper discipline and training." Current requirements for obtaining and renewing a concealed carry license fail to meet that standard, it says.
Austin campus President Gregory L. Fenves, members of the University of Texas Board of Regents and Texas Attorney General Ken Paxton are all named as defendants in the suit. Calling it a "cruel irony" that the Texas Legislature chose the 50th anniversary of a gun-related massacre on the Austin campus to enact the new campus carry law, the professors request "at least" the option to make their classrooms gun-free zones. They're asking for a federal injunction against having their classrooms "be the locus of implementation of the overly solicitous, dangerously experimental gun policies of the Texas Legislature and the insufficiently protective policies of [Austin's] president."
Fenves, who has publicly opposed the campus carry law but worked to comply with it, said in a statement Friday that the professors' complaint "represents the feelings of many faculty. The lawyers are now looking at the lawsuit, so I don't want to comment on the arguments they are making in the case until we have any further analysis."
He added, "Throughout this process, many faculty have expressed concern about the law. They recognize it is the law and has to be followed."
Fenves also referenced the recommendations of a campus working group about how best to comply with the law; he said he accepted their recommendations in February. The regents last week approved a recommendation to allow faculty and staff members to make their personal offices gun-free zones if they so choose. At the same meeting, however, the regents voted down a motion, backed by Fenves, to ban handguns with a loaded chamber on campus.
Carter, one of the plaintiffs, said via email that the recently approved office ban option did nothing to allay her concerns.
Austin's adoption of campus carry is "full of ambiguities, uncertainties and contradictions," she said. "For example, faculty and staff who are in single occupation offices can verbally ban guns from their offices; faculty and staff in shared office space cannot." That denies graduate student instructors -- who are learning to become teachers and arguably more vulnerable as a result -- as well as advisers equal protection under the law, she said.
Arguing that her lawsuit represents the concerns of many faculty members beyond the plaintiffs', Carter said licensed gun carriers' Second Amendment rights "should not trump others' rights." There is "nothing 'well regulated' about this law -- nothing," she added. "Gun carriers cannot carry their concealed weapons into banks, onto private school campuses; they can be banned from carrying into businesses that choose to restrict guns from their premises."
Students for Concealed Carry, a national pro-campus carry group, in a statement said the lawsuit "is without legal precedent or factual foundation," and a "Hail Mary pass" at best.
Antonia Okafor, a regional director for the group, said the complaint's suggestion "that campus carry is 'dangerously experimental' is, on its face, laughable. Licensed concealed carry has been allowed throughout most of Texas for more than 20 years, with no indication that it has led to an increase in violent crime or gun accidents."
She added, "To put it in terms these professors should understand, the clinical trials are over, and campus carry has been shown to pose little risk to public safety."
Campus carry laws in numerous other states have proceeded, despite similar concerns from faculty members.
Critics of such laws say they nevertheless put them at increased risk, especially in a time of heightened awareness about campus shootings. Most recently, El Centro College in Dallas was the site of an attack on police. Last month, a professor at the University of California, Los Angeles, was murdered on campus. Umpqua Community College in Oregon was the site of a mass shooting in October.
Carter rejected that she called the "absurd" theater of "acting like the anti-campus carry community is trying to take weapons from 'good guys with guns.' We just do not want guns in our classrooms; we have a well-trained police force in the city of Austin and on campus. I trust our first responders to protect us."
Eugene Volokh, the Gary T. Schwartz Professor of Law at the University of California, Los Angeles, and an expert on the First and Second Amendments, agreed with other critics of the suit that it's unlikely to go anywhere.
"Whether law-abiding adult people who have concealed carry licenses should be able to carry on campus is an interesting and difficult policy question," he said. Yet Texas "has decided in favor of allowing such carry, and nothing in that violates the Constitution …. The claim has no legal foundation."
More specifically, Volokh said he was "skeptical about the plaintiffs' claims that concealed carry by lawful license holders will materially chill people's freedom of discussion -- I don't think it does in public places, and I don't think it will in universities." Either way, he said, "that hypothetical risk isn't enough to invalidate Texas' decision about gun rights."
Texas' campus carry law doesn't violate the Second Amendment, either, he said, since the right to bear arms establishes a "minimum level of rights that the government must honor, not the maximum."
As for equal protection under the law, Volokh said that Texas has no obligation to give government employees an individual option to forbid handguns in their classrooms, "which after all are not their classrooms but the state's classrooms. And the state has broad authority to allow carrying of guns, including by drawing lines that allow carrying in universities but not in some other places."
Darrell A. H. Miller, professor of law and constitutional law expert at Duke University, disagreed somewhat. While the case is a long shot, he said, the professors' arguments are not without merit.
First, he said, state universities have more freedom than other kinds of government institutions about how they operate. Second, he said, "it seems intuitive that the presence of firearms may inhibit the free flow of ideas and opinions in the one place that we have traditionally designated for that important exchange -- the university classroom."
Gun rights advocates may say that other states have campus carry and it has not had any negative effect on the free exchange of ideas, "but that's an empirical question difficult to measure," he said. "How do you count the loss to civil society of opinions that were never ventured for fear of offending someone with a gun?"
That said, Miller added, "the more states that experiment with these campus carry laws without creating any overt negative effects, the harder it will be to argue that the environment of free speech is being chilled."