You have /5 articles left.
Sign up for a free account or log in.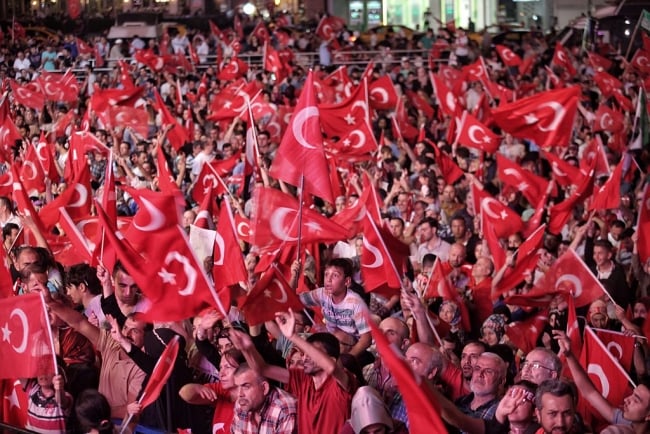 Turkey's Higher Education Council reportedly demanded the resignation of 1,577 university deans on Tuesday as the widespread purges of state institutions begun after last week's failed coup extended into the education sector.
In addition, more than 15,000 education ministry officials were suspended and 21,000 schoolteachers had their licenses revoked.
The New York Times reported in its coverage of the education purges that an additional 35,000 members of the military, security forces and judiciary had been purged or detained as of Tuesday night in an effort to root out perceived loyalists of Fethullah Gülen, a Muslim cleric whom the government accuses of organizing Friday's attempted coup. Gülen has denied any involvement.
In addition to the purges the government announced a blanket travel ban against all academics on Wednesday, according to The Washington Post, which cited as its source the state-run broadcaster TRT.
The space for academic freedom in Turkey has by many accounts been shrinking in recent years against what observers describe as increasing authoritarianism and a drift away from secularism under President Recep Tayyip Erdoğan, a member of what the Times describes as the "conservative Islamist" Justice and Development (AKP) party. But the scale of Tuesday's purges shocked many. One noted expert on global higher education, Jamil Salmi, tweeted that the Turkish government's actions against the deans were "unprecedented since [the] disaster of the Cultural Revolution of China."
"Everyone I talk to is incredibly distressed," said Clare Robinson, the advocacy director for the Scholars at Risk Network. "Usually when I ask what can SAR do, the response that we've gotten over the past several months is talk to these people, issue a statement," etc.
"Today the response I've been getting is 'we don't even know right now. We don't know what can be done.'" (SAR did issue a statement nevertheless.)
A.Kadir Yildirim, a research scholar at the Center for the Middle East at Rice University's Baker Institute for Public Policy, described Tuesday's actions as "part of the effort of the government to basically redesign all the major institutions, all the major agencies, in its own image. Those who are not party loyalists, those who are not Erdoğan loyalists, are basically being dismissed."
Yildirim asked how the government could have come up so quickly after the failed coup with a list of 9,000 people to dismiss from the police force and more than 1,500 deans. "This is just an opportunity, an excuse for the government to expand its control of various government agencies, especially those historically [which] they have been unable to infiltrate, so to speak," he said. Historically, he explained, higher education has been a stronghold of liberals and secularists, while conservatives and Islamists have been less well represented in positions of power.
Aslı Bâli, the director of the Center for Near Eastern Studies and a professor of law at the University of California, Los Angeles, also addressed the purges. "In one fell swoop it's a hollowing out of the state as a whole," she said -- a purging of people in the military, the police, the judiciary, the prosecutorial ranks and at educational institutions, possibly to fill the ranks with AKP loyalists.
This had already been happening, she said, but on a smaller scale. "Much of what we're seeing is an acceleration, a radical acceleration, but nonetheless an acceleration of what had been happening."
"Quite explicitly, they are saying an autonomous state institution is a risk in Turkey," Bâli said. "As a result there will likely be no tolerance of autonomy for universities."
Kent Schull, an associate professor of Ottoman and modern Middle East history at the State University of New York at Binghamton, said he felt shocked and numbed by the speed and scale of the purges following Friday's failed coup attempt.
He feared university faculty would be next, and worried aloud about further retaliation against professors who signed a petition in January calling on the government to end military actions against Kurdish rebels in Turkey's southeast. At the time Erdoğan accused the professors who signed the petition of "treason." They have been targets of criminal investigations and in some cases have been detained for interrogations. Many have been suspended or terminated from their academic positions.
"All of this is going to have residual effects, for a decade at least," said Schull. He called on U.S. universities to host academic refugees from the region.
"If each one opens the door for one academic refugee from the Middle East, that's going to go a long way to help preserve some of the academy so if things do turn around they can still go back," Schull said.
A statement from the European University Association condemned the action against university deans and expressed "heartfelt support for the higher education community in Turkey at this time."
"While there has been global and unanimous support for the democratically elected government of Turkey in reaction to the military coup, the measures introduced today go in the wrong direction," the association said. "More than ever Turkey needs freedom of speech, public and open debate, as advocated by its strong university sector, committed to internationally recognized university values, the principles of academic freedom, free expression and freedom of association."