You have /5 articles left.
Sign up for a free account or log in.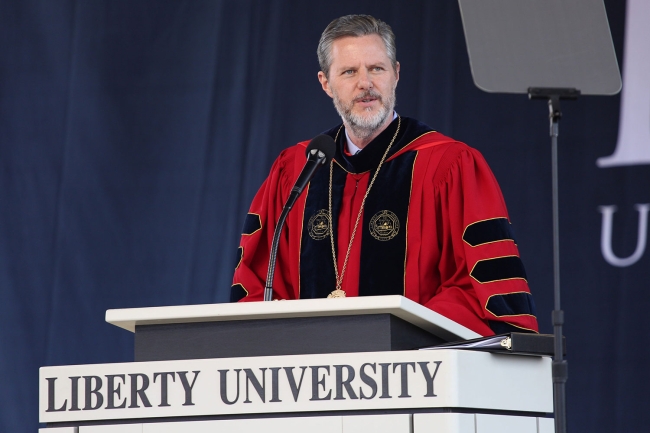 CLEVELAND -- When he takes the stage tonight at the Republican National Convention, Jerry Falwell Jr. will give one of the highest profile and most politically charged speeches by a university president in recent memory.
Falwell, who has led Liberty University since his father's death in 2007, said in an interview Wednesday that he's supporting Donald Trump, the Republican nominee, as a private citizen, not in his capacity as a university president.
"Liberty's my main focus. It's so unusual for me to be doing this sort of thing," said Falwell. "It's just circumstances with the election this year, for it to be such a crucial election. And, really, if Donald Trump hadn't been a candidate, I probably wouldn't have endorsed anyone early on, maybe not at all."
However, Falwell said his multidecade experience with the university is the primary reason he backs Trump, with whom he has developed a personal relationship. Specifically, he cited Liberty's existentially weak financial state when he graduated from the University of Virginia's law school, in 1987, and its dramatic turnaround during the next 30 years.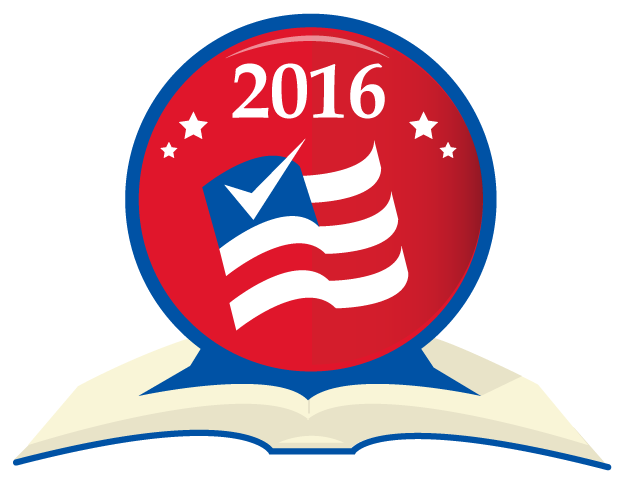 "I just saw so many parallels between what Liberty was back then and where our country is now," he said. "And then in the last 10 years, Liberty's become the most prosperous and successful Christian university in the world."
Trump's views on religion, specifically evangelical Christianity, were not a primary factor in his support, Falwell said, although "he's really come down on the right side of a lot of those issues."
In an essay for The Washington Post, Falwell described the reasoning behind his January endorsement of Trump, shortly after the real estate magnate spoke at the university's convocation. He described how he and his father spent "many weekends begging and borrowing" in the early 1990s to cover the university's payroll.
Jerry Falwell Sr. was an evangelical Southern Baptist preacher and prominent political commentator who founded the Moral Majority in 1979. He launched Liberty University, which is located in Lynchburg, Va., in 1971.
The university went through painful debt restructuring a quarter century ago, finally lifting itself out of the threat of bankruptcy.
Since then, Liberty's about-face has been impressive. The university now has a $1.2 billion endowment, putting it in an elite class. With 80,000 students in its online programs, the university is one of the nation's three largest online institutions. It also enrolls more than 13,000 students at its ground campus, which has had large, expensive facilities upgrades in recent years.
On Wednesday Falwell said the United States faces similar challenges to Liberty during the university's hard times, particularly the ballooning national debt.
"I believe the United States is very sick financially and might not survive another four years of Obama-style leadership," he wrote in the essay.
Instead, Falwell said the United States needs an experienced businessman and turnaround artist as president, and Trump fits the bill.
He also said he likes and respects the Republican nominee. Trump sent him a personal note after they first met, in 2012.
Falwell enjoyed spending time with Trump around public appearances this year in Iowa and New York, sharing an affinity for Elton John, among other common interests. He described Trump as personable, generous and loving with his family. Trump wrote Falwell notes and called him regularly, and the two met in person several times.
"He and I, we really hit it off," said Falwell. "He reminded me of my father."
Politicking and University Presidents
Falwell received a personal letter in 2012 from perhaps the most politically engaged university president in U.S. history, the Reverend Theodore Hesburgh, who led Notre Dame University for 35 years.
Father Hesburgh, who died last year at the age of 97, was outspoken on divisive issues -- typically backing liberal policies and sometimes being at odds with conservatives. He held 16 presidential appointments, demonstrated hand-in-hand with Martin Luther King Jr. and was on the U.S. Civil Rights Commission from 1957 until 1972, when then President Richard Nixon dismissed him.
In his letter, Falwell said, Father Hesburgh congratulated Liberty on successfully ramping up its athletics program to help elevate the profile of the Christian university, as Notre Dame did more than a half century ago. Falwell had the letter framed and hung it in his office.
Many commentators have said college presidents should be more courageous, like Father Hesburgh, and use their positions to speak out on the issues of the day. While Falwell's take on this election puts him squarely in opposition to most of his peers in the higher education, he's taken a chance by mixing it up in supporting Trump.
He also wasn't shy about criticizing higher education's liberal skew during the Wednesday interview.
"How can you have political correctness and academic freedom at the same time?" he said. "A lot of these schools have become Democratic Party indoctrination camps."
Falwell appears to have Trump's ear, with published reports saying Trump told him first about his decision to tap Indiana Governor Mike Pence to join the ticket as the candidate for vice president.
Trump also called Falwell four times last week to discuss his call to repeal the so-called Johnson Amendment in the GOP's platform. The 1954 tax law bans political organizing by churches and other nonprofits, including colleges and universities.
"In recent years it's been used a club," Falwell said of the law, arguing that conservative nonprofits have been investigated by the U.S. Internal Revenue Service more often than others for alleged politicking. "It would be best for all nonprofit organizations if it were repealed."
Liberty's large online program, like Southern New Hampshire University's, relies on expensive national advertising -- often on cable television -- to attract students. While he didn't sound worried about turning off potential students with his political advocacy, Falwell said the university is positioned to handle a substantial decline in its online programs.
"We were ahead of the game. But we're not foolish enough to think that the online part of Liberty University is going to remain the juggernaut that it's been the last 10 years," he said. "We have set up all of our financial plans for the day that the online disappears."
Liberty's total assets have grown to $1.8 billion from $100 million in 2007. And Falwell said just a 2 to 3 percent annual return on its endowment could sustain the residential campus and its academic programs.
Falwell is slated to speak during prime time tonight, four slots before Trump closes out the convention. The theme for the evening is "make America one again."
There's a buzz back in Lynchburg about his speech. And Falwell said he's received lots of messages. Yet while he said he's "honored and humbled" to speak at the convention, Falwell said students aren't deciding to go to Liberty based on his political views.
"I'm doing this as a private citizen," he said. "It's not Liberty. I don't think it has an impact on Liberty, positive or negative."