You have /5 articles left.
Sign up for a free account or log in.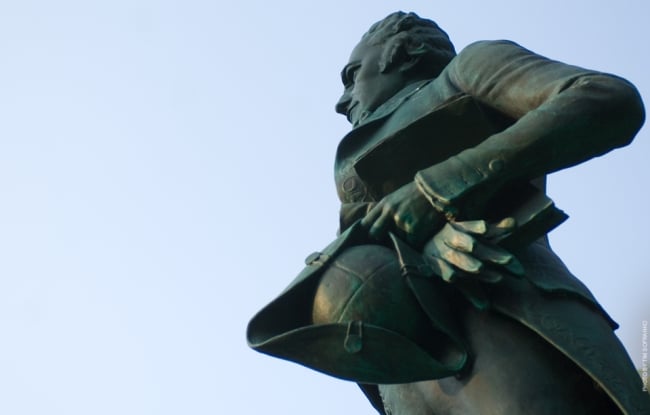 Like many campuses, Hamilton College in New York has over the past two years faced criticism from student protesters that it isn't doing enough to honor its commitment to inclusion. Unlike many such campuses, Hamilton adopted a new curriculum requirement that all concentrations, or majors, feature relevant, mandatory course work on diversity.
"This is an innovative approach to engaging with contemporary issues of inclusion and diversity in the curriculum," said Patrick Reynolds, immediate past dean of the faculty, "one that has the potential not only to resonate with the academic interests of each of our students, but to prepare them better to apply the expertise of their major in their post-Hamilton careers and lives." 
The proposal was passed, 80 to 19, with one abstention, in a faculty meeting at the end of the academic year. 
"In their overwhelming endorsement of this approach, the members of the Hamilton faculty have demanded of themselves commitment, creativity and intellectual challenge, reaching within their disciplines and across our curriculum," Reynolds said. "I have great admiration for [them] for having done so."
While most faculty members apparently support the change, some professors, along with a group of alumni and outside commenters, say it undermines the college's open curriculum and is generally ill conceived.
"The requirement would improperly impose esoteric ideological values on the student body and fail to live up to the college's commitment to freedom of inquiry," reads a
statement
passed recently by the Hamilton College Alumni for Governance Reform, an independent alumni group that's been critical of Hamilton on a number of issues in recent decades. "[We encourage] the Committee on Academic Policy to reject this proposed resolution, which improperly advances a prescribed ideological position and mandates its universal instruction."
Here's how Mary Grabar, an English scholar and resident fellow at the Alexander Hamilton Center for the Study of Western Civilizations in nearby Clinton, N.Y., framed her concerns about the requirement in a
blog post
for the conservative John William Pope Center for Higher Education Policy called "The Ugly Truth Behind a College's 'Diversity' Requirement": "Supposedly, this 'intellectual project' involving 'faculty across the disciplines' would provide solutions by encouraging 'students to study and understand the exclusion, stratification, inequalities and violence in its many manifestations on our campus and in the wider world,'" she said. "That language is standard leftist rhetoric used by faculty activists to indict American colleges and other institutions for falling short of the progressive utopia."
In late fall, following a year of occasional on-campus protests from student supporters of Black Lives Matter, Hamilton administrators received a
list of demands
from the Movement, an anonymous group of student protesters. Among the dozens of requests was the hiring of more minority faculty members and that "white faculty are discouraged from leading departments about demographics and societies colonized, massacred and enslaved."
At about the same time, a faculty group was continuing work on a proposal to more formally incorporate diversity into the curriculum; since 2001, the college has operated with an "open curriculum," or one lacking distribution requirements outside of one's concentration. (Requirements in writing and quantitative literacy may be satisfied by courses throughout the curriculum.) Many courses already contain diversity-related content, and diversity and inclusion are central to a set of
educational goals
adopted in 2011. But the idea was to more firmly embed them in the curriculum.
The economics department approached the faculty working group to see if it could offer its own take on diversity through a series of in-house, approved courses. That is, the department wanted to offer its own economics-centered content about diversity and inclusion, to make it more relevant to students.
"Beginning with the class of 2019, students concentrating in economics must satisfy a diversity requirement by taking one course from an approved list," the economics department's
webpage
now says. "The diversity requirement broadens students' understanding of the roles of identity, culture and social class in the U.S. in order to enrich the study of economics. The course must be completed by the end of the junior year."
The faculty group liked the idea so much that it decided to ask all departments to develop required, concentration-specific content or courses for their respective students.
The all-college proposal, as described in Hamilton's recent
review report
to the Middle States Commission on Higher Education, the college's regional accreditor, says that starting in 2017-18, "every concentration shall have a requirement that will help students gain an understanding of structural and institutional hierarchies based on one or more of the social categories of race, class, gender, ethnicity, nationality, religion, sexuality, age and abilities/disabilities."
Departments and programs "shall determine how their students will fulfill this requirement in a way that is most consistent with their disciplines," it says. "The requirement should encourage students to think critically about accomplishments, experiences and representations of various social groups in the U.S. and/or other countries."
The requirement "is designed to address the college's educational goals of cultural diversity and of ethical, informed and engaged citizenship," the report says.
"
No matter one's major, our faculty believes that the ability to communicate effectively, the ability to understand numerical concepts and the ability to interact effectively with people from different backgrounds and cultures are prudent and appropriate expectations for an educated person in today's society," Vige Barrie, college spokesperson, said in a statement.
The college is still working out exactly how individual programs will comply with the new requirement. Reynolds, the former dean, said in an interview that some programs may incorporate diversity content in other kinds of courses, rather than developing a course on diversity within the discipline alone.
Nancy Rabinowitz, a professor of literature and creative writing and comparative literature, said she and her colleagues already adopted a form of the requirement when they developed a new concentration in literature and creative writing.
Rabinowitz said there are many courses already in the literature curriculum that satisfy the new requirement. At the same time, she said, it's "an opportunity for us to develop new courses and to rethink the emphases in the courses we already teach, so that they will deal more fully with the issues of power and structure highlighted in the motion."
For example, Rabinowitz teaches a course called "Literature on Trials." Looking ahead, she said she's thinking about how more contemporary issues might fit into a course that begins with Socrates' trial.
Critics on social media and elsewhere have alleged that it will be harder for the natural sciences to comply than the humanities and social sciences. Reynolds said some science departments may want to team up to offer a course or set of courses fulfilling the new requirement.
Yet Reynolds, a biologist, said it's not as hard as one might imagine to see how science and diversity intersect. There are the disproportionate effects that a natural disaster such as Hurricane Katrina had on some populations, he said, or the public health crisis in Flint, Mich. "These science courses might examine contemporary issues, for example, but also address them and apply the scientific method to see what's going on."
Barrie, the spokesperson, said that one scientist on the faculty is considering a course that reinforces the scientific method as a way of evaluating hypotheses around issues of race, ethnicity and gender using data. "Students might explore genetics in biology or the consideration of race on drug trials," she said.
Department plans will be vetted by a subcommittee of the faculty Committee on Academic Policy. The committee will review the requirement after three years.
Rather than a potential drawback, Reynolds said he and other faculty members saw the concentration-specific requirement as a virtue -- one that will benefit students who have to navigate real-world problems.
"If we'd had a diversity course that everyone had to take, I don't think that would have been supported by the faculty," Reynolds said. "Quite a lot of people saw this as being quite a pragmatic approach, tailored to students' needs and interests. … This is a way of preparing them for their lives post-Hamilton in a real and practical way."
Others aren't convinced.
"In other words, students must be exposed to the leftist obsession with groups," George Leef wrote last week in the National Review. "Whatever else they might study, the faculty leftists will shove this stuff down their throats. Doing so, they hope, will plant the seeds of numerous progressive tropes about society in young minds."
Robert Paquette, a professor of history at Hamilton, said he wasn't a fan of the college's "open" or, in his words, "no curriculum, which is nothing less than a great betrayal of liberal arts education, traditionally understood." Yet the new requirement seems to have been "imposed" on that much-publicized curriculum, he said.
Moreover, Paquette said, diversity in the proposal is vaguely defined. He said that's something that's been revealed as a concern in internal communications about the proposal, even among its faculty supporters.
"Is it not eye-opening that a supermajority of the faculty would approve of imposing a requirement based upon a concept, 'diversity,' that was never precisely defined before it was voted on?" Paquette said via email. Pointing to the economics department's description, he asked, "Will departments be drawing up lists of 'approved courses'? Which courses will be included? Which courses will be excluded? Does the understanding of 'diversity' include viewpoint diversity, and would, e.g., my course on conservative thought make anyone's list? Would all history courses make the list? Or none, or some?"​
Rabinowitz, who helped draft the proposal initially as part of a faculty subcommittee on diversity in the curriculum and later as a member of a faculty working group, said it's the faculty's attempt to make the college's educational principles concrete.
The faculty is in charge of the curriculum and it's "our responsibility to make good on the college's stated values," she said,­ including its mission that students learn to "embrace difference" and "engage issues ethically and creatively."
Placing the requirement within the concentration stays true to the open curriculum, she added, in that it doesn't add another graduation requirement.
"More important, though, it helps students understand how their chosen course of study fits with the society, indeed world, that they inhabit," Rabinowitz said. "Individual departments can decide what their students need to know in order to succeed in their discipline. That will differ for humanists, artists, social scientists and scientists. The flexibility is the beauty of the requirement Hamilton has created."