Yale Reconsiders Calhoun Name
Reversal follows criticism of decision three months ago to keep name of a residential college, seen by many as an honor for notorious racist and defender of slavery. University also will remove stained-glass windows.
Three months after Yale University said it would keep John C. Calhoun's name on one of its residential colleges, the university announced Monday that it is creating a new committee that could lead to the name being removed.
The announcement is an unexpected reversal of Yale's position in April, when officials said keeping the Calhoun name was important. Yale President Peter Salovey at the time issued a statement saying, "Ours is a nation that often refuses to face its own history of slavery and racism. Yale is part of that history. We cannot erase American history, but we can confront it, teach it and learn from it. The decision to retain Calhoun College's name reflects the importance of this vital educational imperative."
That view led to widespread criticism from students and faculty members, who noted that Calhoun was a notorious racist and one of the most influential defenders of the slavery in the pre-Civil War United States, and that study of slavery and racism goes on all over the world in universities that don't have buildings that honor someone like Calhoun.
"Have you ever reflected on how it might feel to go to school and be assigned to a residential college named for Joseph Goebbels?" asked a widely cited essay by Matthew Frye Jacobson, the William Robertson Coe Professor of American Studies and History at Yale. "Would it be easy to ignore, or do you think it would rankle and weigh on you every single day? Would you be comforted by administration assurances that the naming 'helps us to grapple with our past,' while most of your peers continued to say, 'What's the big deal about Goebbels anyway -- get over it -- it's our tradition'? The Calhoun College decision is monstrously unthinking."
In a message to the campus Monday, Salovey said he was appointing a panel to establish principles to consider on questions of renaming campus buildings.
"In recent months, many faculty, students, alumni and staff have raised significant and moving concerns about that decision, and it is now clear to me that the communitywide conversation about these issues could have drawn more effectively on campus expertise. In particular, we would have benefited from a set of well-articulated guiding principles according to which historical name might be removed or changed," Salovey said. "After these principles have been articulated and disseminated, we will be able to hold any requests for the removal of a historical name -- including that of John C. Calhoun -- up to them."
Yale's decision in April to keep the name was met with immediate condemnation by student groups that had urged it to be dropped. In one protest (in the photograph above), students marched with the names of people who they said would have been more appropriate than Calhoun. But the decision was announced toward the end of the academic year, and students soon had to focus on finals before scattering for the summer.
Numerous open letters also circulated from faculty members who took issue with the continued honor for Calhoun. "The Calhoun decision impedes the progress toward inclusion that, even according to President Salovey himself, Yale desperately needs," read one letter. "Last November, he wrote that 'we need to make significant changes so that all members of our community truly feel welcome' and reaffirmed his commitment 'to a campus where hatred and discrimination are never tolerated.' Notwithstanding this rhetoric, the university has doubled down on a decision Yale never should have made in the first place -- honoring a man whose very legacy embodies hatred and discrimination.
Salovey's letter Monday also listed numerous other changes Yale has pledged to make, and outlined progress on them. The university is adding faculty slots as part of an effort to diversify it. Numerous lectures and other programs are planned to focus on topics such as diversity, criminal justice and education. And Yale is moving ahead to promote a full understanding of the university's history.
In the letter, Salovey announced other actions that appear related to a controversy over images in stained-glass windows at the university. He wrote that "certain windows in some of the residential colleges are being relocated, conserved for future study, contextualized in an exhibition elsewhere at Yale and replaced temporarily with tinted glass. An artist specializing in stained glass will be commissioned to design new windows, with input from students and other members of the Yale community."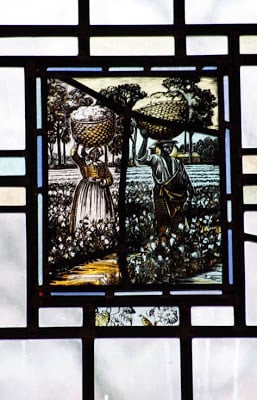 Those images were in the news in the last month -- drawing attention to the Calhoun name -- when a black dishwasher in Calhoun College used a broomstick to break a stained-glass window (right) portraying slaves carrying bales of cotton. Corey Menafee, the dishwasher, lost his job (he says he was forced out, but the university says he quit). Yale has since offered him his job back under certain conditions.
Yale is hardly alone in struggling with the issue of buildings or statues that honor people with racist pasts.
Nor is Yale the first institution to try to deal with the issue by having a committee set principles for renaming buildings. Stanford University in March announced that it would create a panel to draft guidelines for how to consider renaming buildings and other spaces that honor those with imperfect (and worse) histories. The university created the panel amid a push from many students to rename several structures named for Junipero Serra, an 18th-century Roman Catholic priest who created missions throughout California. While Serra is considered a hero by many and was declared a saint by Pope Francis last year, many Native Americans contend that Serra worked to destroy the cultures and beliefs of those who were in California before the missionaries.
Yale's original approach of keeping the Calhoun name but promising additional context is very similar to an approach taken by Princeton University in April with regard to the Woodrow Wilson name on its school of public affairs. Many students, citing Wilson's deeply bigoted views -- on which he acted as president to limit the rights of black people -- said the name was inappropriate.
Other universities, however, have changed names of building and colleges that honor people with racist histories. The University of Texas at Austin changed the name of a dormitory that honored a man who was a leader of the Ku Klux Klan. The University of North Carolina at Greensboro and Duke University dropped the name of Charles B. Aycock, a white supremacist governor of North Carolina in the early 20th century, from campus buildings.
You may also be interested in...
Today's News from Inside Higher Ed
Inside Higher Ed's Quick Takes