You have /5 articles left.
Sign up for a free account or log in.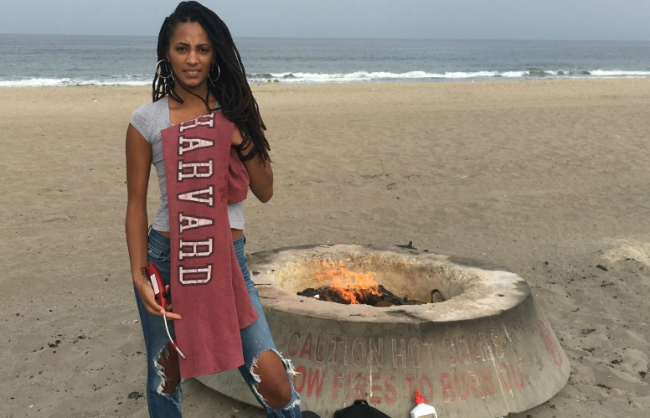 On Monday, Wagatwe Wanjuki, a former Tufts University student, posted a video on Facebook of her setting a Tufts sweatshirt on fire. "I'm not proud to wear a sweatshirt of an institution that refuses to acknowledge that I exist, that survivors should be helped," Wanjuki said, her camera pointed at the smoldering shirt.
The following day, Kamilah Willingham, a graduate of Harvard Law School, burned a pair of Harvard University sweatpants and posted a photo of the smoking remains on Instagram. Both posts were labeled with the hashtag #JustSaySorry -- the beginnings of a new social media campaign aimed at getting colleges to apologize for mishandling cases of campus sexual assault.
While the last five years of activism and federal intervention have substantially altered how colleges are expected to investigate and adjudicate claims of sexual violence, the campaign's organizers say institutions are still too hesitant to tell victims who feel that their cases were mishandled that they are sorry.
"Many survivors of campus sexual violence feel ignored and sidelined by their schools," Wanjuki and Willingham wrote on a website about their new organization, Survivors Eradicating Rape Culture. "This ongoing harm is both invalidating and retraumatizing. However, there is one huge step that every college and university can take that would not only demonstrate their commitment to their students, but have a potentially tremendous impact on survivors' healing and their administration's culture: #JustSaySorry."
Last year, to the surprise of victims and their advocates, Mike Powers, interim chancellor of the University of Alaska at Fairbanks, did just that, saying he was "deeply sorry for how [the university's] lack of action affected students and their friends and families." In a campuswide email, Powers wrote that "universities across the country have not done right by their students," and that his university was no different.
Such apologies are rare, however. Baylor University recently offered its "deepest apologies" to victims of sexual assault, but only after a much-criticized internal review that found the university and its athletic department had mishandled and covered up sexual assaults committed by football players and other students. Oregon State University earned praise earlier this year for apologizing to a woman who said the university mishandled her report of being gang-raped by football players. That apology came nearly 20 years after she reported the assault and the players were punished with a one-game suspension.
"The one thing that so many victims and survivors want is the one thing the legal system is least likely to give them," Peter Lake, a law professor and director of the Center for Excellence in Higher Education Law and Policy at Stetson University, said. "The legal culture around this issue has led to this idea that contrition is so risky that you must pick other alternatives, when it's obvious that just saying sorry is often the best option."
None of the institutions found to have violated Title IX of the Education Amendments of 1972 by the U.S. Department of Education in recent investigations of how sexual assault charges are handled have issued such a statement.
In 2014, the department's Office for Civil Rights decided that Harvard had mishandled Willingham's case, but university officials did not apologize. Instead, after Willingham discussed her case in the documentary The Hunting Ground, 19 Harvard law professors issued a statement accusing her and the film of presenting "a seriously false picture both of the general sexual assault phenomenon at universities" and the case at Harvard.
"I didn't really expect my school to apologize then, but I also didn't expect my school to remain silent while 19 of the professors who presumably helped overturn my assailant's sanction very publicly doubled down on his side, extending my rape trial into the court of public opinion and joining my assailant's efforts to brand me as a vindictive, slutty liar," Willingham wrote in an essay this week.
Harvard has not responded to Willingham's essay or the social media campaign. Tufts has defended its handling of sexual assault cases, including after the Department of Education found that the university's policies had violated Title IX.
Even when colleges settle lawsuits with sexual assault victims, their lawyers are careful to note that they admit no wrongdoing. Last August, the University of Oregon settled a lawsuit with a female student who said she was gang-raped by three men's basketball players. The student's lawsuit claimed that the university recruited one of those players while knowing that he had previously been accused of sexual assault at Providence College. The suit also alleged that the university scrubbed the three players' transcripts of any references to sexual misconduct, making it easier for them to transfer to play elsewhere. The three students -- who were not charged -- were suspended for up to 10 years, but not expelled.
The university agreed to play the student $800,000, but it did not apologize. "I do not believe any of our coaches, administrators or other university personnel acted wrongfully, nor do I believe that any one of them failed to live up to the high moral standards that we value and that they embody in their work every day," Michael Schill, Oregon's president, said in a campuswide email at the time.
Apologies can indeed be perilous for colleges seeking to avoid liability, lawyers interviewed for this article said. "An apology to the effect of 'we're sorry we mishandled the investigation and hearing of your sexual assault complaint' could well end up as the centerpiece" of a federal complaint or lawsuit, one college's general counsel, who asked not to be named, said Tuesday.
But Alyssa Keehan, director of risk research at United Educators, an insurance firm for colleges, said that such risks are often exaggerated.
"I would say there are some misconceptions about the dangers of saying sorry," Keehan said. "In fact, empathy can even be a powerful risk management tool. It's something that can be used to build trust and make an injured party feel heard."
Laura Dunn, a lawyer who founded the victims' rights group SurvJustice, said while it's true that a university's apology could be used and cited in lawsuits by victims, it would not likely change the outcome of a particular case. Still, she said, it is the fear of losing a lawsuit that likely keeps many institutions from apologizing.
Dunn reported being raped in 2005 when she was a student at the University of Wisconsin at Madison, and she said she's still waiting for the university to apologize for how it handled her case. On Tuesday, she tweeted at the university, asking for an apology.
"I think schools view themselves as a business and worry about liability, but those courageous enough to apologize can make amends to survivors and invite them to be meaningful contributing alumni on their path to improve their responses to sexual violence even after having a horrible history of abuses," Dunn said. "I have wanted that for years to reconcile the alma mater I loved and graduated from with the institution that mishandled my rape and left me to struggle without justice on campus."