You have /5 articles left.
Sign up for a free account or log in.
Employer-sponsored wellness programs are on the decline, as are benefits for part-time faculty members, according to a new study from the College and University Professional Association for Human Resources.
Some 57 percent of colleges and universities reported offering wellness programs this year, down from 70 percent in 2012. The number of institutions planning to introduce wellness programs also dropped by 30 percentage points since last year, to about 10 percent, according to CUPA-HR's annual Higher Education Employee Health Care and Other Benefits Survey.
The percentage of institutions with either a wellness budget or wellness staff also fell year over year, all suggesting the downward trend will continue.
Andy Brantley, CUPA-HR's president and chief executive, said in a statement that it's "disappointing and quite alarming to see that institutions are dedicating fewer resources to support employee wellness. Every institution should be committed to creating a culture of wellness that encourages and promotes healthy lifestyles and helps employees identify and manage health risks."
Choosing not to do so "impacts our employees and the operating costs of our organizations," Brantley added. The theory is that employees who participate in wellness programs will -- through preventive care and healthier lifestyles -- avoid expensive health problems.
Al Lewis, a national critic of employee wellness plans, said wellness plans are on the decline nationally, in part because they've been proven to lose money. Higher education is simply "ahead of the curve in ditching these programs, largely because they tend to be smarter than your average organization."
Academe's biggest wellness flop was at Pennsylvania State University in 2013. The institution ended up dropping a mandatory wellness program after faculty members complained that it compromised their privacy and was unfairly punitive -- to the tune of a $100 monthly surcharge for those employees who didn't meet certain requirements.
Matthew Woessner, an associate professor of political science and public policy at Penn State at Harrisburg who fought the proposed changes, said the problem with required wellness programs is that "the ways in which they're implemented are often antithetical to some of the values that higher education holds dear. When wellness becomes coercive, it inadvertently places burdens on employees who value their independence."
Certainly there are advantages to well-managed, voluntary wellness plans, and Penn State's doomed, stick-over-carrot approach was far from typical. But Woessner said the downward trend concerning wellness programs might actually be positive "because it means that higher education is moving away from quick fixes," which aren't long-term solutions to "the burden of rising health care costs."
The average annual total premium for all health care plans included in CUPA-HR's survey -- preferred provider organizations, health maintenance organizations, point of service and high-deductible health plans -- was $7,059 for employee-only coverage and $19,584 for employee and family coverage. Average year-over-year increases in premium costs varied by plan type, from about 4 to 6 percent.
Preferred provider organization plans remained the coverage of choice for most institutions, with 84 percent of respondents offering them, according to CUPA-HR. High-deductible health plans are becoming more popular.
Part-Time Pay
Another major finding concerned part-time employees. The number of institutions offering health care benefits to part-time faculty and staff members fell four percentage points since last year, to 33 percent. Doctoral institutions were the most likely kind of employer to offer benefits.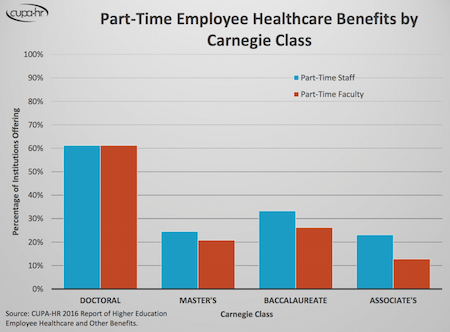 The drop will likely disappoint adjuncts, who have increasingly been advocating not just for better pay but access to benefits in recent years. One of the organizations that's been trying to bring awareness -- as well as immediate financial assistance -- to adjuncts in their fight is PrecariCorps. Joseph Fruscione, cofounder and spokesperson, said the finding wasn't surprising, however, "especially since universities -- regardless of whether they grant doctorates -- everywhere seem to be cutting costs however possible."
"I'm surprised the decline isn't larger, given how unprofessionally part-time faculty are treated," Fruscione added. "This decline in benefits is part and parcel with the exploitation of part-time faculty, as if their low salaries are enough for them to teach and survive." Those conditions only perpetuate a cycle in which quality of instruction eventually suffers, with adjuncts having to work more to make ends meet or possibly afford their own health care, he said.
About half of all 492 responding colleges and universities offer health care benefits for retirees under 65, while about 40 do so for those older than 65.
The number of institutions offering benefits to health care benefits to domestic partners stayed relatively steady year over year, at about 50 percent offering benefits for opposite-sex partners and about 70 percent for same-sex partners. That's much higher than private industry, according to CUPA-HR. But the gap might begin to close as institutions opt out of domestic partner benefits, now that same-sex couples nationwide have the right to marry.