You have /5 articles left.
Sign up for a free account or log in.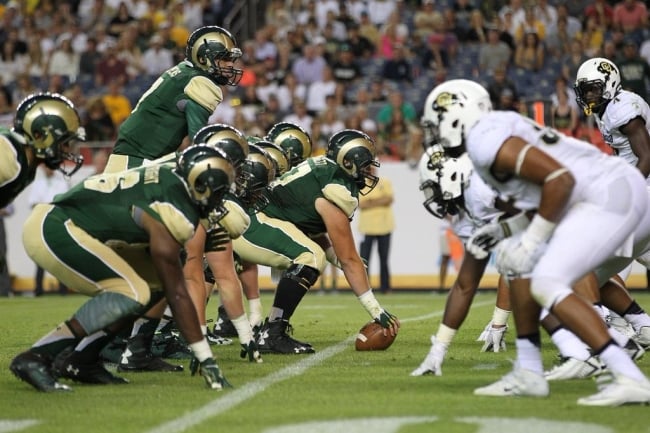 As the Big 12 Conference looks to expand, several institutions are jockeying for inclusion in the smallest of the so-called Power Five leagues.
It's a familiar dance for midmajor football programs looking to go big-time, but it's one that has taken on more significance in recent years as the five wealthiest conferences have pulled farther and farther ahead of the rest of the pack. Other Division I institutions are devoting increasingly large sums of money in an attempt to keep pace in an athletics arms race led by Power Five leagues.
For some of these programs, the ultimate goal is to earn a spot within those conferences -- a risky plan in which colleges must keep pouring money into athletics to remain on the leagues' radar without any guarantee that the spending will, in the end, pay off.
"It's sort of like a gambler's psychology," said George La Noue, a professor at the University of Maryland at Baltimore County's School of Public Policy who studies college sports. "'I just lost $100, but I might get it back if I spend another $100.'"
From 2008 to 2014, the University of Houston transferred more than $100 million in institutional funds to an athletic program that -- like most athletic programs -- loses money. Last year, the university spent $26 million subsidizing its $45 million athletics budget. According to emails obtained by the Houston Chronicle and published this month, Houston officials believe the athletics program has reached a make or break moment.
The university has spent so much improving its football team, officials wrote to each other, that it must continue to invest in improving the program and hope for an invite from one of the Power Five leagues: the Atlantic Coast Conference, the Big Ten, the Big 12, the Pac-12 and the Southeastern Conference. "Because we are a competitive football team," Renu Khator, Houston's president, wrote in a 2014 email, "we have no choice but to keep becoming better so we could get into the big five."
If the university doesn't join a Power Five conference, she added, the athletics program would be "difficult for [Houston] to sustain."
With the Big 12 hoping to add at least two more institutions by October, Houston's moment may finally come. The university's bid is backed by local politicians, including Texas' governor and lieutenant governor. It also has the support of the University of Texas at Austin, one of the Big 12's most high-profile members, an endorsement that, according to the Houston Chronicle, may come with a price tag: no longer fighting against UT opening a campus in Houston.
But joining the league is still no guarantee. The conference is also meeting with 16 other institutions, including Boise State University, Brigham Young University, the University of Cincinnati, Colorado State University, the University of Connecticut, the University of Memphis and the University of New Mexico. Those institutions have also been heavily lobbying for inclusion in the Big 12 Conference in recent years, and, for many of them, the stakes are similarly high.
Brigham Young spends $40 million per year on its athletic program and supporting its successful football team. By many markers it's a favorite to join the Power Five, but a new letter criticizing the Mormon university's discrimination against lesbian, gay and transgender students may throw a wrench in its plan. Twenty-five LGBT groups signed the letter, urging the Big 12 to not invite BYU because of its student honor code, which states that "homosexual behavior is inappropriate" and bars "all forms of physical intimacy that give expression to homosexual feelings."
It remains unclear if the Big 12 will listen to the letter, but the conference has many other, less controversial institutions to choose from.
Last year, Colorado State spent nearly $39 million on its athletics program. It brought in $37.7 million in revenue. More than half of that revenue came from subsidies, including $5 million in student fees and more than $12 million in direct institutional support, such as tuition and state funds. A decade ago, subsidies accounted for less than one-third of the athletic department's revenue.
Colorado State officials declined to say how dependent their plan for athletics is on ultimately joining a Power Five conference, but Joe Parker, the university's athletic director, said in a statement that "we are doing things that are helping us gain visibility for our programs and for our university, and certainly want to be well positioned for any conversations that are taking place at any level."
It's a similar story at the University of Cincinnati. The university's football team has made nine bowl appearances in the past decade. It's also one of the most heavily subsidized athletic programs in the country, with half of the program's expenses covered by subsidies. Each student gives more than $1,000 per year to the athletic department. According to documents obtained by the Cincinnati Enquirer, Santa Ono, the university's president from 2012 until last month, "personally visited every Big 12 president regarding the merits of the University of Cincinnati and its academic and athletic programs."
The lucrative television contracts that are characteristic to the Power Five are one of the primary drivers behind midmajor programs so aggressively pursuing a spot in the conferences, Mark Nagel, a professor of sports management at the University of South Carolina, said.
"TV deals for the Power Five schools have gotten so large that there's this huge separation between them and everyone else," Nagel said. "It's the same with the spending. So if you're sitting near the top of the group just below those 65 schools, you're looking at what you need to do to make sure all your chips are on the table if and when any of those conferences try to expand."
Not all television contracts are created equal. Last year, each member of the Southeastern Conference received $9.4 million more than members of the Big 12. Still, Big 12 institutions received $23.3 million each last year. Compare that to the $4.5 million the University of Houston received through the American Athletic Conference.
Overall, when accounting for all revenue sources, all Big 12 programs made at least $30 million more than Houston last year.
With that additional revenue, however, typically comes even more spending, meaning the increased revenue from joining the Big 12 is no assurance of athletic programs being profitable. In 2014, Colorado State spent $38 million on its athletic program. The University of Houston spent $45.4 million. Cincinnati spent $51 million. Kansas State University, which spent the least of any public Big 12 university, spent more than $67 million.
The University of Texas at Austin, the Big 12's biggest spender, spent more than $173 million on its athletic program.
"Only 24 of [the Power Five institutions] have an operating surplus, so you're really spending all this money just to get to the point that you spend more money," Andrew Zimbalist, a professor of economics at Smith College, said. "If any individual connected to the administration of these colleges were confronted with an opportunity to spend his or her own money as an investment in such a project, they would conclude that it's much too risky. But they're using other people's money, so they go for it."
And there's another risk for any institution that receives an invite to join the Big 12 or any other Power Five conference: suddenly competing in NCAA football's most competitive level can be a difficult transition. "If you go to a higher-level conference, invariably, no matter how good a university thinks it is, its record is going to go down because it's competing against better teams now, and then you have less crowds and less buzz," Zimbalist said.
As a member of the Mountain West Conference from 2005 to 2011, Texas Christian University's football team won 48 of its 55 conference games and had a winning record every season. It won the Mountain West championship four times. Then it joined the Big 12.
In five years leading up to joining the league, TCU doubled its athletics budget and built a $160 million stadium. It joined the Big 12 in October 2011. "In a winner-take-all society, the only way to win big is to bet big," D Magazine, a local Dallas publication, concluded.
By the end of its second season in the Big 12, TCU's football team had lost 12 of its 18 conference games. In 2013, the team won just four games. College sports pundits began turning on the program, asking, "Did the Big 12 make a mistake by inviting TCU to join?"
Then, the following season, TCU won 11 of its 12 games. Last season, it won 11 of its 13 games and defeated the University of Oregon to win the Alamo Bowl. It now receives about $25 million per year from Big 12 contracts. Four seasons ago, as a member of the Mountain West Conference, its annual payout was just $2 million.
"It can be done successfully," Nagel said. "So, on a certain level, it makes sense that schools would see this and chase after it. But the problem is there's no guarantee that when you're chasing after these gold rings that you're going to be able actually to grab one once you have your chance. For many schools, they won't even get the chance to try."
After all, with 17 programs in the running to join the Big 12 this time around, at least 15 institutions are guaranteed not to receive an invitation.
"Then it's back to playing this game of musical chairs, not knowing when another conference will want to expand or realign," Nagel said. "All you can do is hope that you're ready when the music stops."