Different Funding Systems, Same Underlying Problems
New report notes wide variation in the way states support community colleges, even if none of them are providing enough money.
A new policy report from the Urban Institute examines how national policies will need to recognize the variation and differences across the community college sector in order to be successful.
That variation in tuition, missions and student bodies plays an important role in the overall success at colleges. All of those factors are impacted by a lack of sufficient funding, according to the report.
The report, "Community Colleges: Multiple Missions, Diverse Student Bodies and a Range of Policy Solutions," was co-authored by Sandy Baum, a senior fellow in the Income and Benefits Policy Center at the Urban Institute, and David Baime, senior vice president for government relations and policy analysis at the American Association of Community Colleges.
In one area, the authors found that community colleges are increasingly relying on tuition as a major source of revenue, but tuition prices dramatically differ across the country because of a number of circumstances.
Take, for instance, a state like California, where the tuition price is low and a high number of students are eligible for tuition remission, versus a state like Vermont with high tuition costs. The Community College of Vermont had an annual price of about $7,500 this past year, compared to California, which charged full-time students about $1,420, according to the report, adding that about 60 percent of public college students are enrolled in California's two-year institutions compared to 21 percent in Vermont.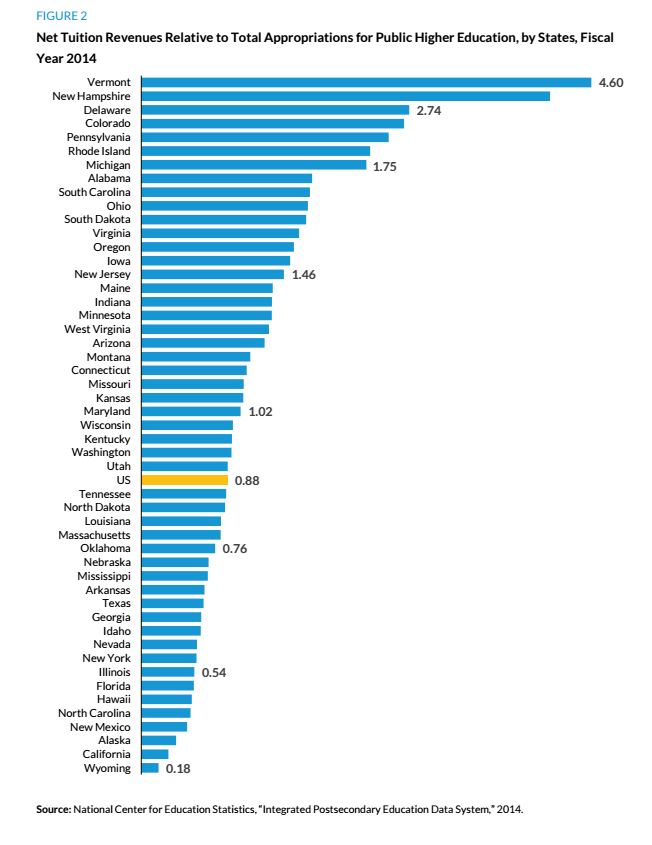 "We're trying to emphasize the variation across community colleges. People are very focused on the role of community colleges in providing educational opportunity and preparing the workforce, but in reality, some states do that very successfully and some states not so much," Baum said. "If we want a national policy about community colleges, we have to think carefully about differences in funding, roles and success rates at community colleges."
These variations and the reasons behind them can have a significant impact on national programs.
"Making community college tuition-free -- or setting any other fixed level of tuition and fees across the nation -- would have different effects on each state budget and student body," according to the report.
Besides the differences in tuition levels, funding is coming up short when it comes to meeting student needs, and grant aid varies dramatically as well. In South Carolina, for instance, the report details that 94 percent of first-time, full-time community college students are receiving grant aid, compared to 48 percent of students in New Hampshire.
"It's a huge problem," Baum said of the lack of state aid, adding that the colleges can't afford the resources to help students. "It would be great if the only barrier were price; it would be easier. But the reality is the barrier comes in many forms."
There's significant variation within states, too, Baum said.
Steve Katsinas, director of the Education Policy Center at the University of Alabama, said within some states the disparity and inequity is apparent. Take Illinois, where state aid makes up less than 5 percent of Joliet Junior College's budget, but more rural Shawnee Community College in Southern Illinois receives about 40 percent of its budget from state investment. The higher education cuts in Illinois are more devastating to colleges that rely on more state aid, he said.
"It's possible that it's part of the discontent that we see reflected in the 2016 elections," Katsinas said. "In a lot of rural areas it might be tied to the lack of community colleges' ability to provide training because they're so badly underfunded in these high-skill, high-wage areas like robotics ... allied health and nursing."
You may also be interested in...
Today's News from Inside Higher Ed
Inside Higher Ed's Quick Takes