You have /5 articles left.
Sign up for a free account or log in.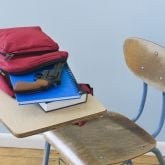 A federal judge on Monday denied a preliminary injunction sought by three faculty members at the University of Texas at Austin to block a new state law that permits concealed weapons on campus.
Specifically, the professors sued to define a right of faculty members to bar weapons from their own classrooms and argued that their First Amendment right to academic freedom gave them that right. The judge rejected that claim.
The ruling is only on a request for a preliminary injunction, and the professors' lawsuit remains alive. Likewise, the ruling is only about the Texas law, not other laws or legislation in other states on campus carry. But the judge's ruling on the academic freedom issue -- one cited by faculty members in Texas and elsewhere to oppose guns in classrooms -- suggests that the professors nationwide could face long odds in making the case as a matter of federal law that academic freedom gives them the right to keep guns out of their classrooms.
The academic freedom argument made in this lawsuit and by many professors nationally is that the presence or potential presence of guns in a classroom effectively limits the ability of faculty members to discuss controversial topics.
Judge Lee Yeakel rejected the argument.
He noted that federal courts have generally respected the right of academic freedom, but his ruling said that this was not an absolute right. He cited the Supreme Court's 1990 ruling in University of Pennsylvania v. EEOC. In that case, the Equal Employment Opportunity Commission sought documents from Penn about its review of the tenure bid of a faculty member who believed the review included illegal discrimination. Penn argued that release of the materials would limit academic freedom by discouraging professors from expressing frank opinions on their colleagues.
Judge Yeakel noted that the Supreme Court rejected Penn's argument, finding that since EEOC was not in any way encouraging or requiring a point of view in the faculty documents, it was not limiting academic freedom.
"Similarly in this case, neither the campus carry law nor the [University of Texas] campus carry policy is a content-based regulation of speech, nor can either reasonably be construed as a direct regulation of speech," the judge ruled. "Plaintiffs assert that classroom discussion will be 'circumscribed by the near-certain presence of loaded guns' and that their ability to 'make [their classrooms] truly a marketplace for the robust exchange of ideas will be impaired.' They argue that they are now 'incentivized to err on the side of "trimming their sails," academically speaking, when they push for classroom debate.' Perhaps they are correct. But the campus carry law and policy do not direct plaintiffs either toward or away from any particular subject or point of view. The provisions do not prohibit, require or even mention any form of speech by professors of the university. The burden of which plaintiffs complain therefore does not fit within any recognized right of academic freedom."
The judge added that he "searched" for evidence of an academic freedom right as asserted by the professors -- going back to the ratification of the Constitution. He wrote that he could find "no precedent" for the idea that faculty members have "a right of academic freedom so broad that it allows them such autonomous control of their classrooms -- both physically and academically -- that their concerns override decisions of the Legislature and the governing body of the institution that employs them."
The professors made a number of other arguments in their request for an injunction, and those were also rejected by the judge. In many ways, however, their assertion of faculty rights to control their classrooms was one of great interest in academe in and beyond Texas. Administrators of the University of Texas (and much of the rest of public higher education in the state) opposed campus carry. But administrators have said that they must comply with the law now that it has been enacted. Some faculty members have complained that administrators haven't focused enough on the issue of faculty rights and the dangers of teaching in a classroom with guns. And it was such complaints that led to the lawsuit.
The views of the professors who sued have wide support among faculty members nationally. Twenty-nine scholarly societies have opposed campus carry laws.
Renea Hicks, a lawyer for the Texas professors who sued, vowed in an email message to The Texas Tribune to provide the judge with additional information to win the case, even though the injunction was denied.
"We'll just have to pull together more facts for trial and hope things go smoothly on campus in the meantime," Hicks said. "Sometimes, public policies are so terrible and extreme that it takes the law and courts a little while to catch up."