You have /5 articles left.
Sign up for a free account or log in.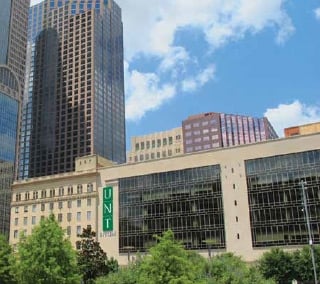 Earlier this month, the American Bar Association's accrediting arm recommended against approving the University of North Texas-Dallas College of Law, citing low admissions test scores scores of entering students. Days later, it found Ave Maria Law School in Florida out of compliance with its standards, again citing admissions practices. 
The bar association also has considered tightening bar-passage standards to make them tougher for schools to meet. Taken together, the moves might indicate a tougher approach at a time when law-school graduates are facing a tougher job market with ever-growing debt loads. 
The struggles of law-schools' former students have led to increased criticism of the association and the schools. That scrutiny came to a head in a summer meeting of the federal panel that oversees higher education accreditors, who grilled ABA leaders over their monitoring practices and suspended the group from accrediting new institutions for one year. 
Some critics of the ABA, however, still see the organization falling short. And they question whether its recent oversight actions are fair to the institutions involved. 
"The ABA is responding to external pressures," said Kyle McEntee, the executive director of Law School Transparency, a group that has often been critical of the association's oversight of the sector. "But the ABA Council is full of people who are concerned about law schools. They're reacting, I guess a little bit slowly for the taste of their accreditor."
Law schools, like many other areas of higher education, saw increased enrollment during the recession. But the job market for law graduates has tightened in recent years. That's meant more lawyers looking for work and fewer applications from prospective law students. To fill out their incoming classes, some programs began admitting less-qualified students who are more likely to struggle on the bar exam and to find employment after taking on large student debt loads, experts say. Those issues were clearly on the minds of members of the National Advisory Committee on Institutional Quality and Integrity -- the federal body that oversees higher ed accreditors -- at its July meeting. 
"This feels like an agency that is out of step with a crisis in its profession, out of step with the changes in higher ed and out of step with the plight of the students that are going through the law schools," Paul LeBlanc, president of Southern New Hampshire University and a member of the committee, said of the ABA at the meeting, according to a transcript. 
The panel voted to suspend ABA's accrediting authority for new institutions for one year as part of a review of a number of national and regional accrediting bodies. 
The vote came after significant scrutiny of the legal education sector in the media -- some of it cited by NACIQI panelists -- and criticism by McEntee's group, which has called out the ABA for inaction on law schools using deceptive marketing practices.
The bar-passage standards and tough action on admissions practices for two institutions might signal a reaction to the broadside the group received from NACIQI. But recommendations on UNT-Dallas and Ave Maria were in the works long before the association was taken to task by the feds, as were the discussions on bar passage standards, said Barry Currier, managing director of the ABA's section of legal education and admissions to the bar.
"A lot of these discussions and conversations have been going on at the council and within legal education for a long time," Currier said. "There certainly was no design to take the University of North Texas or Ave Maria or any other school we might be having conversations with and sort of make them an example to prove anything to NACIQI."
The ABA accreditation committee made the recommendation to withhold approval from UNT Dallas. The group is slated to vote on the recommendation in October.
At Ave Maria, administrators were told that their admissions practices were out of compliance with ABA standards and given until September to develop a plan to address the issues. 
Currier said there is ongoing dialogue between the committee and various law schools about their compliance with the standards. Usually those communications don't become public, but UNT Dallas Law Dean Royal Furgeson notified students about the possibility that the school wouldn't be accredited. 
"One should not assume that there's not a lot of concern and a lot of action being taken on these matters," Currier said. 
The existing bar passage standards for law schools make it possible to fall short -- but the complex set of rules make it easier to find a way to comply, Currier said. For example, one rule in the current standards allows a law school to be in compliance if its bar pass rate is within 15 percentage points of the first-time pass rate for all students in a state. Bar passage rates have declined in a number of states and in states with only a handful of law schools, that standard becomes especially troublesome in holding schools accountable. 
Response to ABA Actions
Ohio State University law professor Deborah Jones Merritt said it's important that ABA is enforcing its standards or (in the case of new bar passage standards) creating stronger ones. But she said the organization's accrediting arm hadn't taken enough of a nuanced approach toward UNT Dallas specifically. Whether a school is admitting students who will succeed in law school and in taking the bar exam is not just a matter of LSAT scores, Merritt said. 
Texas as a state has no shortage of lawyers. However, UNT has sought to train lawyers interested in representing lower-income residents by admitting students from more diverse, and non-traditional backgrounds. The school, which was launched in 2014, also placed a lower priority on LSAT scores than many institutions. Instead, it looked for work experience and other accomplishments that indicated applicants could succeed in classes and on the bar exam. And UNT is charging thousands less in tuition and fees than even other public law schools in the state. 
But ABA staff cited those admissions standards and concerns over financial stability in recommending against accreditation. The process of accreditation begins after the completion of a new law school's first academic year. 
"This just seems to me to be completely wrongheaded. They are doing the exact types of things that we need somebody to do," Merritt said. "They are doing remarkable amounts of student feedback, which we just don't see in law schools." 
She said the school was the victim of unfortunate timing and outside pressures for more action from ABA. 
Paul Campos, a law professor at University of Colorado-Boulder who follows the ABA closely, said he wasn't sure a new law school in Texas is needed but said he preferred to see a new institution trying a more innovative approach to legal education.
"All things being equal, I'd definitely like to see schools like that provide a kind of alternative model of education as opposed to another really high-priced private law school that doesn't seem to be doing anything different," he said. "It would be ironic that maybe the first school to come along that should be accredited in several years would be the place they start drawing the line." 
Next Steps
ABA observers say applying tougher standards to schools on the front end of the law school process is a good start. But they said the group could be doing much more as an accreditor -- including taking a harder look at tuition and the success of students finding jobs after graduation. 
Comments from NACIQI panelists indicated they wanted to see more of a focus on cost of attendance and student debt loads -- issues the ABA is monitoring but hasn't previously seen as being within its purview. 
And the organization's critics say it could be doing more than applying tougher standards to new law schools or institutions that come up for regular reevaluations. McEntee said the ABA has the power to scrutinize other problem schools before their reevaluation period. He also said the group could explore options for developing gainful-employment standards along the lines of those developed by the U.S. Department of Education for for-profit universities and vocational programs at nonprofit colleges. 
Merritt said the ABA could do more to encourage innovation in legal education to keep costs down, such as allowing law schools to award credit for relevant coursework completed in undergraduate programs. 
"Everyone is frustrated with the price of higher education going up. You can see that frustration coming through," she said. 
Currier said the legal education sector has received a tremendous amount of negative publicity in recent years, but that student outcomes are foremost in the minds of many at law schools and within the ABA. 
"What you read in the papers sometimes makes it look like the law schools and the council are not taking their responsibility seriously. That doesn't reflect what's actually happening on the ground in almost every law school and certainly at the council level," he said.