You have /5 articles left.
Sign up for a free account or log in.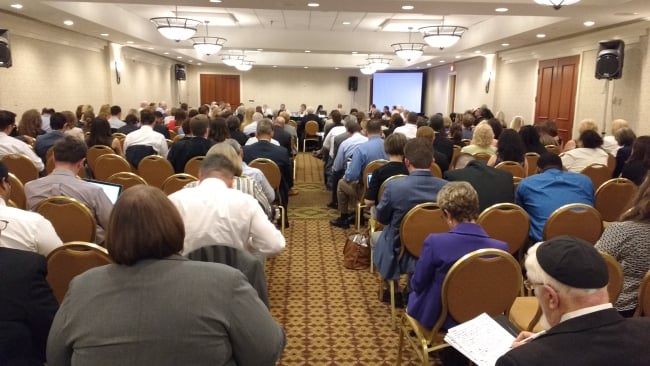 WASHINGTON -- The Accrediting Council for Independent Colleges and Schools got closer to being terminated Thursday after the federal panel that oversees accrediting agencies voted to de-recognize the council, the largest national accreditor that oversees many for-profit colleges.
The National Advisory Committee on Institutional Quality and Integrity (NACIQI) soon will pass its decision back to the U.S. Department of Education, which last week recommended shutting down ACICS and will have 90 days to decide the accreditor's fate. An appeal by the accreditor and lawsuits could follow.
Once the decision is finalized, and if a court doesn't block it, the 245 colleges ACICS accredits, which enroll up to 800,000 students, would have 18 months to find a new accreditor. Depending who you ask, that process either will be a mad scramble or an easy transition, at least for colleges with solid track records.
Either way, the decision to nix an agency that last year served as a gatekeeper for $4.76 billion in federal financial aid is an extraordinary move. It also is the strongest signal yet that accreditors must tighten up their consumer protection role and focus on student achievement measures, such as job placement, graduation and loan repayment rates, or risk facing the wrath of Democrats, consumer groups and many other critics of the accreditation process.
Ted Mitchell, the under secretary of education, set the tone for this week's meeting with his opening statement on Wednesday.
"The truth is that some agencies need to up their game," he said, adding that some accreditors had demonstrated "such wide and deep failure that they simply cannot be entrusted with making the determinations we, you and the public count on."
Mitchell also said the shortcomings of some accreditors have led to a loss of trust in the process.
"When we see schools provide extremely poor outcomes for students -- or even commit fraud -- while maintaining accreditation, that is a black mark on the entire field," he said.
The scrutiny so far at the meeting, which continues today, has not been limited to ACICS, which has come under fire for accrediting several notorious, failed colleges, including Corinthian Colleges, Michigan Jewish Institute and FastTrain College, all of which maintained their standing with the accreditor despite allegations of fraud and systematically misleading students.
For example, other agencies have been scrutinized for how well they monitor their member colleges on student achievement metrics. The department this week released data scorecards for each accreditor to help NACIQI ask those questions.
Most notably, the panel on Wednesday rebuked the American Bar Association, in part for its lack of attention to student achievement.
The ABA accredits law schools, some of them freestanding institutions. NACIQI, after three contentious votes, recommended that the department suspend the association's ability to accredit new members for a year. The panel said the ABA had failed to implement its student achievement standards and probationary sanctions, while also falling short on its audit process and analysis of graduates' debt levels.
Barry Currier, the ABA's managing director of accreditation and legal education, said the finding followed a department staff report that listed minor technical deficiencies with the association's accrediting process.
"The council believes that it is operating in compliance with the recognition criteria," Currier said in a written statement, "but will make any changes to its accreditation standards and rules of procedures that are necessary to stay in good standing with NACIQI and the Department of Education."
Likewise, NACIQI commissioners on Wednesday peppered representatives from the American Psychological Association, a programmatic accreditor, about graduates' debt and repayment levels, which the association does not require its members to submit.
Department officials and the panel also promised that regional accreditors would receive similar scrutiny on student achievement when their recognition is up for renewal.
Too Little, Too Late?
Despite the increasing federal pressure on all accreditors, ACICS is a special case, said department officials and NACIQI members.
The spectacular, expensive collapse of Corinthian, which enrolled 72,000 students when it went bankrupt last year, generated an unprecedented number of federal and state investigations that, in turn, yielded documentation about ACICS's alleged shortcomings -- as well as intense political pressure to shut down the accreditor.
Department officials on Thursday testified that the accreditor in the past had been a "successful partner" with the feds for many years. They also praised the wide range of reforms ACICS has introduced, including more scrutiny for high-risk institutions, a freeze on new members, protections against conflicts of interest on the agency's board and the creation of a new advisory committee that will review its processes and staffing.
"I don't want anyone to think that this is an evil agency," said Steve Porcelli, a longtime department staffer who wrote the report recommending termination for ACICS.
Porcelli said the accreditor was "between a rock and a hard place," with colleges often fighting sanctions and, sometimes, winning in court, as the deeply troubled Bristol University did earlier this year.
Anthony Bieda became ACICS's acting leader after Albert Gray, its president and CEO, resigned in April. He and other officials described the changes they had made, earning praise from the NACIQI commissioners during the meeting.
"We will be in compliance within 12 months," Bieda said in making the case for the panel to give ACICS another chance.
Bieda also made several concessions, saying the agency regretted its predicament and acknowledging that it had struggled to find the "effective art and science" for monitoring large multicampus institutions. (It has accredited ITT Technical Institute and other for-profit chains as well as Corinthian.)
"We need to get better in that regard," he said.
Yet Porcelli and other department staff said repeatedly Thursday that ACICS had been too lax and inconsistent in many cases, noting that its monitoring of Corinthian was a complete failure.
In its staff report and during the meeting Thursday, the department said it did not believe ACICS would be able to clean up its act in 12 months. (The feds said ACICS accredits colleges that enroll 363,000 degree-seeking undergraduates, but that number does not include international students, those who are not eligible for financial aid and students seeking certificates or graduate degrees.)
"To not terminate their agency would be to sanction egregious behavior," said Gail McLarnon, the department's student aid program manager.
Most of the NACIQI members, who are appointed by the U.S. Congress and the department, agreed with McLarnon. The three who didn't all were appointed by congressional Republicans, and the statements during the more than 10-hour discussion of ACICS tended to break down along partisan lines. The dissenters argued that the department and others were unfairly trying to take down ACICS for widespread flaws in accreditation. Some also said the scrutiny was more about the heavily politicized fight over for-profits.
Ralph Wolff disagreed. Wolff, who until 2013 headed the WASC Senior College and University Commission, a regional accreditor, led the panel's discussion on Thursday. In introducing the motion to terminate ACICS, he said the agency had serious, substantive problems with its oversight, which allowed the "systemic corruption" of some of its member institutions.
While the panel backed his motion, the fight over ACICS and the for-profits it oversees may be far from over.