You have /5 articles left.
Sign up for a free account or log in.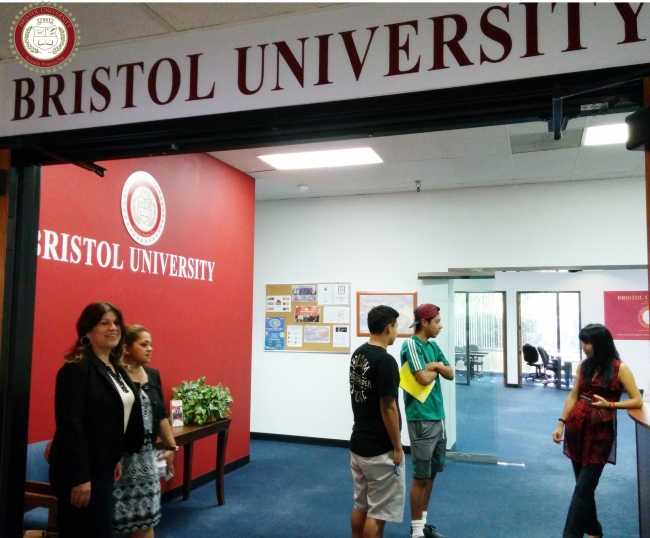 A chorus of powerful critics wants to shut down the Accrediting Council for Independent Colleges and Schools, a national accreditor, for allegedly being too lax with Corinthian Colleges and other controversial for-profit institutions.
In December, however, ACICS tried to slap the most severe sanction available to accreditors on a small for-profit, Bristol University, by denying Bristol's bid to renew its accreditation. ACICS's final decision in March, which resulted in the university shutting down immediately, was based on 24 identified deficiencies, touching on all of Bristol's academic programs and administration.
Yet a federal judge last week blocked the accreditor's move, citing "irreparable harm" to the university if it permanently lost accreditation. The judge said Bristol now may operate as it did before the sanction and can enroll new students.
The drama shows that even when an accreditor moves aggressively, as many accuse them of doing too rarely, they often hit a brick wall with the courts or politicians who are sympathetic to colleges.
The tiny Bristol, which is located in two floors of an office building in Anaheim, Calif., enrolled 120 students two years ago, according to the U.S. Department of Education. The university had just changed ownership, and crafted the business model that led to its regulatory problems. Bristol offers certificates and bachelor's and master's degrees in business, legal studies and hospitality.
In court filings, Bristol's lawyers said the university enrolls mostly "underserved, low-income, international and underperforming students who have been unable to obtain admission to other institutions of higher learning."
The university said a "large proportion" of its students are international, hailing from India, Malaysia, Nigeria, Pakistan and Vietnam. In addition, it enrolls a "sizable population of student athletes."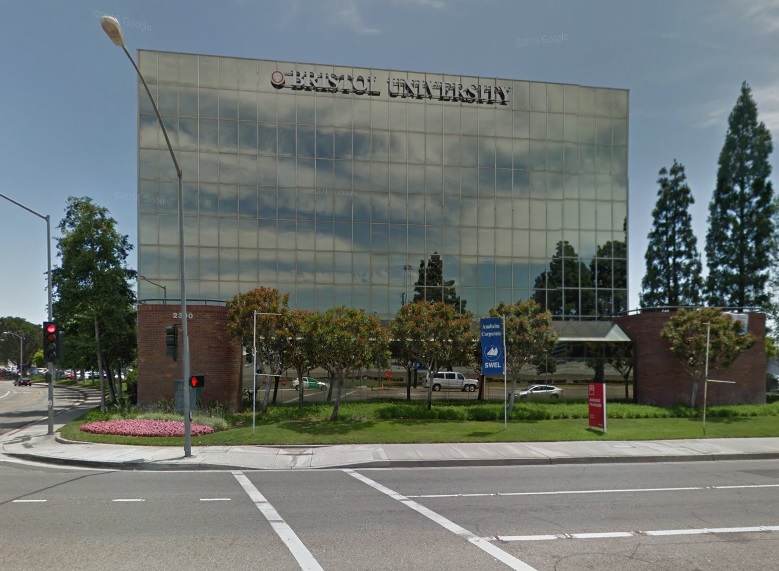 Indeed, Bristol touts 16 varsity sports teams, evenly split between men and women. Despite its petite size, both the men and women's basketball teams have during the last two seasons played opponents from the National Collegiate Athletic Association's Division I. (Oddly, Bristol shares its name with a fictitious university in a former advertising campaign for ESPN, the national sports TV network that is based in Bristol, Conn.)
For example, the university's men's hoops team traveled to play five Division I teams during the 2014-15 season, including California State University at Fresno and Utah's Weber State University, both of which played in the NCAA tournament this year.
Bristol plays what are called "guarantee games," meaning a guaranteed fee paid to the visitor, allowing an easy win for the home team and revenue from its crowd. Fresno State said it paid Bristol $5,000 for the Nov. 17, 2014, game, which the home team won 91-55 over Bristol.
Every dollar counts for the university. ACICS said Bristol lost $268,590 during the first nine months of 2015. Its total revenue during that period was $1,223,593, the accreditor said, and the university had a deficit of $2.1 million.
Bristol reported charging $47,400 in total tuition and fees for a typical bachelor's degree program, which it said took an average of 31 months to complete. It received $340,000 in federal financial aid during the 2015 academic year, according to the Education Department. However, the university flunked a federal program review in early 2015, due to "severe findings," the department said. And Bristol did not tell the feds about its change of ownership for eight months. (Note: This paragraph has been change from a previous version to correct a tuition figure.)
As a result, the department last September told Bristol it was no longer eligible to receive federal aid, including Pell Grants. The department had previously placed the university on a sanction called heightened cash monitoring, where aid payments are delayed. (A form of that penalty essentially led to Corinthian's collapse.)
As of this week, however, Bristol said on its website that "all Pell Grants awarded from other schools may be honored." It's unclear what that statement means, but experts said it almost certainly isn't legal.
State regulators are the third leg of higher education's regulator triad. Bristol remains approved by the California Bureau of Private Postsecondary Education.
Lourdes Cruz, an administrator at Bristol, declined to comment for this article. She deferred to the law firm Saul Ewing, which has represented the university in its legal challenge to ACICS.
Bristol has not challenged the accreditor's findings of a slew of serious problems.
The university, under its former ownership, in 2012 received a three-year grant of accreditation from ACICS. (Bristol's current owner is Patrick Doan, according to a city tax document. The corporation's name is Kensington College Inc.) Colleges often go a decade between accreditation reviews. When Bristol's short-term approval came up last year, the accreditor's findings were clear.
ACICS's list of 24 deficiencies at the university includes evidence of an inefficient and ineffective administration, lack of written evidence that faculty and staff understand their duties or have been properly trained, insufficient evidence about compensation practices for recruiters of athletes, a lack of appropriate learning materials in all five academic programs, some faculty members' lack of appropriate qualifications to teach their assigned courses, and much more.
Yet the university is back in business as of last week because of the court ruling.
"While ACICS is disappointed to learn the U.S. District Court has preserved Bristol University's accreditation for the time being, we stand by the decision and the due process that led to the council's denial of reaccreditation," the accreditor said in written statement. "ACICS takes quality assurance of its accredited institutions very seriously. The council will deny or revoke accreditation from schools that show an inability to meet the academic, financial and operational criteria required of them."
Due Process
Bristol in March sued to block ACICS's "unreasonable" denial of its renewal application, claiming the accreditor violated its own procedures and denied the university due process.
"It's clear that ACICS in this case acted in a way that was a rush to judgment," Josh Richards, a lawyer with Saul Ewing, said in an interview. "The fact that ACICS is under pressure from Congress and the Department of Education to improve its own performance doesn't give it licenses to disregard the rights of the institutions it accredits."
Last week a federal judge agreed with Bristol, finding that the university "made a sufficient showing" with its legal arguments. The judge also cited the high costs Bristol would suffer from losing its accreditation.
The "plaintiff will suffer irreparable harm in the absence of immediate injunctive relief since without accreditation," wrote Anthony Jenga, a U.S. district judge for the Eastern District of Virginia, where ACICS is based, "it will cease operations and its currently enrolled students will no longer be able to attend classes."
The court previously had issued a preliminary injunction that prevented ACICS from revoking Bristol's accreditation. In issuing the preliminary order, the judge did not rule on the merits of Bristol's due-process claims but found that the university would likely prevail in a full-fledged hearing.
As the outsourced gatekeepers of federal financial aid and the ultimate arbiters of academic quality in higher education, accreditors theoretically should have the power to impose the death penalty. But in reality, that almost never happens.
Courts tend to be cautious about shutting down colleges. And two lawyers who are experts on accreditation said the balance between preserving due process and being "reasonably prudent" about cracking down on poor-performing colleges is out of whack.
Politicians with ties to colleges often join the fray, too, leaning on accreditors and the feds to keep an accreditor from imposing sanctions on a local college. And while Bristol appears to have hired capable lawyers to plead its case, the legal firepower of a deep-pocketed Corinthian or ITT Educational Services, another controversial for-profit chain accredited by ACICS, is much more imposing.
Pulling accreditation should not be done lightly, said William Ojile, Jr., a lawyer at the firm Armstrong Teasdale, who has a specialty in accreditation. But ACICS appears to have gotten a raw deal with the court's decision on Bristol, he said, after putting in a lot of expensive effort.
"These are huge efforts," Ojile said. "It's an extreme amount of work in a short time."
A key argument by Bristol's lawyers was that the accreditor moved too fast to yank the university's approval.
For example, it issued a "final decision" last December to deny Bristol's renewal application, basing that call on the university's item-by-item response to more than 37 deficiencies identified in an August letter from the accreditor. Those concerns arose in part because of the findings of a team of volunteers selected by ACICS, a standard practice in higher education accreditation, which had visited Bristol in May.
However, the accreditor's December decision did not give Bristol a "compliance warning" or time to fix those problems, the judge wrote. And ACICS rejected the university's appeal of its final decision just 90 minutes after a hearing on it concluded.
And, in a bizarre turn, the university in March offered to submit to "intensive ACICS monitoring" for six months, in exchange for pledging to not challenge the accreditor's final decision. The accreditor didn't take the deal, and moved quickly, at least in a relative sense, as its critics had charged that ACICS should have acted with other for-profits.
The judge, in his final ruling, said problems the accreditor identified about Bristol "raised serious questions as to whether Bristol could or should continue to operate as an academic institution." But he found that the university likely was denied due process and that "ACICS failed to abide by its own procedures for assessing Bristol's application for accreditation renewal."
Paul Gaston, Trustees Professor at Kent State University and an expert on accreditation, called the judge's ruling narrow and procedural. In a book he recently wrote on accreditation, Gaston said "due process should embody both fairness and urgency."
The court's blockage of a decisive move by the accreditor is "enormously frustrating," Gaston said. "It's the ultimate damned if you do, damned if you don't."
Sanctions Without Teeth
The Obama administration and several Democrats in the U.S. Senate have been scathingly critical of ACICS for keeping Corinthian in good standing until it collapsed, despite the former for-profit chain's fraudulent behavior in lying about job placement rates, among other problems.
Likewise, attorneys general in 12 states wrote to the federal panel that oversees accreditors, urging it to remove ACICS's recognition as a federally approved accrediting agency. The council, which accredits roughly 900 institutions with a collective enrollment of 800,000 students, is up for review by the panel next month.
Perhaps most spectacular was the grilling Senator Elizabeth Warren gave Albert Gray, ACICS's longtime president, during a hearing on Capitol Hill last year.
"If accrediting agencies aren't willing to stand up against colleges that are breaking the law, colleges that are cheating their students, then I don't know what good they do," the Massachusetts Democrat said then. "And I sure don't know why we would let them determine which colleges are eligible for federal dollars."
Gray resigned abruptly last month.
Ben Miller is senior director for postsecondary education at the Center for American Progress and a former official at the U.S. Department of Education. Miller has been a vocal critic of ACICS's lackluster oversight of Corinthian and other for-profits.
For example, he wrote last September that "one out of every five borrowers at an ACICS-accredited college defaults on his or her loans within three years of entering repayment -- a mark that is 50 percent higher than the national average."
Miller said the "ridiculous" Bristol saga "shows why it's so hard to kick colleges out." The extreme due process accreditors and the courts grant institutions, he said, is one reason why sanctions often lack teeth.
"You want due process rules … but not entitlements for the schools," he said, which often allow "incapable operators to continue forever, rather than just cutting the cord."
Likewise, Arne Duncan, former U.S. Secretary of Education, said last November that accreditors are "watchdogs that don't bite."
On its surface, Miller said ACICS appeared justified in its decision to move relatively quickly to nix Bristol's renewal application. "Much like a child," he said of accreditors, "you need to encourage them when they do the right thing."
For its part, the department appears unlikely to reinstate Bristol's federal aid eligibility.
"This case highlights again the need for strong oversight and swift action by all stakeholders responsible for higher education accountability," said Kelly Leon, a department spokeswoman, in a written statement. "The department is doing its part by building up its own enforcement efforts and by increasing oversight of accreditors."
Bristol is far from being out of the woods. The federal judge last week said the university's accreditation will remain subject to ACICS's further review and evaluation. Given the range of problems the accreditor has found, the university has plenty of work to do.
Yet ACICS also faces an existential challenge. And its time on the hot seat comes next month, likely much sooner than the timeline due process will grant to Bristol.
-- Michael Stratford contributed to this article.
More from For-Profit Colleges