You have /5 articles left.
Sign up for a free account or log in.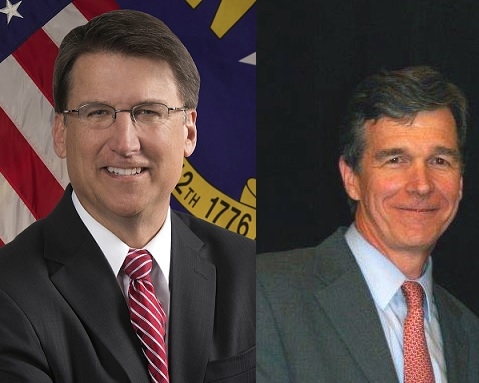 North Carolina Office of the Governor, North Carolina Department of Justice
North Carolina, with its public higher education system long held up as among the best in the nation, has in recent months been home to several controversial moves by politicians that have raised questions about its universities' autonomy, identity and direction.
You wouldn't know it from the governor's race.
Nearly all mentions of education in a tight race pitting incumbent Republican Pat McCrory against the state's current attorney general, Democrat Roy Cooper, have largely been focused on K-12 issues. Yet the gubernatorial election could still have significant consequences for the future of public higher education in the state.
That makes it an election worth watching for those around the country concerned with higher ed -- even if North Carolina's universities and community colleges never become the biggest issue within the state's borders.
A quick rundown of recent history shows this is a significant time of change in North Carolina higher education. In the last several months alone, faculty members at the University of North Carolina at Chapel Hill have worried about the possible political influences surrounding a new environmental public policy laboratory being set up at the instruction of state lawmakers. Three institutions in the UNC system have found themselves preparing to drop in-state tuition to $500 per semester in 2018 after an earlier, wider-ranging plan drew sharp criticism over worries it heavily targeted historically black institutions and was modified by the Legislature.
The state budget passed this year also capped annual fee increases and fixed tuition rates for incoming student classes over four years. And legislators amended a former North Carolina Guaranteed Admission Program that would have diverted the least-qualified students bound for UNC institutions to community colleges for two years before guaranteeing them UNC admission as juniors. UNC system President Margaret Spellings is now to adopt a plan to improve student undergraduate degree completion and report on that plan by the start of 2017. The guaranteed admission program would only go into effect for the 2018-19 year if no degree completion plan is put in place.
Those changes came as the UNC system maintains it is caught in the middle of federal regulations and HB2, the state law signed and defended by McCrory that requires state agencies to prevent transgender people from using bathrooms that don't match their biological sex at birth. They also came less than a year after Spellings, a former U.S. Education Secretary from President George W. Bush's administration, was chosen as president of the UNC system. Spellings's selection ended a controversial search that started in early 2015 when Thomas Ross, the system's well-respected president, was ousted under mysterious circumstances amid whispers that state Republicans disliked his historic connections to Democratic leaders.
The individual changes drew their fair share of debate as they were put in place. But political observers say they're unlikely to coalesce into a major campaign point in the two months leading up to Election Day. Still, pundits point out that the gubernatorial race -- a virtual tossup most think is currently leaning ever so slightly toward the Democratic challenger, Cooper -- can have a major impact on the state's higher ed policy and direction.
That's despite the fact that North Carolina is considered to have a relatively weak governorship. It's also in spite of the fact that many of the recent changes were viewed as being driven by a Republican Legislature, which is likely to remain dominated by the GOP after November.
"There have been, I would say, much more forceful attempts to push an agenda coming from legislative leaders," said Steven Greene, a political science professor at North Carolina State University. "It doesn't have to be that way. Certainly we have had previous governors who have been far more forceful."
Skeptics of the governor's influence on higher education might point to the fact that the UNC Board of Governors is elected by the North Carolina General Assembly. Or they might argue that the most controversial legislation affecting the UNC system has come from lawmakers, not the governor's office. It was Republican Senator Tom Apodaca, not McCrory, who was the primary sponsor of the $500 tuition bill, after all. It was Republican lawmakers who called a special session to pass the political lightning rod that is the bathroom law.
Greene said McCrory is seen as having let legislators take the lead on many issues. But a governor has tools at hand to influence education policy if he sees fit.
"It's not like he doesn't have veto power," Greene said. "It's not like he doesn't have the bully pulpit, being the chief executive of the state. We may not be the strongest governorship, but it's nothing to sneeze at."
The McCrory campaign, meanwhile, links the governor to many of the recent policy changes. A release on higher education from the end of August highlighted the $500-per-semester tuition plan, which covers Elizabeth City State University, UNC Pembroke and Western Carolina University. It trumpeted the fact that UNC system undergraduate tuition was frozen, creating set tuition levels over four years for entering students, and that student fee increases were capped at 3 percent annually.
The governor's campaign additionally points out that McCrory pushed for a $2 billion bond campaign passed by referendum in March. Much of the bond revenue was slated for higher education, with $980 million designated for the UNC system and $350 million designated for community colleges. Earlier in his term he also called the first meeting in almost three years of the North Carolina Education Cabinet, an entity designed to help the different elements of the state's education system cooperate.
Cooper has addressed higher education in his own education plan, most notably calling for a program to have the state offer free community college -- a call in keeping with other efforts around the country such as the Tennessee Promise and President Barack Obama's push for tuition-free community college. Cooper has emphasized student loan debt as an issue, calling for a state loan refinancing authority and a borrower's bill of rights.
The challenger's campaign also attacks McCrory and legislative leaders, claiming they've sought to cut funding for higher education and raise community college tuition.
A McCrory campaign spokesman said the governor has invested in higher education, saying the bonding effort will prepare the state's higher education systems for decades to come.
Still, those are talking points and platforms issued by the campaigns. The candidates themselves have hardly brought up higher education. When education did come up during a gubernatorial debate held earlier this year, it wasn't higher education.
"There are a lot more people interested in K-12," said Carter Wrenn, a Republican political commentator who managed Ronald Reagan's 1976 presidential primary in North Carolina and led several other campaigns and political operations. "A lot more people are concerned about ISIS or public schools or corrupt politics than they are higher ed right now."
Wrenn sees Cooper with a small leg up in the election at the moment. But there are many swing voters who could go either way, he said. The way those voters break could have an impact on down-ballot races, reinforcing what is a currently a veto-proof Republican majority in both houses of the state Legislature or cracking it.
"If those voters at the end of the day break Democratic -- and Cooper's got a little bit of an edge -- then you're going to see Democrats picking up strength in both houses," Wrenn said. "There's a pretty good chance the Democrats will elect enough that there won't be a veto-proof majority."
But many who are passionate about higher ed see it as a larger issue that will be heavily influenced by this election, said Pope McCorkle, an associate professor of the practice who directs the master's in public policy program at Duke University's Sanford School of Public Policy and is a former Democratic consultant.
"Certainly, the partisans of higher ed almost uniformly think McCrory has been bad," McCorkle said. "The way higher ed plays in now is the perceived attack on higher ed because of the ouster of Tom Ross, various funding cutbacks -- which you can argue about the numbers."
McCorkle thinks Cooper might try to emphasize an affinity for the UNC system going forward. It boils down to the case that the UNC system is under fire and must be preserved versus the argument that McCrory and legislators have tried innovative ideas aimed at improving it.
"We have always valued higher education in an almost bipartisan way," McCorkle said. "Higher ed was really sacred, and it was our kind of secret sauce, our economic development. It's what we committed to long ago that a lot of other Southern states have been trying to catch up on."
With that history, higher education will likely come up in the campaign, some say. Still, it seems unlikely to be a deciding factor in the minds of voters.
"It is interesting to see higher education really be sort of a secondary issue," said Andrew Taylor, a professor of political science at North Carolina State. "There will be questions. These kinds of things will come up. But whether they will captivate the audience watching or influence the way people are going to vote, I doubt it."
In some ways, that leaves North Carolina as a proxy for the country, where higher education issues have cropped up in the presidential campaign but largely simmer under the political surface.
"There is the sort of general questioning of higher education in the country, but that's not just North Carolina," Taylor said. "From the left, there's a question of accessibility and affordability. From the right, there's a question about wise investment of resources and political agendas being exercised on campuses and political climate on campuses."
Other Elections
North Carolina and 11 other states are holding gubernatorial elections this year. While higher ed isn't a top talking point in the campaigns, in several other states high-profile public higher education issues have cropped up recently.
Indiana: With Republican Governor Mike Pence joining Donald Trump's presidential campaign ticket, Lieutenant Governor Eric Holcomb is running against former Democratic State House Speaker John Gregg. Higher ed issues in recent years have included questions from state lawmakers over low graduation rates at the statewide Ivy Tech Community College, and Indiana University filing a lawsuit to challenge a state abortion law restricting fetal tissue transfer because of research and academic freedom implications.
Missouri: Democratic Attorney General Chris Koster is facing off against Republican Eric Greitens, a former officer in the Navy SEALs, to succeed term-limited Democrat Jay Nixon as governor. The state is no stranger to politically charged events at its universities in recent years, such as the protests last year at the University of Missouri at Columbia that led to the flagship campus's chancellor and the system president resigning. Graduate employees at the campus also sued for union recognition this year.
Koster recently waded into the issue of guns on campus by filing a lawsuit supporting a University of Missouri School of Law professor's argument for bringing a concealed weapon onto campus under state law, even though the university's board prohibits concealed firearms on campus. Koster's lawsuit argued that the university rule conflicted with state law, The Kansas City Star reported.
It said that while concealed carry permits do not authorize the carrying of a gun into an institution without governing body consent, possession of a firearm in a vehicle is not a criminal offense. It argues university employees with valid concealed carry permits need to be allowed to lock firearms in their vehicles while on campus property.
North Dakota: Republican Doug Burgum, a former Microsoft executive, is running against Democratic State Representative Marvin Nelson to replace Republican Governor Jack Dalrymple. Funding has been an issue recently in North Dakota, as falling oil prices have placed heavy pressure on the state's budget, prompting higher education cuts this year.
Oregon: Incumbent Democrat Kate Brown and Republican Bud Pierce, a physician, are vying in a special election to serve the final two years of Governor John Kitzhaber's term after Kitzhaber resigned in February 2015 in the midst of an ethical and criminal investigation. They do so in an unsettled environment for higher ed.
After several years of movement toward independent governance at each of the state's seven public universities, the old Oregon University System is dead, and early reports by The Oregonian have labeled the transition largely successful -- even as some institutions like Eastern Oregon University continue to fight for survival.
The state's Higher Education Coordinating Commission approved a biennial budget request in August calling for a 42 percent increase in operating support for the state's public universities, up to $943 million. Leaders said the Legislature may not be able to find money for the entirety of the request but still hailed the move as an important step after years of declining or flat funding levels.
Brown also signed the Oregon Promise law, creating grants to drastically reduce the cost of community college tuition.
Vermont: Democrat Sue Minter has proposed a franchise fee on large banks to pay for a Vermont Promise, providing two years of free tuition at the Community College of Vermont or Vermont Technical College. She is running against Republican Lieutenant Governor Phil Scott to replace retiring Democratic Governor Peter Shumlin. Scott has promised to prioritize higher education and technical education.