Flier campaign at Michigan State targets a Hispanic professor who advises Donald Trump.
(West Michigan Politics)
Academics often say that the answer to objectionable speech is more speech -- not censorship. But a flier campaign targeting a professor and adviser to Donald Trump at Michigan State University has some questioning the limits of that logic.
An unidentified person or group reportedly posted a number of fliers on campus about Joseph Guzman, an assistant professor of human resources and labor relations who teaches in the Chicano/Latino studies program. Entitled "Meet Your Professor!," the fliers highlight that Guzman was recently named to Trump's National Hispanic Advisory Council. They feature an image of Guzman -- his head circled in red -- seated behind Trump at an August rally near Lansing, Mich., with the caption, "Guzman cheers on fascist oligarch while waving a 'Make America Great Again' sign."
Accompanying text says that "Guzman claims to represent the Hispanic community by advocating for unfair and unequal working conditions for migrant workers that place them at the mercy of predatory bosses."
The flier also features unflattering "student testimony" about Guzman, supposedly taken from Koofers, an academic rating website.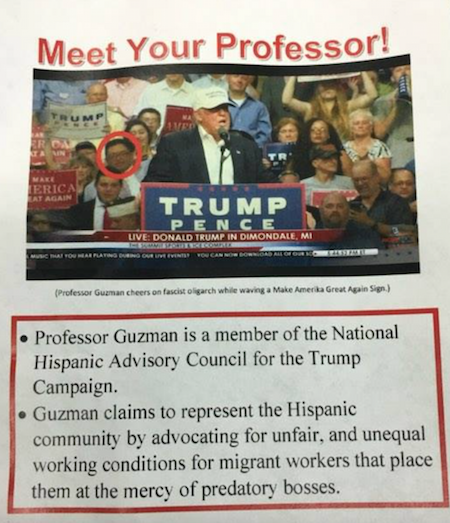 Guzman did not immediately respond to a request for comment. He told a local website, West Michigan Politics, that the First Amendment "protects freedom of expression and association, particularly in the civic realm." Yet it's "unfortunate some think that civic activity involves suppressing other individuals' right to free speech with lies, smears and disruption," he said.
The professor, who is also a co-chair for Trump's Michigan campaign, said he's suffered additional harassment online, at work and in public over his affiliation with the candidate.
Jason Cody, a spokesman for the university, said it hasn't been contacted to take down any fliers. And it's likely the university wouldn't remove them, if asked. Cody said that Guzman is "free to support any political cause he wants to embrace, and others are free to express their opposition to that, as well."
There are limits to that policy, such as overt threats against a person, Cody said. But each allegation of harassment is taken on a case-by-case basis.
John K. Wilson, an academic freedom expert and co-editor of the American Association of University Professors' "Academe" blog, is no fan of the Republican presidential candidate -- he recently wrote a book called Trump Unveiled: Exposing the Bigoted Billionaire. Yet he questioned the fairness of publicly attacking a professor's political views or selecting one student's comment to trash him.
Nevertheless, "freedom of speech is about freedom, not fairness," he said.
In Guzman's case and in general, Wilson said, "Freedom of speech includes the freedom to shame and the freedom to smear. Every professor is free to express any political opinions, including dumb ones. But they're not free to be immune from criticism for those public views."
Even if Guzman could prove that the allegations against him were "lies" and "smears," Wilson added, "It's not a violation of Guzman's free speech for people to criticize him."
Mark Bauerlein, a conservative professor of English at Emory University -- where some students last spring complained that pro-Trump campus chalkings were unsettling -- said, "Let the posters circulate, and let [Guzman] reiterate his support for Trump. I admire him for doing so -- we have enough academics bowing down as it is."
As to the specific claims against Guzman, Bauerlein said he couldn't comment because he doesn't respond to anonymous attacks. "When the people who wrote this stand up like men and women and put their names to it, then I'll comment," he said. "Until that time, they are cowards and weasels."
In general, he added, "in cases like this and so many others on campus, we should talk less about free speech, academic freedom and rights and more about honor, honesty and courage."
You may also be interested in...
Today's News from Inside Higher Ed
Inside Higher Ed's Quick Takes