Topics
Taking a Stand by Refusing to Stand
Debate grows about athletes who kneel during national anthem. Football players at Indiana State and Tulsa join movement. Texas chancellor urges students to stand and face flag.
The debate over whether athletes should stand during the national anthem may have been kicked off this fall in the National Football League, but it has spread to the college ranks.
On Wednesday, three West Virginia University Institute of Technology volleyball players fell to their knees during the playing of the national anthem before a game. The players, all of whom are black women, said they were kneeling in solidarity with Colin Kaepernick, the NFL quarterback who set off a national debate for refusing to stand during the national anthem in protest of racial oppression and police brutality.
On Saturday, one football player from Indiana State University and one from the University of Tulsa knelt during the national anthem at games their teams were playing.
And on Friday, word spread that the chancellor of the University of Texas System (which has not seen instances of players not standing for the anthem) had distributed a memo urging -- but not requiring -- all athletes to stand and face the flag, with hands over their hearts, during the playing of the anthem.
The debate over the national anthem and athletes is part of a broader discussion of the appropriate role of college athletes in speaking out about political and social issues.
Athletes, Race and Protest
In the case of the college athletes who are not standing for the national anthem, all who have been identified are black, and the cause they are embracing is the fight against racism in American society. When black athletes -- for example in the 1968 Olympics -- have used their visibility to promote the fight against racism, they have been praised by many but also criticized by many, and faced ugly racist attacks in some circles.
Today, Jackie Robinson, the first black player in major league baseball, is universally praised as a hero. But many don't recall that he wrote of feeling that he didn't want to stand and sing the national anthem. "Today, as I look back on that opening game of my first World Series, I must tell you that it was Mr. Rickey's drama and that I was only a principal actor," Robinson wrote in his autobiography, referring to Branch Rickey, who signed Robinson to play in the majors. "As I write this 20 years later, I cannot stand and sing the anthem. I cannot salute the flag; I know that I am a black man in a white world. In 1972, in 1947, at my birth in 1919, I know that I never had it made."
When the cheerleading squad at Brown University in 1973 (at the time, an all-black squad) refused to stand for the national anthem before a basketball game with Providence College, the Providence City Council held a hearing at which the university was denounced and the cheerleaders were censured. The university's president at the time, Donald F. Hornig, defended the cheerleaders, saying that they had the right of free expression.
Many people praised the football team at the University of Missouri at Columbia last year when its members threatened to boycott a game if the university's president -- under fire for what critics considered an inadequate response to racial incidents -- didn't resign, as he subsequently did. But the response to the more recent protests has been mixed.
The Protests and the Responses
Since Kaepernick started his protest, players' decisions with regard to the anthem have received unusual scrutiny. A week ago, Bowling Green State University said that football players who appeared to be on their knees during the national anthem before a game against Ohio State University were actually praying.
The first confirmed case of college athletes declining to stand during the anthem was Wednesday's women's volleyball game at West Virginia University Institute of Technology. The students there said they wanted to support Kaepernick's protest.
"He's exercising his right to choose to sit or stand, so you have to recognize that he's got that right," Keyonna Morrow, one of the players and vice president of WVU Tech's Black Student Union, told a local news station.
WVU Tech released this statement about the action by the students: "As an institution of higher learning, we encourage the free exchange of ideas among all our students, faculty and staff. We value everyone's right to free speech. Even though there were differences of opinion among those in attendance at Wednesday's volleyball game, our students were respectful of one other and their opinions. We are proud that our students can have civil conversations about difficult issues and concerns. They are a positive example of how we can hold different views and opinions while still engaging in constructive dialogue to gain new perspectives and understanding. The university will protect the rights of freedom of speech, expression, petition and peaceful assembly as set forth in the U.S. Constitution."
On Saturday, people observing football games posted photographs of athletes who had joined the protest.
Indiana State released a statement on Sunday confirming that Lonnie Walker, a defensive back, knelt during the anthem. "Lonnie Walker's decision to take a knee during the national anthem was his personal choice as a citizen. Indiana State University has a long history of diversity, inclusion and its students exercising their right to free speech," the statement said.
Many on social media noted Saturday that they saw a player on the University of Tulsa football team kneel during the anthem. As with the other instances of such protest, some on social media praised the protest for drawing attention to racism faced by black people. But many were also critical.
#1 for Tulsa took a knee during the national anthem, I hope he gets targeted, HARD. Go #Bucks !

— Jakob Bucklin (@Jakobpb) September 10, 2016
The athletics department released a statement after the game.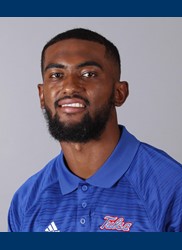 "Following the Tulsa team prayer at Saturday's football game in Columbus, student-athlete Keanu Hill [shown at right] continued to kneel as the national anthem was played," the statement said. "A university setting is a place of free expression and open discussion of differing perspectives and opinions, however, the actions of one do not speak for an entire group and -- in this instance -- not for the University of Tulsa Athletics. The national anthem and salute to the flag are ways we show thanks for our freedom and respect for the men and women who have served our country."
A Call to Remember the Flag's Many Meanings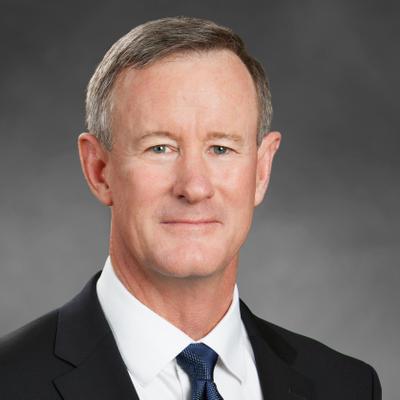 William H. McRaven (right), chancellor of the University of Texas System, had been thinking about the issue of how college athletes show respect for the flag well before the current controversy -- even though there have not been instances of Texas athletes declining to stand for the national anthem.
McRaven first sent a note to system presidents and athletics directors in January urging them to encourage athletes to show respect during the playing of the national anthem by facing the flag and placing their hands over the hearts. He sent another letter amid the current discussions.
McRaven is a retired Navy admiral who oversaw the raid that killed Osama bin Laden, and he referenced his Navy service in the letter. "I spent 37 years defending freedom of speech and freedom of expression. Nothing is more important to democracy. Nothing!" he wrote. "However, while no one should be compelled to stand, they should recognize by sitting in protest to the flag they are disrespecting everyone who sacrificed to make this country what it is today -- imperfect as it might be."
Students should remember, McRaven added, that the flag has played a key role in protests on behalf of equity throughout the long history of protesters pointing out the ways the United States has discriminated against various groups.
"Those who believe that the flag represents oppression should remember all the Americans who fought to eliminate bigotry, racism, sexism, imperialism, communism and terrorism," McRaven wrote.
He added, "The flag rode with the Buffalo Soldiers of the ninth, 10th, 24th and 25th cavalry and infantry regiments. It was carried by the suffragists down the streets of New York City. It flew with the Tuskegee airmen of WWII. It was planted in the fields where Cesar Chavez spoke. It marched with Martin Luther King Jr. It rocketed into space on the shoulder patches of women, gays, Hispanic, Asian and African-American astronauts. Today, it waves high over the White House. it is a flag for everyone, of every color, of every race, of every creed, and of every orientation, but the privilege of living under the flag does not come without cost. Nor should it come without respect."
Please follow me on Twitter @ScottJaschik.
Read more by
You may also be interested in...
Today's News from Inside Higher Ed
Inside Higher Ed's Quick Takes
What Others Are Reading
Past:
Day
Week
Month
Year