You have /5 articles left.
Sign up for a free account or log in.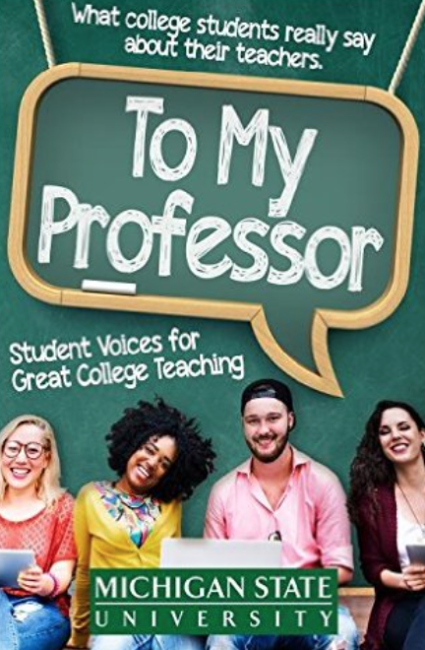 There's no shortage of books on how to become better college instructor, but surprisingly few take student perspectives into account. Not so for a new book from Michigan State University. The product of a journalism class, To My Professor: Student Voices for Great College Teaching (Read the Spirit Books) distills thousands of student comments and bits of advice into a cleverly organized, timely read. It should appeal to anyone interested in improving instruction or simply knowing what students think, beyond the seeming randomness of teacher rating websites or the targeted feedback in student evaluations of teaching.
"What makes this book unique is the fact that it is written by students," said Meaghan Markey, an advertising major at Michigan State who wrote or helped write sections on student parents, Hmong students and online classes. "What we wrote isn't just theory, it's things we as students have actually experienced. Our goal with To My Professor is to give students a voice and for professors to hear us."
Markey and her journalism classmates began writing the book in January. The original idea -- as in previous iterations of the course -- was to write a cultural competency guide for the university classroom. But it soon evolved into something bigger: a book on contemporary teaching informed and written largely by students. Classmates started with a simple prompt -- "To my professor..." -- which yielded thousands of comments through social media and other websites, along with in-person interviews and focus groups. About half the comments came from students at Michigan State, and half came from those elsewhere. The authors divided that feedback into recurrent themes, eventually coming up with chapters on topics from course structures and syllabi, student engagement and technology to inclusion of students of all races, cultures and abilities.
Each chapter and subsection starts with original student comments, scrubbed for anonymity. The chapter on racial inclusion, for example, starts with quotes including "Just because I'm black I cannot speak for all my 'people'" and "When your professor is so biased toward Latinas and undermines the hardships that Asians have to go through in this society."
"Racial tensions can arise abruptly in the classroom," the book reads, summarizing student comments and relevant research. "Sometimes, the tension is due to something an instructor says: the wrong word, an awkward attempt at humor or a stereotype laid bare. And sometimes, students argue about racial issues. Whatever the case, professors are responsible for handling these conflicts. They cannot just be ignored."
Beyond student comments, the book also includes strategies for overcoming possible points of tension. Some of those are gleaned from existing research, and others were solicited from master teachers and education experts. Howard C. Stevenson, the Constance Clayton Professor of Urban Education and a professor of Africana studies at the University of Pennsylvania, is quoted as advising professors to take up to 60 seconds to recalibrate a surprise confrontation about race or culture into a constructive conversation with phrases such as "Let's talk about that." Professors should take note of their emotions to avoid injecting them into the discussion, he says, and help set ground rules that keep the focus on students' feelings and the issues -- not assigning blame.
In a separate section on grades and feedback, Angela Duckworth, Christopher H. Browne Distinguished Professor of Psychology at Pennsylvania and author of Grit: The Power of Passion and Perseverance, recommends that professors move the focus from grades to feedback, to alleviate anxiety and even complaints. Duckworth says that college students are relatively starved for feedback, because they received it daily or weekly in a high school, and says professors should tell students how they're doing much more frequently.
Curious about how to engage more students? Amol Pavangadkar, a senior teaching specialist and producer at Michigan State's College of Communication Arts and Sciences, looks out in his classes for "floaters," or those students who keep a low profile and try not to attract any attention, good or bad. To make sure they're involved in class, he takes a two-pronged approach, first making them a do a public critique of a video reel, accompanied by a graded paper, and then scheduling one-on-one advising appointments with them. These "floaters" are also asked to file project time and location plans with him, to keep them on track while honoring their wishes for privacy. Pavangadkar says these wishes sometimes come from undisclosed mental, physical or legal issues.
Other bits of advice are relentlessly practical: don't cancel class 15 minutes ahead of time, particularly if you have commuter students. Use proper email etiquette, since that's expected of students. Learn how to pronounce students' names, even the hard ones. Don't just read from tiny print on PowerPoint slides, which, according to the book, can be "weapons of class destruction." And while you're at it, update your lessons. Students notice when you're using 2000 U.S. Census data, for example, when the 2010 data have long been published. Make your office hours count, starting with being available when you say you'll be.
Each section also includes a resource guide listing research and compendiums of best practices. But the student comments alone are illustrative of what not to say or do. Here's a list of not-so-greatest hits taken from various chapters:
"I can't believe my professor just asked this girl from Saudi Arabia if she was a terrorist!"
"My professor just asked me if I celebrated Thanksgiving [because] I'm Jewish. … Dude, I'm still American."
"All migrant workers are not a 'plague' on America."
"When you have a nontraditional student who has been out in the world in one form or another, it can be slightly insulting to be treated like you're an 18-year-old kid wet behind the ears and just out of high school." (From a section on teaching veterans.)
"My math teacher said to an older student, 'You look like you've seen these units many times before.' Holy awkward."
"I wish professors wouldn't assign work during class that is due by midnight. As a first-generation student, my parents don't have jobs that allow for me to not work during college. I work part time to pay for my essentials. Give me a few days to submit the assignment after you assign it in a class."
"When you email your professor thinking you're going to fail a project, and he emails you back with a Bible verse and hope. #thankyouprof."
"My professor called Republicans 'brain-dead.'"
"My professor knows my name and without a doubt comments on my appearance every class. Today's comment was 'glammed-up homeless.'"
In case you're wondering, not all student comments were negative. One student quoted in a section on helping students break career-based gender stereotypes wrote, "Thank you for recognizing that I am a student who cares about my education, regardless of my gender," for example. "Thank you for always giving me a platform to speak comfortably in class even though English is not my first language," wrote another in a section on nonnative speakers of English.
"Thanks for talking to the students making racist jokes, it made me feel comfortable knowing you were on my side," said someone else. One more said, "As a student who is hard of hearing, it is difficult to hear questions asked by students in lecture, so I really appreciate it when you repeat questions to the class."
And perhaps the winner: "One of our teachers learned Braille so that she could teach her blind student. Amazing."
Here's some additional food for thought:
"My professor just made us all clap for the athletes in the class, saying, 'Thanks for all you do for us, you guys deserve our praise."
"My professor knew that I have really bad anxiety, especially when it comes to public speaking. She would warn me ahead of time if I had to talk in class so I could prepare myself."
"If feel that your method of teaching and your style of trying to connect with the students is all wrong. By passing around a sheet on the first day showing that the average grade for your class is below a C, you made us feel like you were setting us up for failure at the start. You knew I suffered from [attention deficit/hyperactivity disorder], that I was struggling, but you did not care. As a professor, you should make yourself available as much as possible to your students. A teacher is supposed to be approachable, someone you can trust, and you were not that."
"My prof tells me I need to participate in class discussions more but every time I raise my hand she never calls on me."
Bryce Airgood, a journalism major at Michigan State and one of the book's student authors, said her favorite thing about To My Professor is "that instead of just assuming what students had issues with in regards to professors, we actually asked them and got their viewpoints."
Joe Grimm, an editor in residence at Michigan State and the faculty lead on the book, called the student perspective its "secret sauce."
"Most of the literature on teaching comes from master teachers or administrators or people like that," Grimm said. Yet students have valuable feedback, as well, he added. "They are all adults, and, after all, they're consumers of this product -- that's sort of my line. Saying that students can't evaluate teaching is kind of like saying that diners can't evaluate their meals."
At the same time, Grimm acknowledged common criticisms that student evaluations of teaching at the end of a course can catch the attention of the "grumpiest" students. And comments on such websites at RateMyProfessors.com tend to be "highly anecdotal," he said.
In contrast, Grimm said, the comments quoted in To My Professor aren't necessarily aimed at any one professor in any one course, and the question -- What do you want your professor to know? -- is highly open-ended. Of course there was some "venting," he said, but that doesn't mean it's not ultimately constructive.
"If you tell the class, 'Fraternity students never study and party all the time,' students in the class who are Greeks might think the professor thinks that applies to them."
Grimm said he reminded his students that they were writing the book out of "love, not vengeance," to a fill a gap in the teaching literature. "Sometimes you do things wrong not because you're a horrible person but because you're unprepared for a situation, and you blunder your way through it."
Grimm said the comments over all reveal expectations of respect and civility from professors -- something that wasn't necessarily the case in generations past. Students want quick turnarounds on email communications, for example, he said.
"Today's college students think, 'I'm not just going to give you respect because you're my professor,'" he said. "Some professors really reject that, but my thinking is, 'If that's reality, then we've got to deal with it.'"
Stephen Yelon, a professor emeritus of counseling, special education and educational psychology at Michigan State, contributed to and helped edit To My Professor. He said the overall message is one of "mutual respect." That doesn't mean kowtowing to students, he said, but rather helping them learn to engage respectfully with faculty members and peers.
He regularly solicited student feedback throughout his career, he said, and it made him a better teacher. Students tended to like his illustrative examples of discussion points, he said, so he kept giving them. Students also tended to say he talked too fast, so he slowed down.
"The main principles that I take from the text -- to be a fine college teacher, from students' points of view -- be concerned about all students' learning, be respectful of students, get to know all students, their individual differences and the cultures," he said. "Study the art and science of teaching. Improve your teaching."