You have /5 articles left.
Sign up for a free account or log in.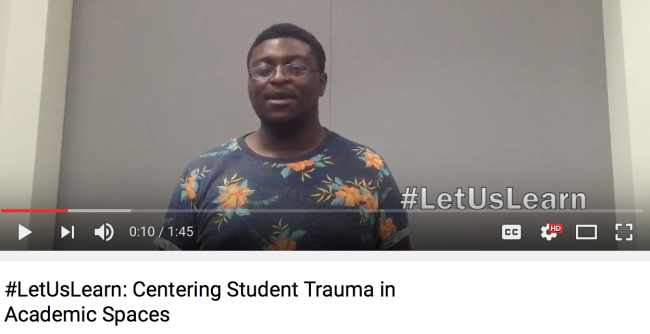 The University of Chicago has received considerable attention for Dean John Ellison's letter to incoming students about free speech. He warned freshmen not to expect safe spaces or trigger warnings, setting off a national debate about their value and prevalence. A different kind of debate is going on at American University, where students are demanding mandatory trigger warnings -- despite the Faculty Senate's 2015 resolution against them.
"There's a difference between our students and our faculty about the necessity of trigger warnings on syllabi and the importance of centering student trauma in academic spaces," Devontae Torriente, president of American's student government, says in new YouTube video introducing the group's #LetUsLearn campaign in favor of such warnings. "The fact of the matter is, trigger warnings are necessary in order to make our academic spaces accessible to all students, especially those who have experienced trauma."
Torriente adds, "In doing so, we uphold [American's] commitment to academic freedom and allow all students to participate in the exchange of ideas and discussion."
The assertion is something of an inversion of the logic the Faculty Senate used last year in its resolution against mandatory trigger warnings, which it shared again this fall via email with students, faculty and staff. The debate is also exemplary of the larger national discussion about trigger warnings, in which proponents -- including survivor advocates and many students -- say they increase participation and therefore contribute to academic freedom, and critics -- including the American Association of University Professors -- say they may limit free speech and inquiry.
Yet in much of the national debate about trigger warnings, opponents have implied that colleges were making them mandatory. In fact, they haven't -- although some professors have opted to use them in a range of ways. So American's students, who advocate that all professors who teach sensitive content use trigger warnings, are pushing very much against the grain of the way they have been used.
"American University is committed to protecting and championing the right to freely communicate ideas -- without censorship -- and to study material as it is written, produced or stated, even material that some members of our community may find disturbing or that provokes uncomfortable feelings," reads the senate email, quoting its resolution. "This freedom is an integral part of the learning experience and an obligation from which we cannot shrink."
The faculty statement, which also won the endorsement of the university's administration, continues, "As laws and individual sensitivities may seek to restrict, label, warn or exclude specific content, the academy must stand firm as a place that is open to diverse ideas and free expression. These are standards and principles that [American] will not compromise."
The resolution doesn't rule out trigger warnings, and says that professors "may advise" students before exposing them to controversial materials. But it says the senate "does not endorse offering 'trigger warnings' or otherwise labeling controversial material in such a way that students construe it as an option to 'opt out' of engaging with texts or concepts, or otherwise not participating in intellectual inquiries."
Addressing concerns about student trauma, the senate resolution says that professors should direct students "who experience personal difficulties from exposure to controversial issues" to student services. "In issuing this statement, the [senate] affirms that shielding students from controversial material will deter them from becoming critical thinkers and responsible citizens," it concludes. "Helping them learn to process and evaluate such material fulfills one of the most important responsibilities of higher education."
Todd Eisenstadt, professor of government and Faculty Senate chair, signed the email, saying that it is "relevant to help establish the kind of environment we think is critical for the joint pursuit of knowledge and enlightenment which we are all embarking on together."
The faculty statement met with some student criticism last year, but the reminder has roiled students anew and led to the launch of the #LetUsLearn campaign.
In a recent op-ed in American's student newspaper, Grace Arnpriester, executive director of health and wellness for the undergraduate student government, wrote that professors and even other students opposed to mandatory trigger warnings misunderstand the concept. In particular, Arnpriester takes issue with the faculty resolution's notion that students might use trigger warnings to "opt out" of engaging critical issues. Rather than some kind of intellectual laziness or vague "discomfort," Arnpriester wrote, survivors of trauma deal with "hypervigilance" that can lead to panic, anxiety, flashbacks or more -- all of which can be triggered by sensitive content.
Arnpriester refers readers to the student government's guide to trigger warnings. It defines a warning as a "heads-up" to sensitive content, which could include combat violence, self-harm or sexual or relationship violence. It suggests various ways of offering trigger warnings, including passing out note cards on the first day of the semester on which students may disclose triggers. Others ideas are verbal or syllabus warnings.
Eisenstadt said via email that he was aware of the student dissent and expected some concerned students would attend a senate meeting on Wednesday. As for why the faculty reminder email was necessary, he said, "Given the controversies in some quarters over academic freedom … it was worth sending again. As the academic year commenced, it was an important moment to take stock, make people aware of the importance of academic freedom and how we cherish it and should not take it for granted."
Andrea Pearson, vice chair of the senate and associate professor of art history, declined comment on the student protest but reiterated that "faculty may advise students about controversial course material if they wish, but at the same time the senate does not endorse the use of trigger warnings."