Hurricane Damage and Recovery
Flagler flooded; students at many campuses are evacuated; many colleges in region hit by Hurricane Matthew will remain closed Monday.
(Getty Images)
As Hurricane Matthew has moved, Flagler College in St. Augustine, Fla., was hit hard, while some other Florida campuses were largely spared. Officials are starting to report on the state of campuses near the Atlantic in Georgia and South Carolina -- and many will remain closed until Tuesday.
William T. Abare Jr., president of Flagler, shared this statement Saturday: "Most of our campus is still underwater, and we have not had an opportunity to assess the damage caused by Hurricane Matthew. I am in Ponce de Leon Hall, a National Historic Landmark building and the centerpiece of our campus. The lower level of the building is completely flooded. We regard this space as a basement. It is used primarily as a storage space for our maintenance and housekeeping operations. We are doing a room-by-room inspection of Ponce de Leon Hall. As soon as the water recedes, we will make a comprehensive assessment of the entire campus."
Here is video of the college flooding posted to Twitter by a local news station.
Flagler has since announced that it may not be able to open until Thursday, and that lack of power in a few key buildings is currently the major challenge for recovery.
Colleges in the ocean coastal regions of Florida, Georgia, South Carolina and North Carolina announced plans Wednesday and Thursday to close campuses and evacuate students.
Saturday afternoon, Savannah State University announced that it would not be able to open again until Tuesday, and nearby Armstrong State University announced that it would not be able to open again until Wednesday. Savannah College of Art and Design called off all classes and other activities for Monday.
In Charleston, the Citadel will resume operations Tuesday.
In North Carolina, Brunswick Community College, Cape Fear Community College and the University of North Carolina at Wilmington all announced that they will be closed Monday.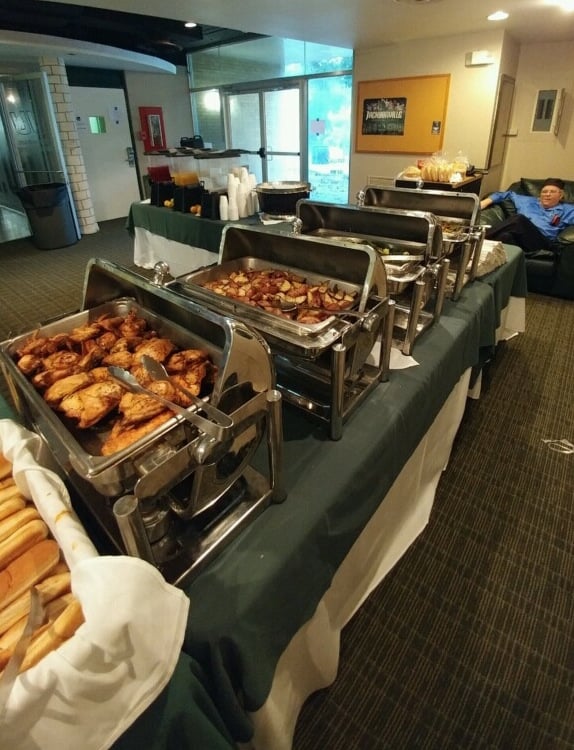 Institutions in southern Florida -- such as Florida International University -- have started to announce that they are resuming some activities. Bethune-Cookman University, in Daytona Beach, announced that it has sustained "significant weather damage" and will remain closed until Tuesday. Farther north in the state, Jacksonville University is reporting optimism that the worst of the storm has passed. Jacksonville tried to reassure parents by showing the food prepared (at right) for those students who remained in two dormitories on campus.
Embry-Riddle Aeronautical University reported that damage was "minor," and that classes will resume Tuesday.
This article will be updated as more information becomes available. Officials of colleges that have reports on damage or recovery activities are encouraged to send updates and photos to [email protected].
You may also be interested in...
Today's News from Inside Higher Ed
Inside Higher Ed's Quick Takes