You have /5 articles left.
Sign up for a free account or log in.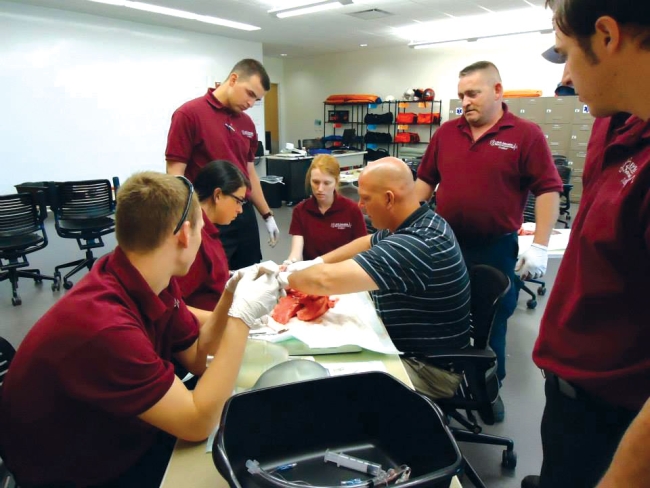 It's not a surprise to community college leaders across the country, but enrollments in the two-year sector are falling.
Typically, two-year college leaders could point to the economy and say that enrollments are down because people are working, but many of them are saying something different is happening.
"After the great recession, we've seen a restoration of new jobs, but manufacturing jobs remain off and aren't restored to pre-recession levels," said Dan Phelan, president of Jackson Community College in Michigan. "You would think if that's the case, there's got to be more people interested in taking classes and enrollment would be better, but that's not the case."
The National Student Clearinghouse Research Center found that last year, community colleges enrolled about 5.9 million students, while in 2014 that number stood at about six million. In fact, the colleges have been on a steady decline since 2010, ending the increases many saw when the economic downturn hit in 2008.
Community College Enrollment

| | | |
| --- | --- | --- |
| Fall 2015 | 5,906,419 | -2.4% |
| Fall 2014 | 6,052,069 | -4.4% |
| Fall 2013 | 6,329,631 | -3.3% |
| Fall 2012 | 6,544,820 | -3.6% |
| Fall 2011 | 6,787,176 | -2.3% |
Enrollment at Arizona's Pima Community College, for instance, has dropped by 6 percent to about 22,400 students this fall since last year. Erie Community College, in New York, is down 6.5 percent to about 10,800 students compared to last year.
An Inside Higher Ed survey of admissions directors found that 88 percent of community colleges reported they were down in enrollment compared to two years ago.
"The recovery has very predictably been slow, and we're still about 10 million jobs short of where we would've been with no recession," said Anthony Carnevale, director of the Center on Education and the Workforce at Georgetown University, adding that this is where colleges would step in to produce graduates, but that isn't happening.
The unemployment rate increased slightly from a low of 4.9 percent last month, however, the low rate is traditionally a sign that the economy has recovered and people are back work, said David Baime, senior vice president for government relations and policy analysis for the American Association of Community Colleges.
The public two-year sector saw a 22 percent increase during the recession, and many of those students either moved into the workforce or transferred to universities and other colleges for further degrees, Baime said, adding that the low unemployment rate still doesn't account for those people, particularly men who dropped out of the labor force entirely.
Carnevale points to the opportunity cost economic theory. Essentially people can find work, although it may not be the type of work that produces high or even median national earnings, but they consider going to college more costly or time-consuming than staying with the job they have.
"The whole system is just opaque," Carnevale said. "Nobody can see clearly how to use the postsecondary system to get a job. It's confusing, cumbersome and it's expensive."
A lot of potential students are being asked to take general education requirements for half the time it takes to achieve their degree and then receive the training that directly corresponds to the career they want, he said, adding that these people would rather just get the job training and thus turn away from college.
"Some are just opting out," Phelan said. "Unfortunately many of the folks I've seen in our community have multiple jobs to make ends meet, and from a societal perspective we need a strong line between the value of an education and longtime, sustainable family wage."
The four-year sector has been growing, although for-profit colleges have seen rapidly decreasing enrollments, as well, since 2010, but they've had different sorts of problems.
"The most interesting thing is with all the good press we got coming out of the recession, even what the president has done, for us to be losing enrollments when other sectors are not is really interesting," Baime said.
Phelan said enrollments at his college have remained flat thanks to some initiatives the college put in place, but he points to some media messaging in the last few years that has devalued college. Five years ago the college's enrollment was nearly 7,000 students, but it fell to about 5,400 in fall 2015.
"We have some mixed messages coming into contact with people, and that creates a sense of confusion and lack of clarity and that's concerning," he said.
He also lays some blame at the feet of political and business leaders who lament the student debt crisis and the idea that college is expensive.
"When we talk about the $1.3 trillion in student debt, all of higher education is lumped together in that, and it's difficult to carve out a space in public discourse to say the average tuition for a community college student is $2,300," Phelan said. "These stories of a person with a Ph.D. in Egyptian studies and $80,000 in [student] debt play well from the media's point of view."
But those stories don't reflect the value of going to a community college, and they discourage potential students from seeking out education altogether, he said.
And despite some of the positive attention the Obama administration has given to the two-year sector in the last few years, Phelan said there is still a stigma attached to attending a community college.
That means colleges like Jackson have to find ways to lessen the pain of losing students.
The Michigan college increased tuition by 7.5 percent two years ago and raised it again by 8 percent this year, Phelan said, but they're also hiring more student success navigators, which led to lowering the ratio of counselors from one for every 1,463 students to one for every 200.
Jackson is also one of the institutions offering the Second Chance Pell Grant program that allows prison inmates to receive federal money to pursue a college education.
"This is the new normal, and we have to think creatively and innovatively and introduce programs that speak to competencies and the local community," Phelan said. "If we hadn't implemented these things, the decay of our numbers would be worse than they are now."
Some Colleges Are Doing Well
In Texas, two colleges have set enrollment records.
Del Mar College in Corpus Christi has doubled annual enrollment in continuing education courses, which include workforce training and certifications, since 2011. The college also surpassed the state's higher education board's estimated enrollment in credit courses by nearly 16 percent, to about 12,000 students.
Meanwhile, in the Houston area, Lone Star College set an all-time enrollment record of 85,661 credit students this fall, which was a 2 percent increase from last year.
Lone Star Chancellor Stephen Head points to a number of reasons for the increase, from the institution's low cost compared to universities and its investment in workforce programs to improving the college's look and increasing the number of counselors and faculty. Lone Star is hiring 700 additional faculty members within the next five years, he said.
"Our dual-credit program and the number of students we're getting directly from high schools is growing," Head said. "We get 20-25 percent of high school graduates in our service areas … we're the second-largest enrollee of dual-credit students in the state."
Unlike most community colleges, Lone Star students are considered more traditional age, with about 70 percent of the institution's population under the age of 24.
Head said they're conscious of the enrollment trends and have invested in marketing and advertisements, including on social media, that would appeal to younger students.
But one additional benefit to the college is that demographics show more people, especially young people, are moving into the Houston area, he said.
"We know we get 3.5 percent of the area population," Head said. "The entire area here continues to grow because the cost of living in Houston is reasonable, there's no state income tax, wages are good here and there's warm weather most of the time."
That growth has the college predicting that they'll grow to between 105,000 and 110,000 students by 2020, he said.