You have /5 articles left.
Sign up for a free account or log in.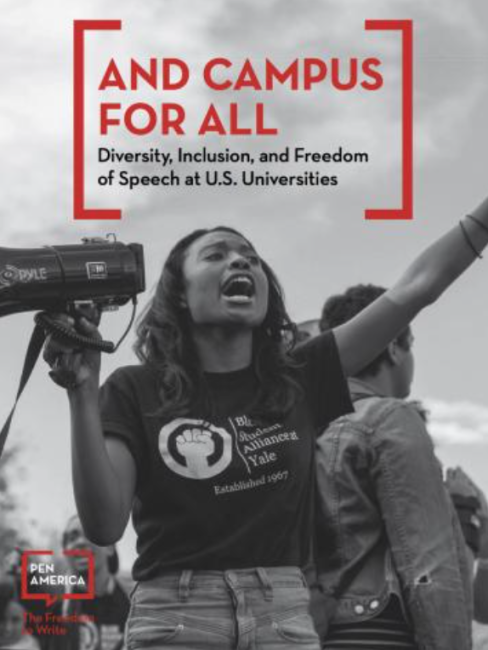 PEN America, a group of literary writers and editors, is the latest professional association to weigh in on the ongoing debate over whether campus efforts to promote inclusivity and diversity are impairing free speech.
The debate thus far has engendered passionate arguments from both sides; the Foundation for Individual Rights in Education and the American Association of University Professors, for example, have argued that universities' interpretations of federal legislation against gender discrimination at times threaten academic freedom. Groups including Faculty Against Rape, meanwhile, have pushed back, saying such arguments pit faculty interests against students', with negative implications for educational access.
Many academics have criticized the direction of student protests over campus diversity concerns, as well; others say such critiques represent a desire to maintain the racial status quo.
So where does PEN stand? Somewhere in the middle.
The organization offered up this week a nuanced, moderate 102-page report called "And Campus for All: Diversity, Inclusion and Free Speech at U.S. Universities," including guiding principles for academic free speech. It's probably the most comprehensive index to date of recent campus free speech controversies and varied responses to them from academic groups and individuals. For that reason alone, it's likely to become required reading for those engaged in campus speech policy discussions. But its guiding principles are noteworthy, too, in that they don't put free speech and respectful, inclusive discourse at odds. They also call for more peer-based education efforts for students about the value of free speech.
"Liberal to left-leaning organizations that are active on campus should consider integrating free speech awareness into their agendas," the report says. "Free speech organizations of all political persuasions should direct energy toward campuses, positioning free expression as a value that transcends politics and ideology. Institutions and funders that believe in this cause should invest in the next generation by underwriting grants for projects that build awareness and appreciation for free speech on campus."
PEN ultimately concludes that there is not -- as has been repeatedly suggested -- a "'crisis' for free speech on campus." It continues to say that unfortunately "respect for divergent viewpoints has not been a consistent hallmark of recent debates on matters of diversity and inclusion on campus. Though sometimes overblown or oversimplified, there have been many instances where free speech has been suppressed or chilled, a pattern that is at risk of escalating absent concerted action."
Promoting Free Speech in the Classroom
The report calls for a classroom environment in which thoughtful speech is encouraged -- rather than limited -- in support of educational access.
"Faculty should be cognizant of the range of experiences and viewpoints that may be represented among students, including both those who are vocal and those who may sit silently," Suzanne Nossel, PEN's executive director, said in an email interview. "An open classroom environment can help avert unnecessary offenses and defuse potential conflicts. Professors should avoid the creation of a classroom environment in which students are -- explicitly or implicitly -- told that certain ideas or viewpoints are excluded from the discussion or could put students' performance at risk. Faculty should also avoid relying on students from different identity groupings to 'explain' or speak for the views of those groups in the classroom."
Faculty members "should not allow themselves to be intimidated into silence on controversial or sensitive subjects for fear of triggering formal or informal reprisals," Nossel added. "They should band together to demand robust protections for academic and intellectual freedom, including for ideas with which they may disagree."
PEN's report includes several detailed case studies of free speech skirmishes, including that involving Laura Kipnis, the professor of media studies at Northwestern University who was investigated under Title IX of the Education Amendments of 1972, which prohibit gender discrimination in education, after she wrote an essay about changing attitudes about what constitutes harassment and assault. While Kipnis's critics said she unfairly implicated a student involved in a Title IX case on her own campus, she gained widespread sympathy for being the target of an investigation for writing about a trend she found concerning.
Other studies are those on student protests at Yale University in response to a residential college official's email suggesting that students can police their own Halloween costumes for cultural insensitivity, and the confrontations over Israeli-Palestinian activism (namely the boycott, divestment and sanctions movement against Israel) at the University of California, Los Angeles.
Largely refraining from judgment on those cases and others, PEN outlines various points of view, from those who are concerned about limitations of free speech and others who see such limitations as part of a great fight for equality. It says that social media can both spread and sensationalize conflicts, and that the following trends may be contributing to a free speech problem, or at least perceptions thereof: increased reliance on part-time faculty members, most of whom can be fired at will and lack academic freedom; economic pressures that lead universities to treat students like "consumers"; and fund-raising pressures that may influence administrative decision making in high-profile free speech cases.
Guiding Principles
While notable for its comprehensiveness, the heart of PEN's report is its guiding principles for campus speech. Its says that dialogues, debates and efforts at greater inclusion "taking place on many campuses have the potential to help root out entrenched biases that have impeded the participation of members of marginalized groups," and that, at times, "protests and forms of expression are treated as if they are incursions on free speech when they are manifestations of free speech."
In reality, it says, free expression "should be recognized as a principle that will overwhelmingly serve not to exclude or marginalize minority voices, but rather to amplify them."
It's on university administrations to look hard at how physical barriers, historical traditions, inequalities, prejudices and power dynamics can inhibit campus and classroom "openness" and take steps to change them, the report says, and campus discourse "should be predicated on the presumption of respect for differences, including differences of view that cause disagreement."
Respect entails an "obligation to understand what may cause offense and why, and to avoid such words and actions even if no offense is intended," it says, and while violence and threats "are never appropriate, vociferous, adamant and even disrespectful argument and protest have their place."
Moreover, it says, an environment where "too many offenses are considered impermissible or even punishable becomes sterile, constraining and inimical to creativity."
Regarding speech and sexual harassment, PEN says that there is no contradiction between "advocating for more stringent measures to address sexual harassment and assault on campus and insisting on measures to protect free speech and academic freedom." At the same time, it calls on the Education Department's Office for Civil Rights -- whose 2011 Dear Colleague letter saying sexual assault and harassment should be part of how colleges and universities enforce Title IX led to unprecedented attention to the issue of campus rape -- should clarify that its "hostile environment" standard for sexual harassment "cannot be determined solely on the basis of subjective perceptions that speech is offensive."
PEN also says that universities should "reiterate the centrality of academic freedom when they address issues of harassment."
Safe Spaces and More
Addressing campus speakers, a number of whom have been disinvited following student protests in recent years, PEN says that invitations should stand, once made. Threats of violence, even, shouldn't lead to the withdrawal of invitations following controversy, it says, except in the most extreme cases. Protesters should have an opportunity to make themselves heard but shouldn't shut down or prevent others from hearing the guest.
While calls to punish legally protected speech are themselves protected, they chill speech and are "usually inimical to an open environment for ideas," the report says. Similarly, institutions should be "careful to avoid any form of discipline or punishment solely for legally protected speech."
As for microaggressions -- a favorite target of criticism for free speech purists -- PEN seems sympathetic to the notion that small, usually racially tinged comments can have a major negative effect over time. It says that the increasing diversity of college campuses requires a "wider consciousness" of how different words are understood by different groups of listeners, not only by students, but by administrators, who can model appropriate language. It also says that calling out insensitive language must be assumed by all groups, not just those who have historically been marginalized.
Yet PEN rules out formal university policies regulating everyday speech or attempting to define insults, saying they're "intrusive and risk prohibiting or even simply disfavoring permissible speech."
Professors' voluntary use of trigger warnings to alert students to potentially controversial classroom content -- another thorn in the side of many free speech advocates -- are permissible to PEN. But universities "cannot and should not position themselves institutionally to ensure that every possibly upsetting encounter with course material is averted."
And what about safe spaces, the value of which have been much debated in the fallout from the letter from the University of Chicago's dean of students? PEN says it's a university's obligation to foster an environment in which violent, harassing and reckless conduct doesn't happen and where respect is encouraged. Yet it's "neither possible nor desirable for the campus to offer protection from all ideas and speech that may cause a measure of damage."
So safe spaces should be entered into voluntarily by students wishing to associate with a certain group, "not created or imposed to exclude unwelcome views." And while student-led safe spaces -- small gathering areas based on common themes and lifestyles -- should be supported by administrations, PEN says, "the campus as a whole and segments thereof that are intended for all -- such as dorms, residential colleges, classrooms and cafeterias -- must be kept physically safe but intellectually and ideologically open."
FIRE, advocates for free speech in higher education, said in a write-up of the report that PEN's conclusion that free speech on campus "is not facing what it calls a pervasive 'crisis' may come as a surprise to many readers. However, we were glad to see the group acknowledge that free expression in higher education 'is not free from threats, and must be vigilantly guarded if its continued strength is to be assured.'"
Nossel said that college and universities "need to find ways to advance inclusion without compromising bedrock principles of free speech," but that it's "not mission impossible."
There are questions to be explored about why some students have been "turned off" by aspects of free speech, she said. But "opportunities for previously marginalized groups of students to partake more fully in campus life is a positive for speech, in that it stands to broaden the marketplace of ideas."
Speech as a 'Tool, Not a Threat'
The key to expanding inclusion and equality "is to foster rather than restrict speech," Nossel said. "By systematically and expansively convening, empowering and listening, universities and faculty can help open up the campus to become a more egalitarian environment. At the same time, student and faculty activists for inclusion and diversity need to recognize that free speech protections are a tool, not a threat."
Such protections "enable open discourse, allow silenced voices to be heard and shield dissenters from reprisals," she added. "Our goal with this report is to help all parties -- students, faculty, administrators, alums -- better understand and even see some merit in alternative views in what has become a highly polarized discourse."