Topics
Senate Higher Ed Post Up for Grabs
As Election Day nears, it's uncertain who would lead the Senate committee that would handle key higher education legislation -- including a "free college" proposal if Hillary Clinton is elected -- in the next Congress.
At a campaign rally last month at the University of New Hampshire, Senator Bernie Sanders of Vermont appeared with Hillary Clinton and promised to make sure the Democratic presidential nominee's debt-free college plan is enacted as quickly as possible (assuming she's elected, of course).
While Sanders sits on the Senate committee where any major higher education bills would originate, the role he might play in advancing any legislation on free college remains a question mark at this stage.
Fellow Democrat Patty Murray of Washington, currently the most senior Democrat on the Senate Health, Education, Labor and Pensions Committee, will have the chance to move up to a senior leadership position in the Democratic caucus or run for chair or ranking member of the hugely important Senate Appropriations Committee. Sanders has expressed interest in running for leadership of the HELP panel, should the position open up, since the summer. He could also become chairman of the budget committee, where he is currently ranking member -- a possibility GOP House Speaker Paul Ryan warned of last week.
On the health and education committee, Sanders could lead the charge for a free college plan that he campaigned on aggressively during the Democratic primary. Clinton reshaped her own college affordability plan before receiving his endorsement, putting forward a proposal to provide free tuition at four-year public universities to students with family incomes up to $125,000. But that possibility has inspired some skepticism or even nervousness among Capitol Hill insiders on both sides of the aisle who question whether the self-described socialist will be able to work effectively with conservative Republicans like Senator Lamar Alexander and Representative Virginia Foxx, the likely next chairwoman of the House education committee.
Whichever party takes control of the upper chamber is likely to have a slim majority, meaning little will be accomplished without bipartisan cooperation.
"The key is the relationship between the committee chair and the ranking member," said Terry Hartle, senior vice president for government and public affairs at the American Council on Education. "If they can get to an agreement, great things are possible. Without it, things get really hard really fast."
Hartle said that Sanders does not have a long list of legislative accomplishments to his name and that the proposal he and Clinton support goes much farther than the free community college plan endorsed by President Obama, which was quickly dismissed by congressional Republicans.
While Sanders's run for the Democratic presidential nomination helped put issues like college affordability and student loan debt on the national agenda, Murray is known as an effective legislator behind the scenes who can reach agreements with her own party and GOP members. She worked with Alexander last year to pass the Every Student Succeeds Act, an update to the No Child Left Behind law, with overwhelming support from Republicans and Democrats.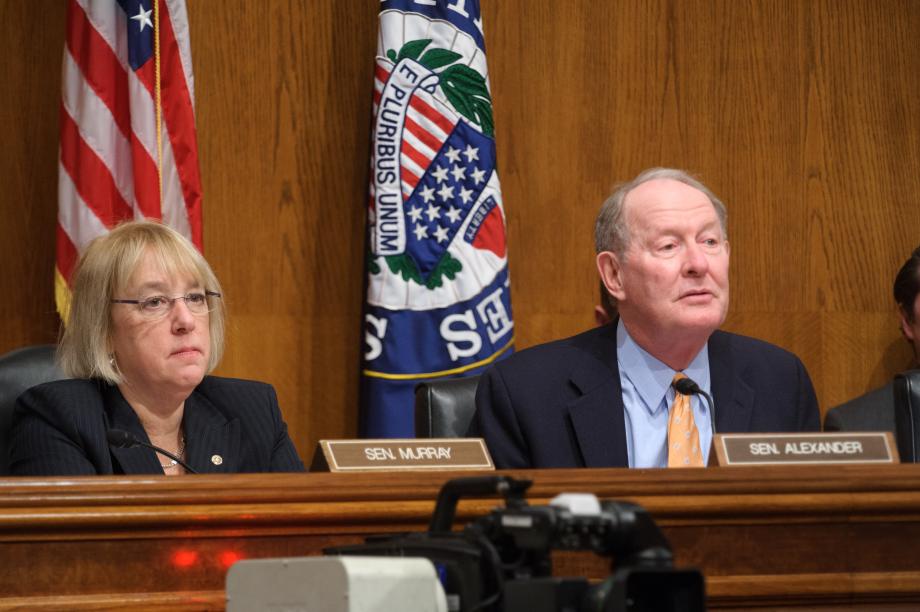 Remaining as the senior Democrat on the HELP committee would allow Murray to follow up that public education achievement by tackling reauthorization of the Higher Education Act. But, Hartle said, becoming chair of the powerful appropriations committee would be "pretty irresistible for any U.S. senator."
Murray has spent several years as the ranking member on the HELP committee, allowing her to establish a solid working relationship with Alexander that would provide a foundation for any work on higher education in the next Congress.
"Assuming Senator Alexander stays, the committee under Senator Sanders would have to figure out what that working relationship looks like," said Ben Miller, senior director for postsecondary education at the progressive think tank Center for American Progress.
Sanders has in many ways become the public face of the free college proposal. But the HELP leadership would also have to chart a course on how to pursue a broader reauthorization of the Higher Education Act, the primary federal law that governs many college-related programs. Asked about the potential leadership positions in the next Congress, a Sanders spokesman, Josh Miller-Lewis, said the senator was focused on electing Hillary Clinton and taking back the Senate.
Whatever legislation the Democratic leadership on the HELP committee prioritizes won't just have to make it out of the Senate -- a tall order with a slim majority -- but a House that is likely to remain in Republican control. Foxx, a conservative North Carolina Republican, is widely expected to replace Minnesota Republican John Kline as chairman of the Education and the Workforce Committee after serving as chairwoman of the subcommittee on higher education and workforce training. A former community college president, she would come to the chairmanship with considerable experience working on issues affecting colleges and universities -- and her own positions on higher ed policy.
Both committees will also see a handful of new faces in the next Congress regardless of the outcome of next month's elections. In the House, Minnesota Republican John Kline, the current chairman of the Education and the Workforce Committee, is retiring, as is Texas Democrat Rubén Hinojosa. Nevada Republican Joe Heck -- who has supported a repeal of a student unit record ban -- is running for Harry Reid's Senate seat. And Virginia Democrat Bobby Scott, the ranking member on the House committee, is being talked about as a potential pick to fill Tim Kaine's Senate seat should the Democrats take the White House and the Virginia senator become vice president.
On the Senate side, Maryland Democrat Barbara Mikulski, who is second in seniority behind Murray and the current ranking member on appropriations, is retiring in January. Meanwhile, Illinois Republican Mark Kirk trails Democrat Tammy Duckworth in his Senate re-election race and North Carolina Republican Richard Burr's matchup with Democrat Deborah Ross is being rated a toss-up.
But observers say any progress on higher education issues in the next Congress will depend to a large extent on the leadership of the committees and especially on the relationship of the chairman and ranking member of the HELP committee. Clinton's campaign team has released a detailed proposal for her free college plan and made it a key part of her pitch to young voters especially. It's expected that she will make a college affordability plan a priority, but there is real skepticism from Capitol Hill observers about the likelihood of a free college plan -- which has been estimated to cost as much as $500 billion over 10 years -- going anywhere without significant Democratic majorities in both chambers.
"Proposing it and fighting for it are two different things," said Vic Klatt, a principal at the Penn Hill Group and a former GOP education policy staffer in the House. "Setting aside all politics, that is a ton of money."
Klatt said the jury will be out on the new Democratic leadership on both education committees. The one constant on higher ed policy will be Alexander, he said. The current HELP chairman has a long track record on those issues and will need to be brought on board for Democrats to get anything done.
"He's the key -- unless the Democrats get 60 votes in the Senate," Klatt said.