You have /5 articles left.
Sign up for a free account or log in.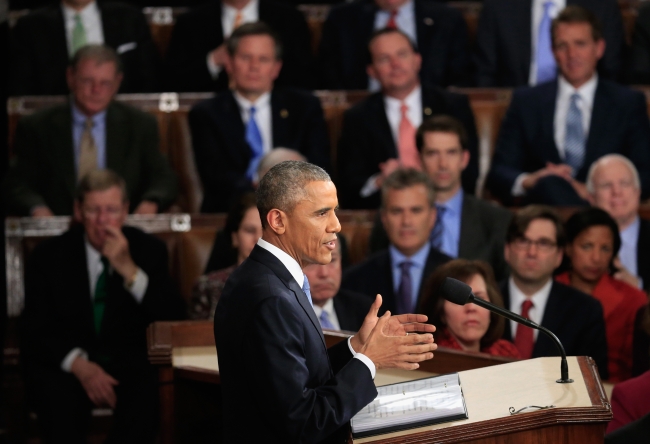 WASHINGTON -- Addressing the nation on Tuesday evening, President Obama highlighted what he called his "bold" plan to make community college free for some students. He also called for an overhaul of the tax code that redirects benefits away from wealthy Americans in order to extend tax credits for college.
As has been the case with other key speeches throughout his presidency, Obama's latest State of the Union address framed higher education in economic terms, casting it as vital to national competitiveness.
The president wove college affordability into a speech that focused, in broad strokes, on combating inequality and pitching a domestic agenda that he dubbed "middle-class economics."
After describing his plan to eliminate tuition for some community college students, Obama said "let's stay ahead of the curve."
Like he did in first announcing the community college plan earlier this month, Obama pitched it as an idea that should have bipartisan appeal. He alluded to the Tennessee Promise program championed by Republican Governor Bill Haslam and a free community college program run by Democratic Mayor Rahm Emanuel in Chicago.
"Whoever you are, this plan is your chance to graduate ready for the new economy, without a load of debt," Obama said. "Understand, you've got to earn it -- you've got to keep your grades up and graduate on time."
Perhaps recognizing the tough odds his community college plan faces in a Republican-controlled Congress that is skeptical of the estimated price tag of $60 billion over 10 years, Obama emphasized the proposal as a fundamental cultural shift rather than merely an item on his legislative agenda.
"I want to spread that idea all across America, so that two years of college becomes as free and universal in America as high school is today," he said.   
Obama pointed to Rebekah and Ben Erler of Minneapolis, whom he cast as a typical American middle-class family. Rebekah, he said, took out student loans to attend community college and train for a new career after her husband's construction business dried up.
The family had to "forego vacations and a new car so they can pay off student loans and save for retirement," he said, and face basic childcare costs that are "almost as much as a year at the University of Minnesota."
Trading Accountability for Affordability
Obama's remarks on higher education marked a shift in tone from some of his previous State of the Union addresses. While he has previously used the forum to chastise colleges over rising tuition and to threaten to hold universities more accountable for their performance, Obama instead focused Tuesday evening on proposals aimed at boosting college access and affordability.
Although he noted that "we still live in a country where too many bright, striving Americans are priced out of the education they need," Obama framed that problem as one of national competitiveness rather than institutional accountability.
Obama also said Tuesday he would reach out to the new Republican-led Congress on student loan issues.
"I want to work with this Congress, to make sure Americans already burdened with student loans can reduce their monthly payments, so that student debt doesn't derail anyone's dreams," he said.
It's unclear which proposal, in particular, Obama was referencing, as his administration has said it will move ahead without Congress to expand federal income-based repayment programs to more Americans. Obama earlier this month said he wanted to work with Republican Sen. Lamar Alexander on simplifying federal student aid. 
GOP Reaction
Republican leaders in Congress who oversee higher education policy were quick on Tuesday to dismiss some of the Obama proposals.
Alexander said in a video that much of the president's speech outlined "partisan proposals that don't have any chance of becoming law."
"We need to hear more about proposals that Congress might actually work on with the president," Alexander said, suggesting that Obama work on simplifying "student aid forms so more community college students can take advantage of Tennessee Promise."
Rep. John Kline, the Republican who leads the House education committee, said Obama "described the same tired agenda we've heard about countless times before."
Kline said in a statement that Obama "still believes more mandates, more spending, and more programs will solve the problems we face," adding that "more government isn't the answer."
But even as they have criticized the Obama community college plan in recent days, Republicans have still sought to highlight community colleges.
House Speaker John Boehner, who earlier this week mocked the president's free college community college plan with a series of Taylor Swift animations, invited an Ohio community college president as one of his guests to the speech.
Clark State Community College President Jo Blondin said in an interview that she jumped at the chance to represent her college at the State of the Union address, even convincing her board to push a scheduled meeting Tuesday night.
Asked whether she agreed with Boehner's criticism of the Obama community college proposal, Blondin said she was waiting to hear more details about it. 
"It's too early to tell how this will impact community colleges," she said. "At this point, I don't know what the funding process would be, so I can't say one way or the other."
Still, Blondin said that the plan had certainly generated a lot of interest on her campus. She said she had 20 to 30 calls and emails from students and faculty the day after it was first announced.
"It's exciting to hear community colleges in the news," she said.