You have /5 articles left.
Sign up for a free account or log in.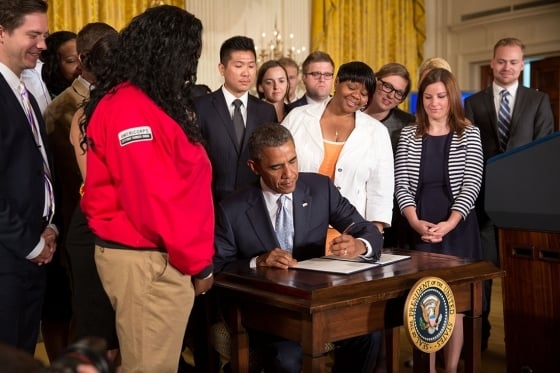 WASHINGTON -- Amid growing concern that outstanding student debt is hurting the economy, President Obama on Monday directed his administration to make an additional 5 million existing student loan borrowers eligible for the federal government's most generous income-based repayment program.
"We're still seeing too big a debt load on too many young people," Obama said, adding that "the outrage here is that they're just doing what they've been told they're supposed to do. I can't tell you how many letters I get from people who say, 'I did everything I was supposed to and now I'm finding myself in a situation where I've got debts I can't pay off.' "
The executive action will allow all federal loan borrowers, regardless of when they borrowed, to cap their monthly loan payments at 10 percent of their discretionary income and to have any remaining loan debt forgiven after 20 years. That benefit is currently available only to certain borrowers -- those who first took out a loan after September 30, 2007 and continued borrowing after September 30, 2011 -- and it was already set to become an option for all new borrowers starting July 1.
Obama also directed the U.S. Department of Education to better publicize the income-based repayment programs through targeted outreach and to study ways to more effectively counsel borrowers. He also said the government would renegotiate its contracts with loan servicing companies to prod them to do more to help struggling borrowers.
The planned expansion of income-based repayment to existing borrowers drew immediate criticism from Congressional Republicans, who questioned the cost to taxpayers and the administration's legal authority to make the change on its own, without legislation passed by Congress. 
Senator Lamar Alexander of Tennessee, the top Republican on the Senate education committee, said that instead of unilaterally expanding income-based repayment programs, the Obama administration should work with Congress to improve and simplify the programs.
"I haven't found anywhere in the law that gives him the authority to do this, and I don't know what it costs," he said in an interview. "That's why this needs to be dealt with by Congress, not by a political stunt on the Senate floor or by a press conference at the White House."
Education Secretary Arne Duncan said that his agency had not yet calculated the plan's cost. He said officials would "work through the details" as they go through the regulatory process needed to carry out the expansion, which is expected to take effect in December 2015.
The president's top domestic policy adviser, Cecilia Muñoz, said on MSNBC that while the actual cost will depend on participation in the program, it would ultimately save taxpayers money by reducing defaults on student loans.
For the past two years, the Obama administration has proposed expanding its income-based repayment program, known as Pay As You Earn, to all borrowers, regardless of when they borrowed. The administration's most recent budget request to Congress projected that an expansion of the program to all borrowers (including some cuts to benefits that aren't part of Monday's action) would cost taxpayers several billion dollars over the next decade.
Asked earlier this year whether the administration could move forward on its own with expanding Pay As You Earn and making other changes to the program, Duncan told reporters that "we need Congress to help us here."
The administration plans to expand Pay As You Earn through the same legal authority that it used to create the program in the first place, an Education Department spokeswoman said Monday.
That power comes from a 1992 law that established the government's first student loan repayment program pegged to a borrower's income. The Obama administration used that law in 2012 to effectively speed up the implementation of an income-based repayment program Congress created in 2010 but that doesn't take effect until this July.
A 'Political Stunt'
The executive actions on student loans announced Monday are part of a weeklong push by the White House that coincides with a vote Senate Democrats are holding this week on legislation that would allow student loan borrowers to lower their interest rates.
Obama is backing that effort, led by Senator Elizabeth Warren of Massachusetts, to let borrowers -- of both federal and private loans -- refinance their existing student debt. The White House and Senate Democrats have said they want to target existing student debt, in part, because it is starting to drag down the rest of the economy as indebted workers delay buying a home or other purchases, for instance.
But the refinancing bill, part of the Senate Democrats' "fair shot" agenda, is also aimed at rallying the party's base as the 2014 midterm elections approach. Student debt, including income-based repayment, was an effective campaign issue for Democrats and Obama in 2012.
Democrats have proposed to pay for the refinancing program by ending tax breaks for wealthy Americans. Obama framed that debate as a political one, saying that Congress would have to choose to either "lower tax bills for millionaires or lower student loan bills for the middle class."
"House Republicans voted overwhelmingly to slash Pell Grants and make it harder for thousands of families to afford college," Obama said. "If you're a big oil company, they'll go to bat for you. If you're a student, good luck."
Republicans have shot back, dismissing the expansion of income-based repayment and the refinancing legislation as a political theater.
Representative John Kline of Minnesota, who chairs the House education committee, said Obama's executive actions would do nothing to improve college affordability and accused Democrats of "treating students and families as political pawns."
Senator Alexander said the refinancing legislation was "clearly a partisan political stunt."  
"Why would you raise taxes and raise the debt to give college graduates a dollar-a-day subsidy," he asked. "Next thing you know they'll be proposing a dollar-a-day subsidy to help pay off your car loan, which also averages about $27,000, or your mortgage loan, or other debt."
Loan Servicing Changes
Obama's announcement also addressed the growing criticism from student groups, consumer advocates and some Congressional Democrats that his administration has inadequately overseen the companies it hires to manage student loan payments.
Much of that criticism has been focused on the government's largest servicer, Sallie Mae, which was singled out by name in the president's remarks. That company, which now conducts its servicing business under the name Navient, recently paid $97 million to settle allegations it overcharged military service members and misapplied borrower payments.
Obama directed the Education Department, which has previously defended its oversight of loan servicing, to renegotiate its contracts with those companies.
"We're going to make it clear that these companies are in the business of helping students, not just collecting payments," Obama said. "They owe young people the customer service, and support, and financial flexibility that they deserve."
Department official said earlier this year they were in the process of finalizing a new system for evaluating servicing companies and were considering changes to the payment structure. Monday's directive appears to firm up that process.
A department spokeswoman said the agency's loan servicing contracts would be renewed as planned when they expire this summer and that officials would then renegotiate new terms.
New Borrower Outreach Effort
The Education Department will also "redouble" its efforts to publicize income-based repayment programs, Obama said Monday. That includes advertising the programs through tax preparation providers like H&R Block and TurboTax as well as direct, targeted outreach to millions of struggling borrowers.
The department plans to complete a campaign to enroll more borrowers in income-based repayment similar to the email blitz it conducted last fall that it said boosted take-up in the programs by some 124,000 borrowers. It will also study the effectiveness of the exit counseling required under federal law and seek new ways to better educate borrowers about their options.
Lauren Asher, president of the Institute for College Access and Success, which helped develop the federal income-based repayment program, praised the administration's efforts. She said the outreach to borrowers was especially important.
"It's clear that more people need to know about these programs," she said. "They may not be the right plan for everyone but borrowers need to be informed of their choices."