You have /5 articles left.
Sign up for a free account or log in.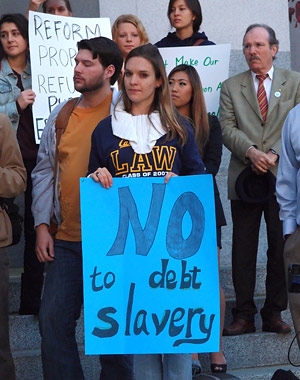 These days, Robert Applebaum is feeling vindicated.
In January 2009, Applebaum, then a 35-year-old lawyer with more than $80,000 in student debt, created a petition calling for student loan forgiveness to stimulate the economy. It was greeted with a few weeks of buzz and plenty of scorn. Then, for more than two years, silence.
Then student loan balances passed $1 trillion, interest rates spent a week as the focus of the nascent 2012 presidential campaign, and suddenly everyone wanted to talk about student debt. Applebaum's solution may be as unrealistic as ever. But even President Obama has now signed onto the underlying thesis: that student debt isn't just a burden for debtors but a drag on the economy. In the de facto first week of the general election campaign, Obama and presumptive Republican nominee Mitt Romney sparred not over health care reform or foreign affairs, but the interest rate on federally subsidized student loans.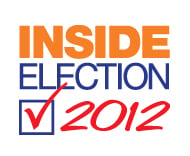 Half a century after the first federal student loan program was established, student debt has come into its own as a political issue.
Over the past three years, the Obama administration has gone further than any of its predecessors in putting higher education at the center of its policy agenda. Now the Obama campaign appears poised to elevate college issues -- beginning with student debt -- to a status rarely, if ever, seen in American politics.

To political observers, the convulsion of national concern about student debt, and by extension the cost of college, has a precedent: health care. "It's a sector of the economy that seems to be growing inexorably in cost and much faster than the rest of the economy, and much faster than family income," says William Galston, a former policy adviser to President Bill Clinton and a senior fellow at the Brookings Institution. "In the same way that we've had a huge public policy debate about health care, it doesn't take a prophet to see that some of the same forces are generating a pretty significant political debate about college."
Colleges might cheer an increased federal focus on access and affordability -- the last political campaign to incorporate college issues, in 2006, led to an expansion of Pell Grants and lower interest rates on student loans. But for higher education, there is a potential downside. The more politicians worry about student debt, the more likely it is that their attention will turn from federal financial aid programs to what many see as the root of the problem: the rising tuition charged by colleges themselves.
In recent months, organizations dealing with student debt have seen not a gradually rising tide of public consciousness but a sudden, overwhelming wave.
As recently as 2005, when officials at the Institute for College Access and Success were starting the Project on Student Debt, they weren't sure how to refer to the problem they were studying: "college debt"? "Student loan debt'? "It was still something that a lot of people experienced personally, but it hadn't been recognized as the huge trend that it was," says Lauren Asher, the institute's president. Seven years later, the group is overwhelmed with calls from reporters writing about student debt -- in part, Asher believes, because of the group's name.
What happened? First, a series of big, eye-catching statistics. Total student debt will pass $1 trillion soon, or surpassed that mark months ago or just last week, depending on which analysis you choose. (The Federal Reserve in March said total outstanding student loan debt stood at $870 billion. The Consumer Financial Protection Bureau believes the debt surpassed $1 trillion several months ago. The Occupy movement picked April 25 to commemorate the $1 trillion mark with marches and protests.) Americans now owe more on student loans than they do on credit cards.
The milestones might be arbitrary; Asher calls the relationship to credit card debt an "interesting comparison," but points out that $1 trillion in student debt is a fraction of the $13.5 trillion Americans owe on their mortgages. Each nonetheless generated an outpouring of news coverage and commentary.
Then there was the Occupy movement. Police have evicted protestors from their encampments in cities and on college campuses. But along with the phrase "the 1 percent," awareness of student debt as a political and economic issue might be the movement's lasting legacy. The emphasis on student loans even spawned a spinoff group, the Occupy Student Debt Campaign, which called for 1 million borrowers to sign a petition promising they would drop out of repayment if enough fellow debtors joined them. (So far, only 3,649 have.)
Weeks after the Occupy Student Debt Campaign formed, U.S. Representative Hansen Clarke, a Michigan Democrat, introduced a bill that would vastly expand student loan forgiveness, erasing debts after 10 years of payments based on borrowers' incomes. Applebaum sees the three events -- the protests, the milestone and the bill -- as the perfect storm for a cause he began promoting years ago.
"I'm surprised by how quickly the issue has snowballed into part of the national conversation," he says. "It's my intention to continue to put public pressure on our elected officials to continue to make student loan debt an issue in the 2012 campaign."
Young Voters and the Middle Class
Obama's push to stop the interest rate on federally subsidized student loans from doubling in July has been seen as a ploy to energize young voters, a group that enthusiastically supported him in 2008. Last week, he visited college campuses in three swing states to push the issue, trips the administration said were policy-related but were widely viewed as the launch of his re-election campaign.
"There's nothing very subtle about this," says Galston, the former Clinton aide. "If you schedule a series of events on college campuses to talk about student loans ... I don't think I have to finish the sentence. Of course this is a political year."
Obama is seeking not only to fire up the college students of 2008, some of whom are now starting to pay back their student loans, but to draw in young voters who weren't old enough to vote last time around. Still, drawing a direct connection between students' debt and students' votes risks oversimplifying their concerns, says Peter Levine, director of the Center for Information and Research on Civic Learning and Advancement at Tufts University.
"Whenever there's a big poll that asks people what the top priorities are going to be in their vote in the next election, young people always say the same issues as older people do," Levine says. Those polls can miss nuances, though, he added. "Jobs and the economy" rates as a top priority for all age groups, but a 22-year-old might want to find a job to pay off his student loans, while a 52-year-old voter is more concerned about retirement.
While the Obama administration has called for more Americans to attend college and pursued policies to help students pay for school, the president's emphasis on student loans is new. Until the campaign began, administration officials devoted more time to supporting the Pell Grant program, the bedrock financial aid program for low-income students.
Pell Grants primarily help the poor: 9 of 10 recipients come from families making less than $40,000 per year. Subsidized loans, which are awarded based on financial need, usually go to low-income students too. But some subsidized loans, on which the government pays the interest while students are enrolled in classes, go to the middle class: In 2008, the latest year for which data is available, one-quarter of all recipients came from families making more than $60,000 annually, and 12 percent came from families making more than $80,000. Many more middle-income students borrow unsubsidized loans, which already have a 6.8 percent interest rate.
Source: National Center for Education Statistics
The emphasis on student loans as a middle-class problem is disquieting to Deanne Loonin, director of the Student Loan Borrower Assistance Project at the National Consumer Law Center. She works with borrowers who are in default on their loans or struggling with aggressive collection agencies, and many of her clients are poor. The debt burden for students at all income levels is real, and worthy of discussion, Loonin says. But she would like to see more proposals to strengthen consumer protections and help low-income borrowers in trouble, such as allowing loans to be discharged in bankruptcy.
"I think it's really important that policy makers are listening to the middle-income individuals, and those are real problems," Loonin says. "But I think to hear some other voices, sometimes they have to go outside their comfort zone."
So far, discussions of student debt have served instead as another way to talk about the country's economic struggles. American Bridge 21st Century, a Democratic political action committee, recently released an ad slamming Romney for cutting state money for higher education while he was governor of Massachusetts. Starting the general election campaign with a debate over college funding is unusual, perhaps unprecedented. But Chris Harris, the group's communications director, views it as a way to make economic issues tangible.
"I think education is one of the few issues where voters can actually see the issues up close," Harris says. "It's not a debate about abstract economic theory that's philosophical or theoretical about the scope of government."
As was true when debtors pushed student loans to the forefront of the Occupy movement, the recent concern is not so much about student debt as about the lack of jobs, Galston says. Obama frequently reminds student audiences that he and his wife paid off their student loans only about eight years ago. "We had a mountain of debt," the president said at the University of Iowa last week. "When we got married, we got poorer together. So we combined our assets, and they were zero. Then we combined our liabilities, and they were a lot."
The story is meant to establish his credentials as a regular guy -- "I know something about this," Obama told the students. But it's also an illustration of how the system is supposed to work, as some critics of the president's interest rate fight have pointed out: take out a loan, get a degree (or two, in the case of both the president and his wife), achieve some professional success and pay off the debt.
Even for students who successfully complete those first two steps, the third and fourth can seem out of reach. More than half of recent college graduates under 25 are unemployed or underemployed, the Associated Press found in a recent analysis. In an appearance last week at Otterbein College, in Ohio, Romney promised the students that he, not Obama, could create jobs for college graduates.
"This economy, even more so than in past elections, is very tough on young people and recent graduates," said Aaron Smith, executive director and a co-founder of Young Invincibles, an advocacy group for issues affecting Americans under 30. "The notion that if you got a college degree you're in good shape is being challenged."
Student debtors are an intergenerational group: 60 percent of those with loans are older than 30, and 17 percent are over 50. Those without loans are concerned as well. "Young adults are even more worried about paying for college for their children than they were about paying for college themselves," Smith says. Even those who find their own loans manageable, or who graduated without debt, have watched tuition prices rise. "Americans are going to see this as a central issue for our country."
Source: Federal Reserve
College affordability has played a role in at least one prior Congressional campaign: 2006, when the Democrats included it as a plank of their "Six in '06" campaign platform. After retaking Congress, they passed legislation to increase Pell Grants and lessen the burden of student loans, including the temporary interest rate reduction that set up this year's fight. "The Democrats felt they won in '06 in part on young voters, and they thought young voters mattered," says Levine, of Tufts. "Their response was to do something about student debt."
Since the introduction of Clarke's bill to expand loan forgiveness, Applebaum has focused his lobbying on members of  Congress. His student debt petition now has almost 1 million signatures, and Clarke's bill has 15 co-sponsors. The recent vote on a Republican bill that would have paid for the interest rate extension by cutting funds from Obama's health care law will probably pop up in attack ads in Congressional races nationwide, Levine says.
Could student debt significantly influence an election? As the economy continues to struggle and Romney and Obama seek to draw sharp contrasts on other issues, the emphasis on the interest rate will probably fade. Still, a Young Invincibles poll found that for voters under 30, college affordability ranks second on a list of suggested priorities for Congress.
The candidates' and their supporters' eagerness to talk about student debt is enough proof to some that the issue will resonate. And if Applebaum has his say, it won't go away. "There are Senate races and House races all across the country," he says. "I really intend to put their feet to the fire."
An Inevitable Focus
When the Congress elected in 2006 set out to do something about student debt, their response was basic: more money. Legislators passed bills to expand Pell Grants and lower the interest rates on student loans, all aimed at helping more students enroll in college.
With mandatory spending cuts looming in 2013, any action after this fall's election is likely to be quite different. For institutions of higher education, this conversation could be perilous: every discussion about student debt eventually comes back to what colleges charge their students.
In the campaign so far, Obama has mostly talked about college affordability through the prism of the interest rate on subsidized loans. But his administration has arguably done more than any other to promote federal oversight of colleges and universities, and his focus on affordability issues began not with subsidized loan push two weeks ago, but the announcement in January of a much more ambitious plan to ensure that colleges provide "good value."

In the State of the Union speech, which has provided the broad outlines for the campaign so far, Obama put colleges on notice: If tuition prices for students don't stop going up, federal financial aid will be withheld.
"I think there's more concern about the cost of college in general than student debt in particular," says Matt Chingos, a fellow in the Brown Center on Education Policy at the Brookings Institution who criticized Obama's (and Romney's) emphasis on the interest rate as a solution to student debt.
Like Galston, the former Clinton aide, Chingos drew a parallel between health care costs and higher education. Both have risen for decades. Both resist obvious solutions from the federal government. Still, on health care, that didn't stop Congress from trying -- even though the resulting law ended up doing only "marginal things about that cost," Chingos says.
With another reauthorization of the Higher Education Act on the horizon, and budget cuts looming as a result of the failure to reach a long-term debt deal last year, the next Congress could make significant changes to student loans. "I think you can be pretty sure that all parts of the domestic budget are going to be on the table in 2013," Galston says. "I can't imagine that student loans would get a pass."
Even if the program emerges relatively unchanged, students continue to borrow more and more. The average debt for students who took out loans in the class of 2010 was more than $25,000, according to the Project on Student Debt. This year, student loans might just be another way to motivate the youth vote. The college students in 2008 were driven by hope and change. Those of 2012 might be motivated by fear of perpetual indebtedness.
But borrowing trends suggest the political power of student debt might have legs. The Project on Student Debt annually ranks where college students are graduating with the most debt. In 2010, Iowa was third, with $29,600. Minnesota came next, with $29,000. Not far behind were Pennsylvania ($28,600), Ohio ($27,700) and Michigan ($26,700). At least 60 percent of students in those states -- and closer to 75 percent in Pennsylvania and Ohio -- graduated with at least some loans.
Those states have something else in common: they're perennial presidential battlegrounds. If those trends continue, the electoral significance of student loans might just be beginning.
After all, $1 trillion in debt isn't going away any time soon.