You have /5 articles left.
Sign up for a free account or log in.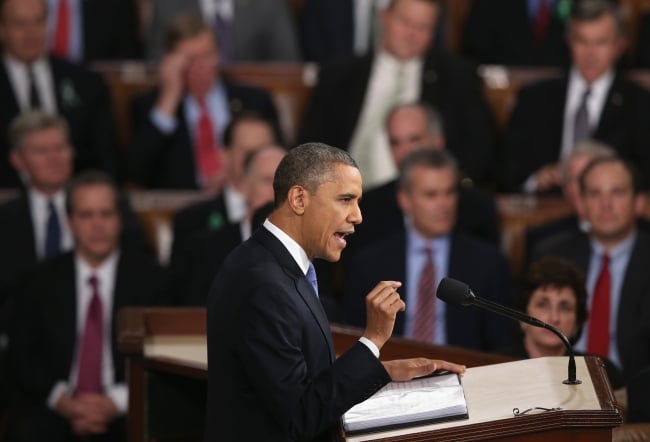 WASHINGTON -- President Obama on Tuesday night called for major changes to the criteria accreditors use to evaluate colleges, asking Congress to either require accreditors to take college prices and educational value into account or to create an alternative system based on "performance and results." Either could mark a significant shift in how the federal government judges higher education quality and eligibility for financial aid programs.
The few sentences on higher education in the State of the Union speech hit many of the same themes as last year, when Obama first told colleges they were "on notice" and would have to either control rising costs or lose federal money. "Taxpayers cannot continue to subsidize higher and higher and higher costs of higher education," the president said Tuesday night. "Colleges must do their part to keep their costs down, and it's our job to make sure they do."
From those few sentences -- Obama did not mention accreditation in his speech, only in specifics provided by the White House afterward -- the president seemed to be giving roughly the same message as last year, when he proposed reallocating campus-based aid and creating a "Race to the Top" for higher education. Both proposals went nowhere in Congress. But supplementary documents the White House released immediately after his speech provided a few more specifics and signaled a shift in tactics.
Rather than trying to push that agenda through changes in campus-based aid programs (such as federal work study and the Supplemental Educational Opportunity Grant), which make up only a small part of all financial aid for college students, the president is now calling for Congress to force accreditors to play a bigger role in measuring the cost and value of higher education and distributing financial aid accordingly.
The administration's message on college costs and accountability over the past year has generally not been welcomed by college officials, who fear a growing regulatory burden and burgeoning federal influence on campus. But taking on accreditation touches a deeper nerve. Colleges fiercely defend accreditation by their peers as the best way to ensure quality education, and accreditors have complained of growing scrutiny and "granularity" from the federal government.

Obama's remarks seemed to indicate that he is not inclined to trust accreditors to choose the criteria on which they evaluate colleges, and that he would like to see the federal government play a larger role in determining what constitutes a high-quality education.
Obama indicated he would pursue his plan in the next renewal of the Higher Education Act, saying he would ask Congress to change the act "so that affordability and value are included in determining which colleges receive certain types of federal aid." The law governing federal financial aid officially expires at the end of the year, but few expect Congress to get around to reauthorizing it before 2015.

In the supporting documents he went a bit further, specifically singling out the accreditation system (which his administration has studied). "The President will call on Congress to consider value, affordability, and student outcomes in making determinations about which colleges and universities receive access to federal student aid, either by incorporating measures of value and affordability into the existing accreditation system; or by establishing a new, alternative system of accreditation that would provide pathways for higher education models and colleges to receive federal student aid based on performance and results."
Both the speech and the supplementary documents were vague, leaving college lobbyists and other observers to try to guess the president's plans from a few sentences. A key and still unanswered question is how to define "value," although the administration has previously described it as the ability for students to get jobs and pay off their loans.
The lack of clarity makes it hard to draw any conclusions about Obama's plans, said Terry Hartle, senior vice president for government and public affairs at the American Council on Education. The administration provided little background for stakeholders, making it more difficult to discern what the proposals actually are.
Still, Hartle warned that increasing federal regulations for colleges, or their accreditors, would face resistance. "Colleges and universities are already subject to a very complex system of accountability before they can participate in federal student aid programs," he said. "We can always do a better job, and we look forward to working with the administration to ensure that higher education remains the best investment that a student can make."
The federal government could use the opportunity to provide clarity on accreditation, such as by emphasizing which areas it cares most about when evaluating accreditors, he said. But colleges and accreditors would not welcome additional regulations.
"The federal role in accreditation is already enormous," he said.
Obama also used the speech to give another boost to past proposals, such as an $8 billion fund for community college proposed in his budget request last year. The final version of another previously announced federal project, a "college scorecard" intended to give students an idea of what they can expect from higher education, will be unveiled today, he said.
He also warned of the effects that mandatory budget cuts, set to take effect in less than three weeks, could have on federal research and education programs.
"I was very pleased to hear President Obama speak so enthusiastically this evening about the need to invest in research, much of which occurs at our public and land-grant universities," Peter McPherson, president of the Association of Public and Land-grant Universities, said in a statement. "The president clearly understands that a strong federal commitment to research at our universities is directly linked to our nation's ability to provide economic opportunities for our citizens."
The Republican rebuttal to the president's remarks, delivered by Florida Senator Marco Rubio, was unusual in spending as much (if not more) time on higher education than the State of the Union itself did.
Rubio, who is leading a push for colleges to disclose more information about students' salaries, mentioned his own six-figure student debt. He called for "strengthening and modernizing" financial aid programs, emphasizing the growing number of nontraditional students in higher education and calling for student aid that "does not discriminate" against prior learning assessments and online programs.