You have /5 articles left.
Sign up for a free account or log in.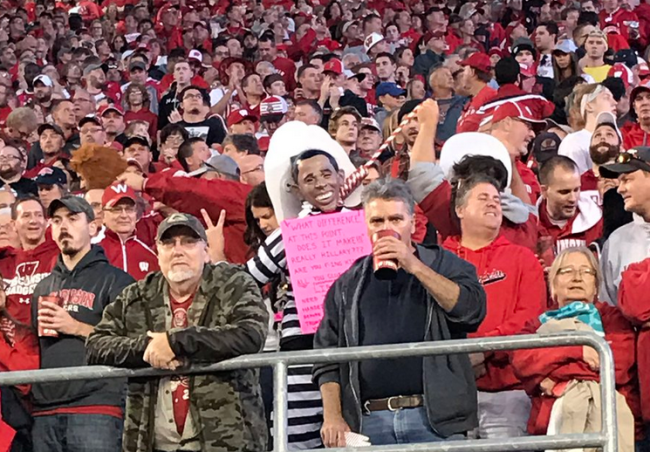 This article contains explicit and potentially offensive terms that relate to various messages discussed in the piece.
The University of Wisconsin at Madison continues to face criticism this week after two fans at Saturday's football game wore costumes and a noose to depict Donald Trump lynching President Obama.
Following complaints on social media during the game, university police asked the fans to remove the noose from their costumes but did not eject the individuals once they complied. Free speech advocates applauded the university for its restraint, but many others on and off campus say Wisconsin officials should have done more and that the incident is part of a troubling trend at the university.
In a letter Monday signed by "University of Wisconsin-Madison Black and African-American Alumni," more than 60 people expressed "deep concern" about the incident and demanded a meeting with university officials, including its chancellor, Rebecca Blank.
"To be clear, we honor that free speech is a fundamental entitlement in our country," the letter states. "As such, there is an understandable rationale for permitting someone into a stadium despite wearing offensive attire. However, reasonable minds would agree that what occurred at Camp Randall was not protected speech. Rather, the costume incited race-based hatred by invoking lynching symbols, historically understood as a racist hate crime. As a result, the official response was in error. We are concerned that our alma mater has not taken reasonable steps to adequately train and publicize that the university is no place for a racially hostile environment."
The incident, the alumni wrote, continues "a long pattern of ineffective responses to a growing racially hostile environment."
Earlier this year, university police prompted widespread anger from faculty and students when they pulled a black student from an Afro-American studies class and arrested him for allegedly spray-painting antiracist messages across campus. The arrest led more than 700 students, staff and faculty members to sign a letter accusing the university and its police department of caring more about the graffiti than the issues to which the writings were drawing attention.
In January, a student taped swastikas and photographs of Hitler on the door of a Jewish student's room. In March, three students interrupted an event about Native Americans who were victims of sexual assault by yelling "war cry" noises. Later that month, a student spat on a group of black students, calling them "poor and here on scholarship."
In April, someone slipped a note under the door of a freshman who is biracial and identifies as African-American. "Fuck you nigger bitch," the note read.
Patrick Sims, the university's vice provost, released an unusually frank video response after that incident, saying the note was "the kind of hatred we haven't seen since Jim Crow." In the video, Sims also addressed minority students who have used the hashtag #TheRealUW to argue that officials have not done enough to prevent such incidents. In March, Sims and Lori Berquam, the university's dean of students, announced a number of initiatives meant to tackle the issues.
In Monday's letter, alumni said the string of incidents has caused tension on campus, and the university's response to the offensive costumes on Saturday "reinforces this tension."
The Wisconsin Athletics Department has a policy specifically regarding admission into the stadium with a costume that states no one can wear a mask when entering the facility. Once inside, they are permitted to wear one, however. The stadium's carry-in policy does prohibit several types of items, including any objects that would be "deemed dangerous or inappropriate."
In a statement Sunday, Blank said as the fan removed the noose when he was asked, the "remainder of the costume fell within" the stadium's policies.
"This was consistent with our handling of other instances of individuals wearing clothing containing offensive language," Blank said. "As offensive as this costume was, I believe our university must resist the desire to outlaw forms of speech and political dissent with which we disagree. We strive to build a campus community in which ideas and expression are exchanged freely, but also constructively, respectfully and in a manner that advances educational opportunities for our students."
Photographs taken during the game's third quarter show that the fan later placed the noose around his neck again, though he appeared to no longer be wearing an Obama mask (a Hillary Clinton mask remained in his hand). In their letter Monday, the alumni questioned how the fan was able to bring the noose into the stadium in the first place, given the university's policy against "dangerous or inappropriate" objects.
Wisconsin is also not known for shying away from ejecting fans for breaking rules. Nearly 70 spectators were ejected from the same game that featured the Trump and Obama costumes. Most of the fans were ejected either for underage drinking or for being heavily intoxicated. Earlier this month, another 72 fans were ejected during a game, including three who were arrested for disorderly conduct. In their letter, the alumni argued that the costumes, which depicted a white man lynching the country's first black president, similarly disturbed "the public peace."
Joe Cohn, legislative and policy director at the Foundation for Individual Rights in Education, said that while the costume was offensive and upsetting to many, the fans' behavior on Saturday was not illegal, as it did not target a specific group or person other than President Obama, a political figure.
That distinction, he said, makes the incident different from when a white student at East Tennessee State University wore a racist costume to intimidate black students in September. That student was arrested after he interrupted a Black Lives Matter rally and thrust a banana hanging on a string in the faces of black students. He was arrested by campus police for civil rights intimidation, a felony in Tennessee, based in part on his having told police that his costume was an attempt "to provoke" the black students. The student is no longer enrolled at the university.
In addition, Cohn said, a public university like Wisconsin cannot eject fans from its football stadium for offensive speech as easily as a professional team would be allowed to, especially if the university has a policy that specifically allows for costumes.
"They have to be consistent with what their policies are and to the First Amendment," Cohn said. "I think one of the core things of free speech is the principle that governing bodies cannot punish speech even when many of us perceive it as being loathsome. That's not a shortcoming of the First Amendment. That's really its strength."