You have /5 articles left.
Sign up for a free account or log in.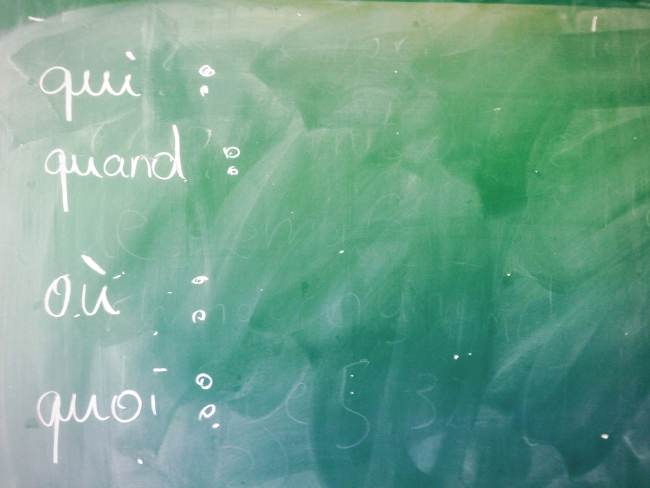 Many colleges and universities no longer require foreign language study as part of a general education. And those institutions that do require it tend to allow students with proficiency in a language other than English to test out of course work, an option that is used by many. So a new proposal from Princeton University that all undergraduates study a foreign language, regardless of existing proficiency, stands out.
"Our current requirements treat foreign language as something of a skill, which sets it apart from the other requirements that emphasize the importance of different, largely disciplinary, ways of knowing," reads a new report from Princeton's Task Force on General Education. "Although learning another language does involve skill and proficiency, we also see language as a critical point of entry into cross-cultural understanding." The task force is currently seeking feedback on this proposal and others related to general education. The proposals must be approved by administrators, faculty committees and, eventually, the full faculty to become policy. 
The report continues, "Enhanced language instruction would prepare students for deeper and sustained immersion in international contexts and give students the tools needed to more fully appreciate a different cultural worldview."
Currently, Princeton undergraduates must demonstrate proficiency in a foreign language prior to graduation, typically through success in about three or four semesters' worth of work in a given language. But many fulfill the requirement outside of classes, such as through getting a top score of five on an Advanced Placement exam or a high SAT II subject test score.
Under the proposal, all undergraduates -- including those with high AP scores and even native fluency in another language -- would have to study foreign language for at least one semester. That's either a 200-level course or above in a language in which they're already proficient, or an introductory, two-course sequence in a new language.
Such a change "further underlines our commitment to internationalism in the curriculum and helps to level the playing field between students who have benefited from strong foreign language instruction in high school and those who must invest three or four semesters on campus to achieve proficiency," the task force report says. It also notes that no other distribution requirements may be satisfied with AP scores.
Princeton isn't the first institution to consider mandatory foreign language study. Yale University, for example, requires all students to take some foreign language courses, saying that "knowledge of more than one language and familiarity with more than one culture is becoming increasingly important." Even students whose secondary school experience was in a foreign language must either take an introductory sequence in a new language or, in some cases, courses in English.
But the majority of highly selective institutions, including Harvard and Columbia Universities and the University of Pennsylvania, allow students with existing proficiency to waive general-education requirements in foreign language.
Many other institutions -- including the Massachusetts Institute of Technology, California Institute of Technology, Carnegie Mellon University and a large number of public universities -- have no general-education requirement in foreign languages. Stanford University has a requirement but -- unlike for its other general-education components -- allows students to fulfill it with the campus's version of pass/fail.
Oberlin College has no formal requirement, but students may take a foreign language course to satisfy a general-education component in cultural diversity. Williams College has a similar policy related to the study of arts and languages (it also has a diversity requirement).
The earliest the proposed Princeton policy could be adopted is spring.
According to information from the Modern Language Association, the percentage of four-year colleges and universities that require students to take courses in languages other than English dropped 17 percentage points between 1995 and 2010, to about half of all institutions. MLA attributes the trend largely to a shift away from course requirements and toward choices within distribution requirements.
At the same time, more institutions seem to be requiring foreign language study for acceptance. Twenty-one percent of colleges and universities required high school study in 1995, compared to 25 percent in 2010.
"The general trend that we have noted is institutions moving toward major-specific requirements and away from general language requirements," said Rosemary Feal, executive director of the MLA. "Entrance requirements are increasing, whereas exit requirements, including 'seat time,' have also been on the decline. That's not to say it's a good trend-- far from it." Students aren't getting as much language practice as they used to when they study internationally, since time abroad has been decreasing, she said, and English-speaking international programs attract many students these days.
So Feal praised Princeton's proposal as "forward looking," and in line with a major report from her association recommending, among other things, more language options for heritage learners -- those with a cultural or family connection to a language. Princeton can offer heritage speakers the advanced linguistic fluency and cultural literacy to allow them "to grow intellectually," she said, while English-speaking students who come to Princeton with years of second or even third language study would strengthen their abilities by engaging in advanced study. That includes reading challenging texts in the original language and learning the histories of the people who speak it.
Feal also cited a report from the American Academy of Arts and Sciences Commission on Language Learning, on which she sits, noting a major gap between the progress made in early learning, such as immersion programs, and advanced study at college or university. "If we ever hope to build broad and deep language capacity in the U.S.," Feal said, "we need to provide opportunities for immersion in the primary grades, continuing study in the secondary years and advanced study -- including cultural, historical, economic, literary and so forth -- at the university level."
The economic advantages of foreign language study "are obvious and have been well documented," Feal added, "but it's the cultural and intellectual formation of global citizens that is really at stake here."