You have /5 articles left.
Sign up for a free account or log in.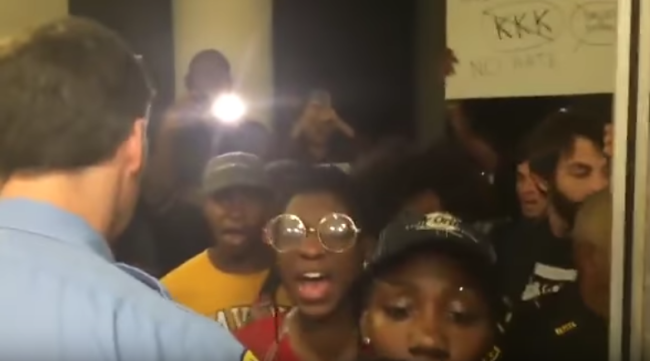 Dillard University President Walter M. Kimbrough walked a fine line under intense scrutiny over the last two weeks -- and more scrutiny is likely coming.
The private 1,200-student university in New Orleans, a historically black institution, agreed weeks ago to host a debate Wednesday night between candidates for Louisiana's open U.S. Senate seat. When it agreed to host the debate, the university did not know which candidates would be participating. But the debate vaulted to prominence when white supremacist and former Ku Klux Klan leader David Duke narrowly polled above a cutoff to take part.
Duke's presence generated outrage among students and others who charged that a racist should not be welcome on a campus with a mission of educating African-Americans. Protesters attempted to gain entry to the auditorium where the debate was hosted, even though debate producer Raycom Media decided not to allow an audience in the building. Reports said police deployed pepper spray and protesters attempted to block Duke from leaving campus. Protesters and others posted photos of the police blocking students and others to social media (such as the image above).
Inside during the debate, which was televised nationally, candidates attacked Duke, and he became embroiled in arguments with his opponents and the evening's moderator. At one point he denied being a supremacist, saying he believes in equal rights for all and that the media spreads "hate propaganda" against white people.
In an email after the debate, Kimbrough called the night disappointing but informative. There are lessons to be learned by all, he wrote.
"Racial tension is really high, and even the presence of someone who is not a serious candidate caused emotions to run high," the Dillard president wrote. "While most of the protesters were not students, our [Student Government Association] held a watch party that actually had more students than the protest."
The scenes on Dillard's campus played out after Kimbrough and Dillard's administration took steps in recent weeks to downplay Duke's visit to campus. The university issued two statements over four days that only referred to Duke by name once. The first, which named Duke, pointed out that the university did not set the rules for the debate and that it does not endorse any candidates appearing. The second did not name Duke but said that Dillard stood by its contractual obligation to host the debate. It continued by saying the university believes in educating its student body and stands in opposition to anyone who would deny opportunity to any citizens.
Days later, before the debate, Kimbrough said that Duke is not important. His participation in the debate would allow Dillard an opportunity to share its own values and tradition of hosting many types of people on its campus, the president said.
Kimbrough explained his reasoning for continuing to host the debate during an interview Wednesday morning, hours before candidates took the stage. The university intended to honor its contract with the media company producing the debate, television station owner Raycom, he said. But beyond that, he said he values different opinions being expressed on college and university campuses.
"If we're trying to get out of it because one person is coming to campus, that's a problem for me in terms of what I value," Kimbrough said. "That's one of the criticisms of higher ed: we don't accept diverse opinions."
Still, many were unhappy with the university's decision in the days leading up to the debate. The New Orleans Advocate quoted alumnus E'Jaaz Ammaad Mason, who said he planned to go to campus Wednesday because of Duke's participation in the debate.
"This person has fought for the disenfranchisement of black people in America," Mason told The Advocate. "We can't allow him to just show up without our voices being heard."
One Facebook commenter commended Dillard for taking the high road before saying that many people were still angry about Duke's inclusion.
Meanwhile, a public letter from a group called Socially Engaged Dillard University Students blasted Duke's presence on campus, saying it subjected students to safety risks and social ridicule. The letter dismissed the idea that Dillard had to follow its contract to host the debate.
"Dr. Kimbrough, respectfully, this response is specious," the letter said. "You are the president of a historically black college whose mere presence is anathema to everything David Duke promotes. Instead of denying the presence of this terrorist onto our campus, you have assured his safety by Dillard University armed police, against us, your Dillard University student body. We write to you today not only to express our hurt and shame but also to fight for our ancestors and their struggles. How dare this administration stand for Duke's 'safety' and not fight for our security and right to learn in a healthy space."
Although Duke is no longer a Klan leader, he has made racial stances a key part of his campaign. His campaign website charges that affirmative action is "institutionalized racial discrimination" against whites and likens illegal immigration to an ethnic cleansing against whites. Duke's official website is filled with anti-Jewish writing.
In Wednesday's interview, Kimbrough said it is the role of other candidates to confront Duke. He wondered why parties were calling on the university to give up the debate instead of asking other candidates not to share the stage with Duke. It was fine that some students would protest, Kimbrough said, but he did not want the controversy to be a platform for Duke, a candidate who is polling far behind in the race, to gain publicity.
"You're doing this to make yourselves feel good, maybe," Kimbrough said. "But he doesn't have a chance. He's not going to hear you protest, and he doesn't care. Let's move on."
Duke qualified for the debate by polling at 5.1 percent among a poll of likely voters conducted between Oct. 17 and Oct. 19. He was just above the cutoff to appear on the debate stage, which was 5 percent. He was also far behind the other candidates -- Duke was closest to Republican Representative John Fleming, who garnered 10.2 percent in the poll. Republican Representative Charles Boustany came in at 11.4 percent, Democrat Caroline Fayard polled at 12 percent, Democratic Public Service Commissioner Foster Campbell came in at 18.9 percent and Republican John Kennedy, who is the state's treasurer, notched 24.2 percent.
The two candidates receiving the most votes next week will participate in a runoff in December that decides who wins the Senate seat.
Kimbrough had questioned the polling used to determine Duke's eligibility. Other polls showed him at 2 percent, not 5.1 percent, the president said. He took to Twitter, saying the polling was rigged for ratings.
Duke could gain notoriety for participating in the debate on Dillard's campus, Kimbrough said in his Wednesday interview. But Dillard faced real consequences if it backed out of its hosting plans. The university has become known for hosting political debates, and backing out could jeopardize its standing.
"The long-term damage could be Dillard never does any more debates," Kimbrough said. "We do a lot of them. We're going to do the runoff debate that another network is doing."
Kimbrough added that he did not want to give Duke additional press coverage by confronting Duke or refusing to allow him on campus. Instead, he wanted to use the situation to challenge students to look beyond the headlines. Other candidates with a viable chance of winning the election participated in the debate, Kimbrough said. Louisiana senators have been critical in helping the university recover from Hurricane Katrina. And ballot initiatives could affect higher education in Louisiana -- a measure on the ballot would allow boards of public higher education systems to set tuition and fees without permission from legislators.
"I just keep trying to put it in perspective," Kimbrough said. "I'm just trying to find ways for us to have conversations about what are our core values and beliefs. There are lots of learning opportunities. What kind of conversations can we have about the purpose of media and news?"
Kimbrough was confident in his course of action because he had the backing of his Board of Trustees. He contacted trustees immediately upon learning that Duke would be in the debate, he said. Kimbrough wanted to talk to his board to make sure he wasn't the only one who felt hosting was the best option.
The responses he received were unanimous: host the debate.
Kimbrough's overall strategy has been to try to minimize Duke's participation while trying instead to shift attention to Dillard's work. During Wednesday's interview, he discussed Dillard University Theater opening its season with performances dealing with issues raised by the 2014 shooting death of Michael Brown, as well as on-campus efforts to register students to vote.
"People will say having this kind of person on an historically black campus is an offense to the nature of the institution," Kimbrough said. "I understand that. I just believe that our brand and what we do on a day-to-day basis is bigger than that."
Kimbrough also said that Duke spoke at Dillard four decades ago. Duke recently told TV station WWL that he spoke to 1,500 black students, saying many gave him "a very polite reception."
Compared to that appearance, Duke's sharing the stage with five other candidates would be relatively minor, Kimbrough argued.
"This is back when he was in the Klan, he spoke at Dillard," Kimbrough said. "This was '74, '75. This was card-carrying Klansman David Duke speaking at Dillard."
Kimbrough also pointed out that Dillard is an institution affiliated with the United Church of Christ and the United Methodist Church.
"As people of faith, to me our faith is stronger than one person who says things that might be hateful," he said. "To me, that's a Christian thing to do, to say he's welcome to come on our campus and participate in this debate because he has qualified to run for Senate."
Wednesday night, however, observers on social media questioned Duke's appearance.