You have /5 articles left.
Sign up for a free account or log in.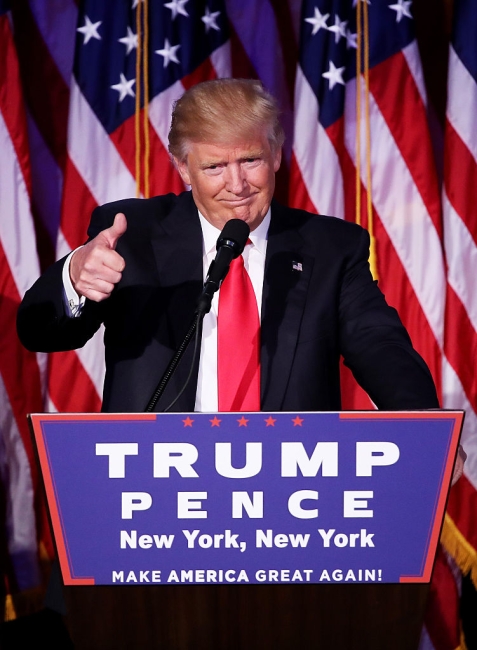 To anticipate the higher ed priorities of a Trump administration, look to policies already proposed by Republicans in Congress. That's the consensus of many observers of federal higher education policy when asked to gauge what kinds of policies President-elect Donald J. Trump is likely to pursue early in his administration.
During much of the presidential campaign, Trump's higher ed positions remained a mystery, except for comments from a surrogate unearthed by Inside Higher Ed. While Democrat Hillary Clinton made higher ed policy a core element of her campaign with a proposal to make public higher education debt-free, and then tuition-free for most students, the Republican candidate was largely silent until an Oct. 13 speech in Cincinnati, when he made remarks criticizing unaffordable student loan debt, "tremendous bloat" in campus administrations and large university endowments. But his plans remained vague.
After a surprising election night win, it's no more clear what exactly his higher education agenda will consist of.
But policy analysts say Trump is likely to act in at least a handful of areas over which Democrats and Republicans have sparred -- and particularly areas in which the change in administration provides opportunities for agencies under new leadership to roll back initiatives started by their predecessors. And in many cases, they say, Trump will be likely to support priorities of the reinforced Republican Congress that also emerged from Tuesday's election.
These include the Obama administration's aggressive enforcement of for-profit colleges, its intensified focus on sexual assault on college campuses (see related article) and its efforts to strengthen labor unions and other worker benefits.
For-Profit Higher Education
President Obama and his aides in the Education Department spent several years toughening rules weakened during the preceding administration of President George W. Bush and creating even tougher new ones.
It is expected that the ambitious set of regulations rolled out as part of a crackdown on the for-profit college sector could wither away under a Republican-led Department of Education. Gainful employment rules sought to hold vocational programs accountable when graduates did not make enough in salary to pay back their student loans and primarily applied to for-profit institutions. Borrower defense rules, finalized this fall, established a federal standard for student borrowers to seek discharge of their loans if they were defrauded by their institution. A Trump Education Department could choose not to devote resources to enforcing the rules. Or the Republican-controlled Congress could eliminate them through the Congressional Review Act.
Steve Gunderson, president and CEO of Career Education Colleges and Universities, said before the election that the industry might not survive a Hillary Clinton administration. On Wednesday, he said the election results meant that the for-profit sector would be able to reintroduce itself "in a positive and constructive way."
"Providing career education is essential to the economic growth that President-elect Trump is talking about," Gunderson said. "The big difference is that we will be able to actually have conversations with the administration and department and try to resolve problems in a mutual way."
Two major for-profit college chains -- Corinthian Colleges and ITT Technical Institute -- failed in the last two years. Many former Corinthian students have claimed they were defrauded by the institution and have gone on a debt strike, refusing to pay back federal student loans they received to attend their institutions.
The borrower defense rules were drafted in response to those failures in the sector.
Alexander Holt, a policy analyst in the Education Policy Program at New America, said a pause on implementation of those rules would probably happen under a Trump Department of Education.
"There's a high likelihood that that one is not long for this world," he said.
Congressional Republicans could try to renegotiate those rules or wipe them out entirely, he said.
Other Financial Aid Policies
Trump has also expressed an interest in basing student loans on graduates' incomes -- an existing part of federal policy that he endorsed in that Ohio speech -- and refinancing student loan debt, an idea criticized by policy experts but supported by lawmakers from both parties. He has also said he supports risk-sharing proposals, which would hold colleges accountable for student outcomes. Risk sharing would put colleges on the hook financially when their graduates are unable to pay back their student loans. Such proposals have begun to gain bipartisan momentum in Congress.
"If you want to have the best guess of what Republicans are going to do on higher education, you need to look at what Republicans in Congress have proposed on higher education. That's where the best answers lie," Holt said. "The expertise now is in Congress. That's not unusual in a Republican administration, but I think it's especially true of Trump."
While the administration's regulatory accomplishments are in danger, the 2010 switch from federally backed student loans to federal direct lending -- another position staked out by the Trump campaign in public comments on higher ed policy -- may be harder to reverse.
The administration made the switch through the legislative process, creating $6 billion in annual savings that went toward increasing the Pell Grant and other purposes. Mark Huelsman, a policy analyst at the progressive think tank Demos, said returning to federally backed loans would be a costly giveaway to banks with no impact on college access or affordability.
He said returning to private guaranteed loans was a priority of the Mitt Romney campaign in 2012 and was part of the Republican platform this year.
"There's definitely some enthusiasm among congressional Republicans for bringing back banks as the middlemen for federal lending," Huelsman said.
But Vic Klatt, a principal at the Penn Hill Group and a former House GOP education staffer, said reverting to the old system would be a tall order in a divided Congress because of the costs involved.
Klatt said that while Clinton's free college plan obviously won't be happening, he doesn't expect the president-elect to push for cuts to funding of higher education, either. He added that Trump would quickly learn that the way to get things done in Congress is to make deals with members of both parties.
Tennessee Republican Lamar Alexander, the chairman of the Senate education committee, is expected to play a key role in shaping the next administration's approach to higher education. His Democratic counterpart on the committee, Washington Senator Patty Murray, also returns to the Senate after winning re-election Tuesday.
"The rules of the Senate did not change in this election -- there's still the 60-vote threshold," Klatt said. "There's still the need to be bipartisan. That hasn't changed at all."
Labor Relations
Another way in which the Obama and Trump administrations are likely to diverge significantly is in their views of labor and management.
The National Labor Relations Board is one of the federal entities that is shaped over time by whichever party holds the White House, and as a result, the board -- which is responsible for adjudicating the federal law that guides employees' rights to organize and bargain collectively -- frequently bounces back and forth on key issues.
The Obama administration got off to a slow start on fulfilling the hopes of the labor unions that helped elect him in 2008, because his efforts to remake the NLRB were delayed by intense partisan battles and blocked nominees.
But in a series of rulings in recent years, the board has strengthened the hand of unions representing graduate student workers and faculty members at private colleges, to the delight of those groups and the dismay of many college and university leaders. A December 2014 NLRB ruling rejected the claims of Pacific Lutheran University that its full-time, non-tenure-track faculty members are managerial employees and thus are not entitled to collective bargaining, partially challenging the board's 1980 ruling known as the Yeshiva decision.
And in August, the board overturned a 2004 ruling -- made by a George W. Bush-crafted NLRB -- that denied collective bargaining rights to graduate teaching and research assistants.
President-elect Trump would be able to start remaking the NLRB in his own image immediately, as two of its five slots are vacant. Another member's five-year term will expire next December, which could give him a majority by then. Cases would have to be brought before the board for it to take them up, so the process of potentially overturning those rulings would take some time. But opponents of unionization are likely to pursue it.
The new administration could act more swiftly to change some other labor-related actions of the current one. Colleges and other employers are preparing for the Dec. 1 implementation of new federal rules promulgated by the Department of Labor that dramatically increase the number of workers eligible for overtime. The regulations exempt several groups of higher education employees, notably those who are primarily teachers, but are likely to result in increased wages for many workers (and, by extension, higher costs for many institutions).
Those rules will take effect before Trump takes office unless pending a legal challenge blocks them. But that legal challenge is one of several ways in which a Trump administration could seek to stymie or overturn the new rules, says William A. Herbert, executive director of the National Center for the Study of Collective Bargaining in Higher Education and the Professions at the City University of New York's Hunter College. A Trump-led Labor Department, for instance, could decline to defend itself against the challenge, forcing the agency to reconsider the rules, Herbert said.