You have /5 articles left.
Sign up for a free account or log in.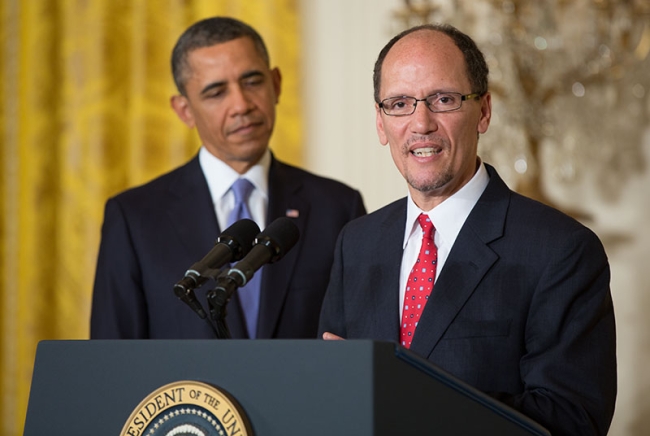 An injunction issued just before Thanksgiving blocked a Department of Labor rule that would require overtime pay for millions of additional American workers. But some college employees will see raises nonetheless.
The final overtime rule, issued in May, would raise the salary threshold under which employees are eligible for overtime pay to $47,476 from $23,660. Congressional Budget Office report found that the injunction would mean $470 million in lost earnings in 2017 for those workers, including many employees of colleges and universities. The final rule included a teaching exemption but covered nonfaculty employees and postdoctoral fellows whose duties primarily focus on research. Many officials in college admissions, counseling centers and other parts of higher education also predicted that their units would have many employees newly eligible for overtime.
Many colleges and universities have indicated they plan to go ahead with salary changes that were already planned in response to the rule. Other institutions have said they will hit pause on salary changes following the injunction. And higher ed policy groups say they can't provide an estimate of how many universities will move ahead or scrap plans made in response to the rule.
For those institutions moving ahead, however, the work they have already done was too significant to reverse course in light of the ruling.
"The injunction came very late for us. We'd already implemented almost everything we were going to implement," said Cindy Matern, associate vice president for human resources at the University of Puget Sound. "The employee relations nightmare of backing out of that -- I wouldn't ever want to do that to our staff."
Matern said the university spent the last year working on changes in payroll in response to the overtime rule. Some employees had salaries raised to move them above the new threshold and make them exempt from overtime. Others were moved from exempt to nonexempt positions.
The University of Kentucky will also go forward with salary changes planned for the past year.
"We felt like we had already made that commitment to our employees and that -- certainly for us to be able to uphold our commitments -- we needed to be able to move forward," said Kim Wilson, the university's vice president for human resources.
Making those changes will entail costs of about $2 million for the university, although not all of them will be recurring costs. For example, Kentucky helped some departments increase the salaries of postdoctoral fellows whose positions were funded by grants. In future years, the amount of the new salary will be written into grant applications.
The decision to go ahead with planned changes hasn't been a straightforward one for every campus.
Andy Brantley, president and CEO of the College and University Professional Association for Human Resources, said the group would have welcomed an injunction on the rule if it had happened six months ago. CUPA-HR said the new overtime threshold under the Department of Labor rule -- more than twice the current number -- moved too high too fast. But the group moved quickly to helping member institutions come into compliance before the rule went into effect Dec. 1. The injunction issued on the eve of that compliance deadline left schools scrambling to assess their options, Brantley said.
"If you've already communicated and given salary increase to employees, pulling those back at this point would have major ramifications not only in terms of process but also employee morale," Brantley said.
He said it was difficult to give a firm number of how many colleges or universities would go forward or halt payroll changes but said based on communication with members that it was about a 50-50 split. Whether a college or university moved forward with implementation of the new overtime standards after the injunction depended to a large degree on how much work they had already done. Smaller institutions in particular may seriously consider taking more time to decide how they will approach the rules after the injunction because the impact on their budgets could be much greater, Brantley said.
Because Judge Amos Mazzant issued a temporary injunction, CUPA-HR is advising member institutions that they should prepare for the possibility that the rule goes into effect at some point.
It also remains unclear what the ultimate fate of the overtime rule will be, although Republican Donald Trump's surprise presidential victory means its chance of survival is likely very slim. Republicans in Congress have promised to change the law, in addition to a number of other Obama administration regulations, but that could take time.
The Department of Labor said last week it would appeal Mazzant's decision to block the rule. But the Fifth Circuit court that will hear the appeal rarely overturns injunctions like the one issued to halt the overtime rule. If the legal fight drags past Jan. 20, the Trump administration could take a different position on the regulation.
"That's a challenging position to operate under," said Steven Bloom, director of government relations at the American Council on Education.
Some institutions are going ahead with salary increases for certain employees even as they drop plans to provide new overtime pay to others. Case Western Reserve University is moving ahead with salary increases for employees who are currently below the minimum threshold under the new rule. But administrators are taking the additional time allowed by the injunction to review classification decisions for overtime pay in more detail, said university spokesman William Lubinger.
Purdue University told about 600 employees that they would not receive expected raises for now and another 600 that they would remain in exempt positions. The university said in a press release last week that the decision was in line with those of other Big Ten universities. But the university said work undertaken to comply with the overtime rule showed that "whether or not there is a government-mandated change in pay, the compensation levels for Purdue postdoctoral employees are in need of a detailed review."
Julie Fabsik-Swarts, executive director of the National Postdoctoral Association, said it appeared that postdocs at many universities would see an increase in the average stipend.
"In general universities really stepped up in a very admirable way. We are very supportive and appreciate that for postdocs," she said.