You have /5 articles left.
Sign up for a free account or log in.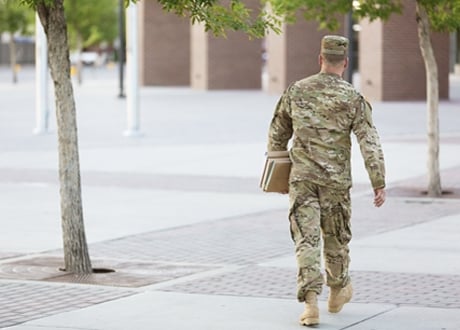 Last week's U.S. Senate-approved spending bill contained a provision that seeks to block student veterans from using their GI Bill benefits on career programs that won't help them land a job.
The Career Ready Student Veterans Act, which was attached to the continuing resolution to fund the government through April 28, would prohibit institutions from receiving GI Bill benefits if their programs don't meet the requirements needed for required licensing exams or certification in order to enter the chosen career field.
Walter Ochinko, a policy director with Veterans for Education Success, conducted a study that found that 20 percent of about 300 approved programs to train veterans were improperly accredited and that, as a result, their graduates were not eligible to sit for licensing exams or certification in their fields of study. The report came out last year and identified eight programs offered by 15 different institutions at 60 campuses that failed to meet employer or state requirements.
Although the bill covers every sector, Ochinko said the study found evidence of problems at for-profit institutions only.  
"One of the issues was accreditation," he said, adding that he examined settlement agreements between states' attorneys general and institutions and student complaints to his organization to see how common the issue was. "These institutions were claiming all the degrees were accredited, and they weren't. People couldn't get jobs."
Ochinko said the problems are mostly surrounding programmatic accreditation. Institutions may earn national or regional accreditation to qualify to award federal student financial aid, but separate programs like those in nursing, criminal justice, law or teaching often require program-level accreditation. Some states will only allow students to sit for state licensing exams if they've graduated from a properly accredited program.
Some former students at the defunct for-profit Westwood Colleges accused the institution's criminal justice program in Chicago of not preparing them for work in Illinois law enforcement agencies. Last year, the Federal Trade Commission charged online-based Ashworth College with also misrepresenting the training and credentials students could earn there. Many of the programs didn't meet state requirements for specific careers. The institution settled with the federal agency.
"This good-faith policy ensures [veterans] that they earn an education that will help them enter the civilian work force and provide the opportunity to seek employment that will put them on a path toward a successful career," said Senator Thom Tillis, a North Carolina Republican and member of the U.S. Senate Veterans Affairs Committee, in an email. Tillis originally sponsored the legislation.
Ochinko said he's unaware of just how many veterans have enrolled in programs that lack the requirements needed for graduates to enter their career fields, but the issue also affects nonveterans.
"This is a problem that has been addressed for veterans, but it's a larger problem for other students who attend and don't have these protections," Ochinko said.