You have /5 articles left.
Sign up for a free account or log in.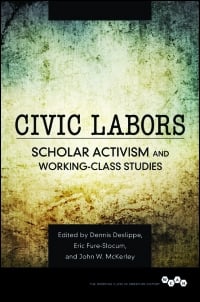 For many people, the term "ivory tower" has become pejorative. "Why should we listen to experts?" they ask. "They're locked up in their ivory towers and don't know a thing about the real world."
The new book Civic Labors: Scholarly Activism and Working-Class Studies (University of Illinois Press) seeks to upend this stereotype, featuring essays from labor scholars and historians of the working class on how they participate in both academe and activism. They argue that engaged scholarship is alive and well.
The book was edited by Dennis Deslippe, associate professor of American and women's and gender studies at Franklin and Marshall College; Eric Fure-Slocum, associate professor of history and American studies at St. Olaf College; and John McKerley, historian for the Iowa Labor History Oral Project at the University of Iowa Labor Center. Deslippe, Fure-Slocum and McKerley responded to questions from Inside Higher Ed via email; the three editors answered the questions together.
Q: Academic theory, and even labor theory, often uses language that is inaccessible to many people. This language excludes people who don't have access to higher education. How can academics overcome this language barrier to communicate with people who haven't studied labor theory?
A: It's easy to forget that many people don't share our familiarity with specialized vocabulary. Fortunately, there are plenty of good examples of historians writing about working-class people's lives in ways that are both accessible and appropriately complicated. One of the ways that happens is through ongoing engagement. In Civic Labors, Shel Stromquist draws our attention to the roots of scholarly activism in the field of labor history, noting especially how E. P. Thompson's work began with a focus on teaching working-class adults. This experience, in turn, led Thompson to write The Making of the English Working Class, one of the great works of social history that influenced generations of labor historians. Shel Stromquist's Solidarity and Survival, an oral history with Iowa workers, is also a great example. This volume came about because of Stromquist's work with the Iowa labor movement. It also was made possible because oral historians and union members worked together to produce a rich oral history archive. His book, in turn, is a resource for labor educators and activists. And it's no accident that Shel Stromquist inspired our work on Civic Labors.
Q: In the same vein, Colin Gordon contributes a chapter in which he says that he writes for both scholarly journals and online publications that are accessible to all, not just academics. Faculty members are expected to regularly publish in peer-reviewed journals -- any advice for academics who want to write blog posts or articles online but are afraid it might divert their time and efforts from their scholarly research?
A: As Colin notes, he solved this problem in part by pursuing work aimed at popular audiences after having secured professional legitimacy and tenure by publishing successful scholarly works. People in such relatively privileged positions can also play an important role in reshaping the rules for tenure and promotion to include alternative forms of publication, a process already under way in some departments as a result of the rise of digital humanities and public history. It's worth noting, however, that Colin has been an engaged scholar throughout his academic career, going back to his days as a graduate student. So while a scholar's level and degree of public engagement will wax and wane, depending on personal and professional circumstances, these are commitments that often have deeper roots and are not tied to career advancement. At the end of the day, many academics will simply have to accept that pursuing engaged scholarship often comes with limited professional rewards and may even entail some risks, as many contributors to Civic Labors demonstrate.
Q: Many colleges and universities are experiencing a vocal wave of student activism and protest on campus. Some faculty members might be reticent to join or support student efforts, especially if they are not tenured and feel pressure from the administration to stay away. How can these faculty members get involved?
A: Here again, tenured professors have a wonderful opportunity to show leadership and to use their relative privileges in the service of both students and their junior colleagues. Scholar-activism is a risky business, especially for the growing number of contingent faculty who lack any job security. That said, faculty of all ranks often can be most helpful by supporting student activists, if for no other reason than to acknowledge what those students bring to the table. Building a democratic community means developing democratic capacity on the part of all community members, especially those with the least well-established power. Sometimes, in activism as in teaching, the best role we can play is the "guide on the side," nurturing and empowering students as they develop confidence in their own capacity as agents of change. In addition, faculty can model engagement by developing campaigns, perhaps in collaboration with student organizations, on important issues such as free expression or living wages for campus workers.
Q: In one chapter, Susan Roth Breitzer writes that graduate student unions not only offer stability for grad students, but also help them later in their academic careers. But despite the National Labor Relations Board's 2016 decision that private colleges must recognize graduate student unions, many grad students at public universities are still battling administrations and state officials to create their own unions. What guidance would you give graduate students who are fighting that battle?
A: Susan's work on the Campaign to Organize Graduate Students (COGS), the union representing graduate employees at the University of Iowa, offers a few lessons in this regard. First, graduate employees should focus on broad points of agreement around which to organize a large and diverse coalition. In the case of COGS, one of the most important issues in the successful organizing campaign in 1996 was health insurance. At the same time, however, organizers should use the strength of academic social analysis to build an organization that not only relies on broad agreement but safeguards the concerns of people on the margins. One way COGS approached this problem was by creating a permanent unity committee, chaired by a member from an underrepresented group and charged with promoting equity and inclusiveness in the union as a whole. Over all, the history of COGS and other successful graduate employee unions suggests never abandon an organizing footing and find ways to keep the campaign mentality alive. Doing so will help to continually renew the organization by bringing up new leaders and preparing the groundwork necessary for advancement and defense.
Q: Unionization is a critical point in your book, but labor historians are not the only academics who might like to participate in engaged scholarship and bring their studies to the community. How might, say, professors of literature, chemistry, philosophy, Japanese, math -- or any discipline, really -- participate in engaged scholarship in ways other than union activism?
A: Civic Labors focuses on the tradition of engaged scholarship among labor studies scholars, but its lessons should be broadly applicable to people in other disciplines. Many of the book's contributors suggest ways that this can happen. For instance, Michael Innis-Jimenéz in "Immigrants in a Disaster Zone" writes about a project with students that in many colleges and universities could fit into the category of academic civic engagement or service learning. Such opportunities are available to faculty in all disciplines. Peter Rachleff's work spans the fine arts and the humanities, while Susan Chandler's contribution might be especially of interest to scholars in women's and gender studies. Likewise, Kim Nielsen bridges the fields of disability and labor studies, showing how engaged scholarship can produce new ideas and paths for action. Other contributors, such as Stephanie Luce and Colin Gordon, provide examples of policy work that can be done from a variety of different disciplinary homes. Popular education, the focus of Jennifer Sherer's and Emily L. B. Twarog's essays, is by no means the claim solely of labor and working-class scholars. Finally, Joe McCartin's history of building Georgetown's Kalmanovitz Initiative (a center focused on labor and poverty) should prove instructive for anyone interested in marshaling college or university resources to partner with social justice movements.
Civic Labors emphasizes at least three points for all engaged scholars. First, recognize universities or colleges (and the communities of which they are a part) as places with power relationships. Next, locate where you, as a scholar and community member, sit within these various power relationships. Finally, be willing to take committed action in support of people with the least power, even if doing so means hard, anonymous and risky work. Courses that engage directly with the local communities -- sometimes also referred to as "community-based learning" -- come from all disciplines. They must be organized so that community members are truly co-designers of these courses.