You have /5 articles left.
Sign up for a free account or log in.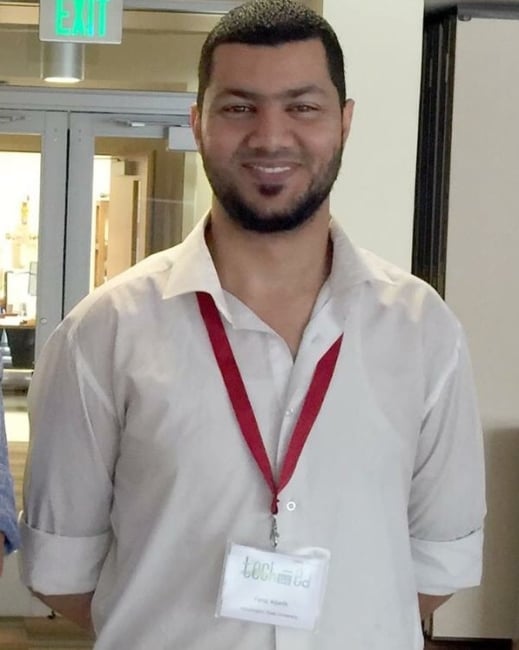 Faraj Aljarih is a translator, a journalist and a student in a master's program focused on teaching English to speakers of other languages at Washington State University. He loves the small town of Pullman, Wash., which is about the same size as his hometown of Saluq, Libya, and which he says has been incredibly welcoming and supportive. After the election of President Trump, someone left a bouquet of flowers at the door to the local mosque, and an open house hosted by the mosque in early December was packed with local residents wanting to show their support.
"Everybody was there, everybody on the same message, we are stronger together. This is the message we received," Aljarih said.
"I feel at home here."
Aljarih hadn't planned to leave Pullman any time soon -- not for good, at least -- but he might have to. After three years away, he'd like to return to Libya this summer to see his family and to get married. But now that Trump has ordered a ban on entry into the U.S. for nationals of seven Muslim-majority countries, including Libya, Aljarih is not sure whether he'd be able to get a visa to come back to the U.S. if he leaves. The entry ban is for 90 days, but it's unclear if that will be extended.
"I'm not receiving any money from the U.S. government," said Aljarih, whose studies are funded by a Libyan government scholarship program that supports the education of around 1,100 students in the U.S. and 850 in Canada. "My government supports me and everything works very well, but with this ban I'm not sure if I can continue. I will finish my master's degree, but I am uncertain if I will be able to come back to do my Ph.D. because of this ban. If this continues, I may do my Ph.D. in Canada."
"I haven't seen my family in three years," Aljarih said. "If I want to see them, I will not be able to come back here, and if I want to stay here, I will not be able to see my family."
International students at U.S. universities are among those who suddenly found their professional and personal choices circumscribed by the executive order signed by Trump last week barring entry into the U.S. for nationals of Iran, Iraq, Libya, Somalia, Sudan, Syria and Yemen. Some students and scholars caught outside the U.S. at the time the order was signed found themselves stuck abroad, unable to resume their jobs or degree programs, but even those whose circumstances were not so immediately dire have found their choices constrained for reasons related to their national origin.
Data from the Institute of International Education show that about 17,000 students in the U.S. come from the seven countries affected by the entry ban, including about 12,000 from Iran, 1,900 from Iraq and 1,500 from Libya. Under the executive order's terms, current students from the countries covered by the ban don't have to leave the country, but Department of Homeland Security guidance states that student visa holders "who were out of the country at the time of the signing, or who travel out of the country and attempt to return, will not be allowed to return at this time." Issuance of new visas for nationals of the seven affected countries has also been suspended.
The executive order barring entry from certain countries -- which has been criticized by many civil rights groups as a pretext for banning the entry of Muslims -- was justified by the Trump administration as a terrorism-fighting measure. During the campaign Trump pledged to temporarily suspend visa processing from regions "that have a history of exporting terrorism" and put new, more "extreme vetting" processes in place.
"I've already been extremely vetted," said Rania Chafint, a junior studying political science at Montana State University with dual Greek and Libyan citizenship.
Chafint, who was born and raised in Benghazi, said it took her four months to get a visa to come to the U.S. Because the U.S. embassy in Libya was closed, she flew to Cairo, where she stayed for the four-month duration. (The U.S. embassy in Tripoli has been closed since July 2014, due to violence between Libyan militias.)
"The process includes multiple interviews, and they needed paperwork. I couldn't do it from home. I needed to be within the city so when they called me I'd be able to provide whatever they needed. Also, they held onto my passport for as long as the process was ongoing," Chafint said.
When the executive order barring entry for Libyans was announced, Chafint said she felt like she was "being blamed for the actions of a few. And I felt betrayed, because I worked really hard to get this visa that is now compromised. I guess I felt legally protected, but now not so much."
As a dual Greek-Libyan citizen, Chafint should be allowed to re-enter the U.S.: the latest guidance from the Homeland Security department states that dual nationals who are citizens of a nonbanned country can enter, with the caveat that they will treated according to the country whose passport they present. But, as Chafint pointed out, guidance for dual nationals has been inconsistent in the initial rollout of the order. "Even if they did confirm that I could come back into the country, that's still a reversal from what they first said. And so I wouldn't be confident. I guess that's the best way I can put it."
Chafint said that in talking to students from other countries that aren't on the list of seven banned countries, "they said that they were worried too about what this means to them."
"I think international students are realizing that their status in the U.S. is more fragile than they had thought it would be."