You have /5 articles left.
Sign up for a free account or log in.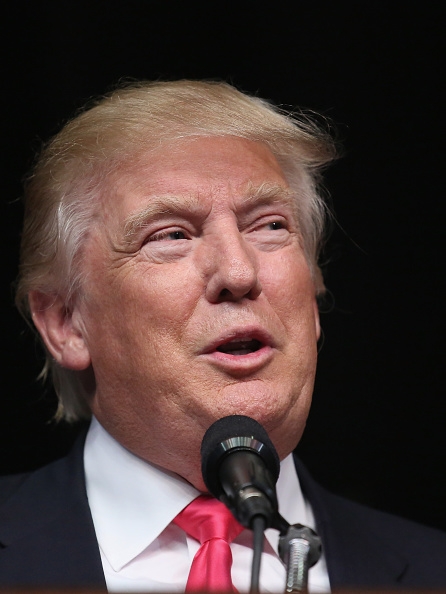 Donald J. Trump on Monday proposed putting in place an ideological test for admission to the United States and temporarily suspending visa processing from regions "that have a history of exporting terrorism."
In a speech at Youngstown State University on the threats posed by Islamic terrorism, the Republican candidate for president said the U.S. should only admit "those who share our values and respect our people."
"In the Cold War we had an ideological screening test," said Trump. "The time is overdue to develop a new screening test for the threats we face today. I call it extreme vetting. I call it extreme, extreme vetting."
"In addition to screening out all members of the sympathizers of terrorist groups, we must also screen out any who have hostile attitudes toward our country or its principles or who believe that sharia law should supplant American law. Those who do not believe in our Constitution or who support bigotry and hatred will not be admitted for immigration into our country. Only those who we expect to flourish in our country and to embrace a tolerant American society should be issued visas."
The candidate said that the U.S. would need to temporarily suspend immigration from certain regions until new screening procedures are in place. He said that he would ask the Departments of Homeland Security and State to "identify a list of regions where adequate screening cannot take place. There are many such regions. We will stop processing visas from those areas until such time as it is deemed safe to resume based on new circumstances or new procedures."
The Trump campaign did not respond to questions Monday about whether both immigrant and nonimmigrant visas -- the latter category would include visas for students and visiting scholars -- would be included in these proposals. But the candidate cited a need to control the numbers of permanent immigrants from the Middle East as well as temporary visitors and guest workers in outlining his screening plans.
Any suspension in the processing of student and other nonimmigrant visas in the Middle East would have major implications for higher education. The most recent data from the Institute of International Education show that the U.S. hosted 103,307 students from the Middle East and North Africa in the academic year 2014-15.
Monday's speech was the latest iteration of Trump's evolving proposals on immigration. He kicked off his campaign last summer by stating plans to make Mexico pay for a wall on the U.S.-Mexico border and describing some Mexican immigrants as criminals and rapists.
In December, following terrorist attacks in San Bernardino, Calif., and Paris, Trump called for a temporary ban on all Muslims entering the U.S., citing the "great hatred towards Americans by large segments of the Muslim population." (A national co-chair for Trump's campaign, Sam Clovis, told Inside Higher Ed in December that the proposed ban would indeed apply to Muslim international students.)
"To the extent these vague proposals are another way to exclude Muslims, we think they are unconstitutional," Hina Shamsi, the director of the National Security Project at the American Civil Liberties Union, said in response to Trump's speech on Monday.
"These proposals raise significant legal, policy and practical concerns," Shamsi continued. "They raise First Amendment concerns, to the extent that they seek to exclude people based on their religious viewpoint. They also raise equal protection and due process concerns. And even if those concerns did not exist, which of course they do, as a practical matter it's hard to see how the government would seek to define American values that serve as a litmus test."
"Any such proposal in fact would be profoundly un-American," Shamsi said.
NAFSA: Association of International Educators declined to comment immediately on Trump's speech Monday afternoon. But others pointed out that when it comes to foreign students -- who come to the U.S. on F, J or M nonimmigrant visas -- there are already processes in place to vet them before they come and to monitor their activities after they arrive through the Student and Exchange Visitor Information System. The vetting, however, focuses on possible security risks posed by an individual -- not a person's belief in the U.S. Constitution.
"We already have in place background checks; they go through interviews. It's not perfect, but it's really much more robust than ever before," said Neil G. Ruiz, the executive director of George Washington University's Center for Law, Economics and Finance.
"I don't know how extreme we want to go," said Ruiz, who described Trump's proposals as posing a threat to the ability of American universities to enroll the best students they find from around the globe.
"A blanket ideological litmus test is not necessary for the J-1 visa exchange programs in particular," said Ilir Zherka, the executive director of the Alliance for International Exchange, which is made up of about 90 member organizations that are involved in academic or cultural exchanges. The J-1 visa program includes a wide range of subcategories, for everyone from camp counselors to visiting professors and research scholars.
"There's significant screening as is," Zherka said. "Someone who's coming to the United States as a J-1 visa participant has applied and been screened in country, been interviewed in country, has been sponsored by an American organization and is monitored and supported while in the United States."
Zherka said that to the extent Trump's proposals on ideological litmus tests or suspensions of visa processing apply to the J-1 exchange program, the Alliance for International Exchange opposes them. "Our view is any broad-brush approaches to visa suspension or requirements are not needed and are counterproductive," he said. "If we identify countries as places where there are significant challenges, based on our history, the smart approach is to try to increase exchanges between peoples of those countries and the United States" in ways that protect both the U.S. and the visa participants.
Trump's speech on Monday did not reference international students and scholars specifically, but he has previously tweeted about the positive contributions foreign students can make to the U.S.