You have /5 articles left.
Sign up for a free account or log in.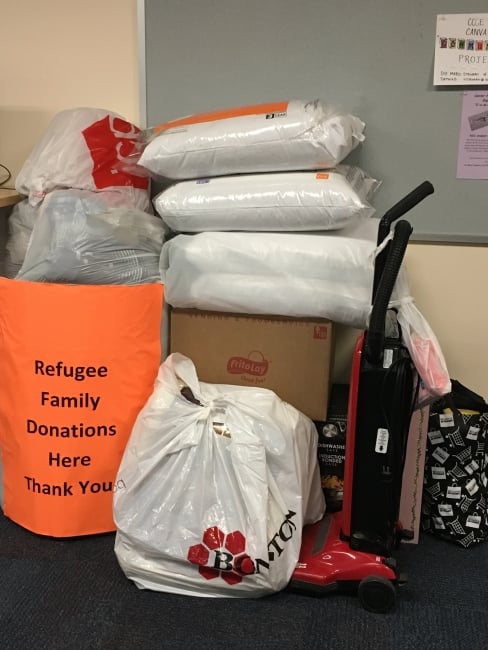 Faculty members, staff and students at Northampton Community College in Pennsylvania's Lehigh Valley have everything they need to help resettle a newly arrived refugee family. Everything but the family.
The Northampton group has raised thousands of dollars and collected in donations all the items on a list provided to them by a local refugee resettlement agency -- a kitchen table and chairs, dishes and silverware, pots and pans, beds, blankets, pillows, and lamps -- and some that weren't (televisions, comforters and couches, chairs and end tables). They'd identified a lead on apartments through a friend of a father of a former student. A professor of political science and the coordinator of the college's global studies program, Kiki Anastasakos, had written the refugee resettlement project into her syllabi as a service learning requirement for two of her classes.
Having worked through the fall to prepare, they'd told the agency, Bethany Christian Services, they'd be ready to sponsor a family any time after Feb. 1. On Jan. 27 President Trump signed an executive order suspending entry of all refugees for 120 days, and the admission of all refugees from Syria indefinitely. The order also cut the number of refugees the U.S. would admit in fiscal year 2017 to 50,000 -- less than half the target of 110,000 refugees set by the Obama administration -- and, in an action that has had broad effects for colleges and universities, barred entry by nationals from seven Muslim-majority countries.
"We were ready to go yesterday," Charlie Rinehimer, the head of Northampton's biology department, said Feb. 2, "but this beat us to it."
Enforcement of the entry ban has been temporarily halted by federal courts, and, as the Trump administration considers its legal options -- including the option of issuing a brand-new order -- it remains unclear whether the group at Northampton will be able to sponsor a family sooner rather than later after all. In the meantime the donations they have collected are sitting in storage or at various people's homes.
It's frequently churches and civic groups that sponsor refugee families, but some colleges have as well. Rinehimer had the idea for Northampton after hearing an NPR interview with Diya Abdo, a professor of English at Guilford College and the founder of the Every Campus a Refuge project, which calls on every campus to host a newly arrived refugee family and assist them in resettlement.
Guilford, a Quaker college in North Carolina, has hosted a Ugandan man and two Syrian families. It is currently hosting an 11-member family from Africa. (Abdo said for confidentiality reasons she can't be more specific while the family lives on campus.)
"In a nutshell, Guilford provides free rent and utilities, Wi-Fi, and our own communities provide everything else," said Abdo.
For the current 11-member family, she said, "Every Campus a Refuge paid less than $300 out of its funds to completely furnish the house from top to bottom with all of the needs of all the children. It all came out of donations, either monetary or in kind." That doesn't just mean furniture, she added: that includes car seats, strollers, bicycles, even groceries for a couple of weeks.
Abdo said a proposed minor at Guilford growing out of the Every Campus a Refuge project is pending approval by the college's curriculum committee. The 16-credit minor includes two required, two-credit courses in which students receive training from partnering refugee resettlement agencies and volunteer for 40 hours with recently resettled families, participate in 10-15 hours of Skype conversations with Syrian refugees, study topics related to forced displacement and immigration, and complete an advocacy, problem-solving or other type of project related to the Every Campus a Refuge initiative. In addition to the core courses, students enrolled in the proposed minor would also select one of several courses in three areas: on causes of forced displacement (students can, for example, take a class on genocide), on voices and perspectives of immigrants and refugees (such as a course on immigrant and refugee literature), and on community organizing and advocacy (such as an introduction to civic engagement class).
Abdo said she was still processing its effects of the executive order directing a temporary entry ban on refugees (enforcement of which, again, has since been halted temporarily by the courts). "I want to say that I think it can have the effect of making people want to be even more involved, want to advocate more, want to volunteer more, want to donate more," she said.
"If refugee resettlement agencies have their funds decreased because of this, then I think institutions of higher education can play a really big role. We have resources: they were needed before, they're even more needed now. We can provide housing, we can provide volunteers, we can provide skills -- all of those things they would need us to provide," Abdo said.
Another college that has dedicated housing space to refugee families is Rollins College, in Florida, which hosted a three-member family from Colombia in a two-bedroom apartment on its campus last fall. That family moved to an apartment of their own at the end of last semester.
"In terms of status of the initiative here at Rollins, we are in a bit of a holding pattern because of the recent executive order and have not received a new family," said Lauren Bradley, a Rollins spokeswoman. "Our president and campus community are very much in support of this program, and we have everything in place so that when another family is available we are prepared to house and provide for them under our agreement with Catholic Charities [of Central Florida]," its partner in the project.
Agnes Scott College, a women's college in Georgia, has made a house available and committed to providing six months of free housing for one to two refugee families but has not yet had a family arrive. "My team furnished the entire duplex. It's completely ready to go. We just need a family," said Leila Chreiteh, a senior human rights major at the college and the director of the Every Campus a Refuge campaign there.
"We're following the International Rescue Committee's lead and waiting for them to match us with a family," Chreiteh said. "We were matched with a Syrian family, but their tickets were canceled in light of the immigration executive order."
At Northampton, in contrast to the other efforts, which are all at private institutions, the project to aid a refugee family is not a formal college-sponsored project, but rather an initiative by individual faculty and staff members who have led private fund-raising efforts. Marla Sell, the site director for Bethany Christian Services' Allentown, Pa., office, said Northampton is the first college the local agency office has worked with in terms of co-sponsoring a family. What that entails, she said, is "working together with us to provide all the services that we normally would provide to a refugee. Housing is a big one, housing and all the donations that go along with housing, providing ESL classes or tutors, helping them get hooked up with a doctor, with a dentist, with schools for children, with jobs."
Sell said that Bethany has rebooked travel for families whose original travel had to be canceled due to the executive order but has scheduled the arrivals of new families yet. So Northampton is still waiting for news of an arriving family. The phrase Deb Bohr, the director of the college's Center for Civic and Community Engagement, uses is that the project is "on hold."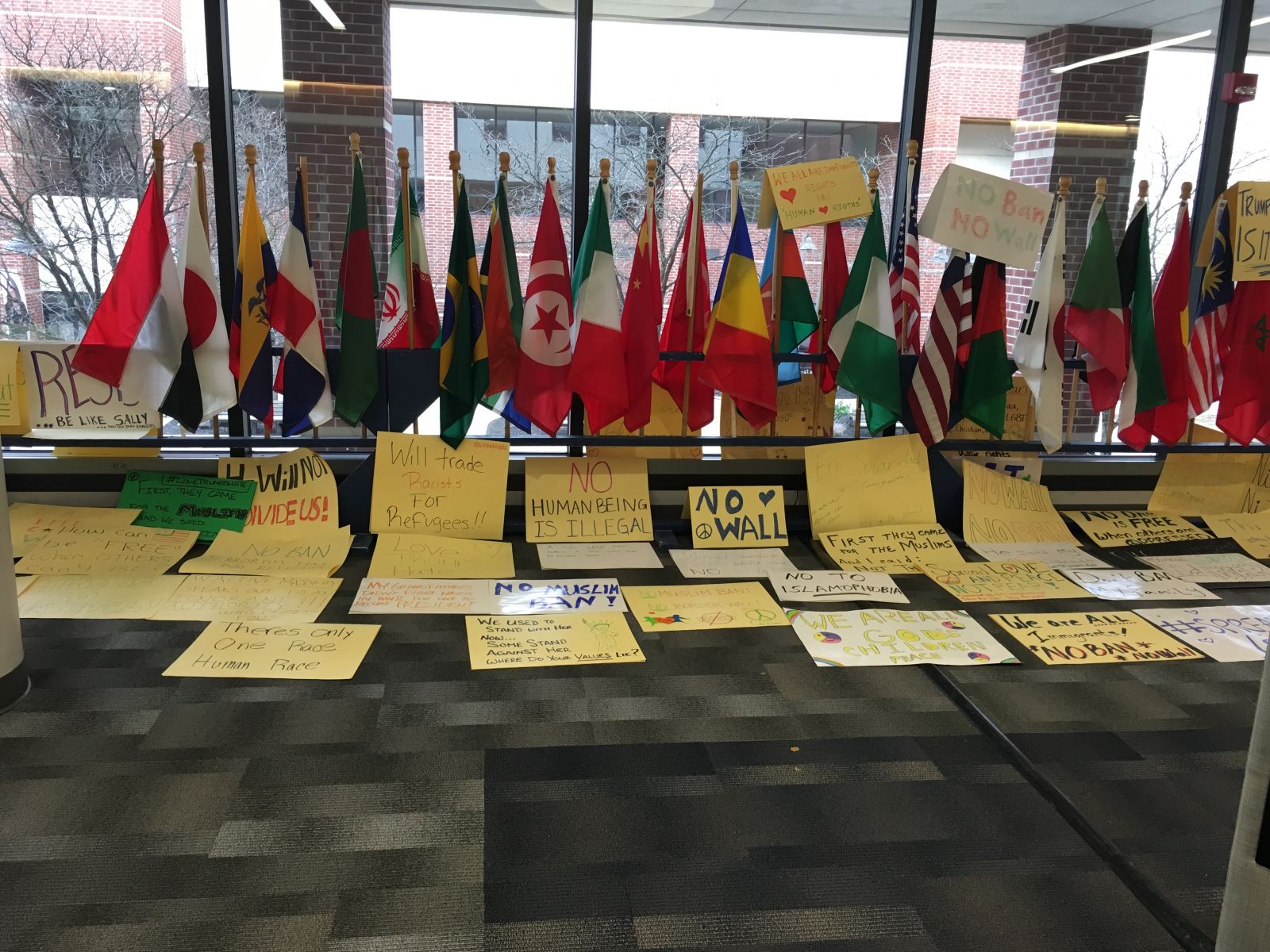 The week after the executive order was signed -- Trump signed it late on a Friday afternoon -- some students, faculty and staff staged a silent sit-in. The Monday immediately after, Bohr, who has been organizing the donations for the family, reported that "students were coming in and giving me money and saying, 'I'm doing this because of what happened this past weekend.' I explained to everybody we're on hold right now, just so you know. They said, 'No, no, I want to give it to you.'"
"It's a disappointment," Bohr said of the delay, "but we're moving forward."