The President's Indictment
An alleged kickback scheme leaves a small Christian college in unusual territory.
On Sept. 27, 2013, Ecclesia College President Oren Paris III signed an agreement accepting $200,000 from the Arkansas General Improvement Fund -- $200,000 that had been directed to the college by Republican State Senator Jonathan E. Woods, federal prosecutors say.
The same September day, Ecclesia College cut a check for $50,000 to a consulting firm that had been established the day before by Randell G. Shelton Jr., a friend of both Paris and Woods. Shelton took the check and used it as an initial deposit to open a bank account for the consulting business. Then four days later, on Oct. 1, Shelton transferred $40,000 from the newly opened bank account to a personal account owned by the state senator, Woods.
Also on Oct. 1, Woods withdrew $33,000 from his personal account to buy a cashier's check. The only funds in the account at the time had come from the consulting firm's account, which was only filled with money from Ecclesia College.
Shelton issued a check to himself on the same day from the consulting firm's account for $1,035.62, writing that it was a reimbursement for gas expenses. Two days later, Ecclesia College's Board of Governance approved a $25,000 bonus payment to its president, Paris. The board approved the bonus on the same day the college deposited the state General Improvement Fund money into its own account.
That series of events is described in an indictment issued March 1 of this year against Woods -- who did not run for re-election past the start of 2017 -- Paris and Shelton. A similar series of transfers took place numerous times between September 2013 and October 2015, according to the indictment. A federal grand jury charged the three men with multiple counts of mail and wire fraud in the alleged kickback scheme. The college was not named in the indictment.
Paris paid a total of $267,500 to Shelton's consulting firm over the two years without the knowledge of Ecclesia's Board of Governance, according to the indictment. He also had the college hire a secretary in the summer of 2013 at the behest of Woods, paying her a salary of $43,000 and increasing her bonus from $4,000 to $7,000 during the hiring process, the charging document alleges.
It's rare for a college president to face such a serious set of charges. But Paris has not signaled any intent to leave Ecclesia, a work-learning interdenominational Christian college founded by his parents. Paris, his mother and his brother-in-law are all on the Board of Governance. His sister, Christian singer-songwriter Twila Paris, is on the college's Board of Regents.
On Thursday the Board of Governance issued a statement backing Paris, writing that while the charges should be taken seriously, its members believe the president acted with integrity and is a "godly leader."
"We are in unanimous agreement that Dr. Paris should continue in his mission as president of Ecclesia College through these challenging times," said the statement, which is not signed by Oren Paris but is signed by his mother and brother-in-law. "And to Oren, let us remind him what the Book of Isaiah tells us: 'No weapon formed against you will succeed, and you will refute any accusation raised against you in court. This is the heritage of the Lord's servants, and their righteousness is from Me. This is the Lord's declaration.'"
An attorney for Woods, Patrick Benca, issued a statement Friday on behalf of the former state senator (pictured below) denying wrongdoing.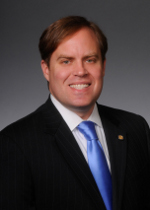 "Senator Woods is innocent of any wrongdoing," it said. "I had faith that the investigating agencies would draw the correct conclusion that Senator Woods has committed no crime. Unfortunately, the indictment combines and selects unrelated events and conversations in an attempt to connect dots that are not linked and portrays standard grant request procedures, followed by all legislators, as somehow unique and illicit. Where evidence does not exist, gross assumptions have been inserted to weave a narrative that ensures a biased, slanted and misrepresented ending. Senator Woods would never abuse the trust and position given to him by his constituents. I am confident that once all of the facts are presented to a jury of Senator Woods's peers that he will be found innocent of all charges brought against him."
The director of Ecclesia's Office of Communications, Angie Snyder, did not return a request for additional comment or interview Friday. But talk of Paris's involvement in a kickback scheme has been circulating for months, particularly after former Republican State Representative Micah Neal pleaded guilty in January to taking $38,000 in bribes for steering money from the state's General Improvement Fund to two nonprofit organizations based in Fayetteville and Springdale. Ecclesia College is located in Springdale.
Paris issued a statement Jan. 5 after Neal's guilty plea stating that no one associated with Ecclesia College had provided money to legislators.
"We have never been a party to any agreements to funnel money to any state Legislature," the statement said. "At the end of the day, I am secure in the knowledge that there has been no wrongdoing either on my part or the school's part, and any rumors, innuendo or any future news reports that say otherwise are simply untruthful."
But the indictment clearly names Paris. It notes that he received more than $300,000 in compensation from the nonprofit corporation that operates the college located in Springdale between June 1, 2012, and May 31, 2016, and that his family members and their spouses have received more than $1 million in compensation from it during that same time period. The kickback scheme's purpose was for Paris to enrich himself, his family and the college by paying bribes to Woods and Neal through Shelton in exchange for the legislators securing money for the college, according to the indictment.
The scheme was designed for Woods and Neal to enrich themselves by soliciting and accepting bribes in exchange for using their official positions as legislators to steer money, the indictment says. It says that Shelton was intended to make money by keeping a portion of bribe funds before passing them on and that an unnamed businessman was intended to make money by paying bribes to legislators in exchange for money being directed to other organizations.
The indictment outlines a long involvement between the college president, Paris, and the state senator, Woods. It details plans by Paris in January 2013 to call Woods to talk about maximizing the college's participation in the Arkansas General Improvement Fund. That fund receives money whenever the state runs a budget surplus. The money is then typically routed to economic development districts across the state to be used on local projects.
In April 2013 Paris sent a text message to Woods with talking points intended to convince lawmakers to support Ecclesia.
"Good selling point to conservative legislators is that [the college] produces graduates that are conservative voters," the text message said, according to the indictment. "All state and secular colleges produce vast majority liberal voters."
Woods replied that he agreed, the indictment said.
In early August of that year, Ecclesia was preparing a General Improvement Fund grant application asking for $105,000, the indictment says. Paris signed a grant application Aug. 9, 2013, that requested a higher amount, $130,000, to purchase a 23-acre parcel of land with a student residence hall adjacent to the college's property. The purchase was needed to provide space for incoming resident students starting in the fall of 2013, the application said.
On Aug. 19, Woods sent a text message to Paris telling him to increase the amount of money requested in the grant to $200,000, according to the federal indictment. Paris did so. About a month later, he was signing an agreement that had Ecclesia receiving $200,000.
The indictment also alleges that Woods and Neal steered $200,000 in General Improvement Fund money to Ecclesia in 2014 after another organization returned $400,000 from the fund. Ecclesia filed a grant application that said the money would go toward a $500,000 project to buy 25.5 acres for "much-needed" residence and work-learning facilities.
"Woods previously had advised Neal that Woods had an arrangement with Paris whereby Paris would pay Woods a percentage of funds Woods obtained for [the college]," the indictment says.
Ecclesia used a total of almost $700,000 in taxpayer money to buy nearly 50 acres, according to a January report in the Northwest Arkansas Democrat Gazette. The local building department showed no new buildings or renovations occurring on the properties, the newspaper reported. Local reports also said that properties purchased in 2013 were purchased at prices well above appraised values and that the college already owned more than 200 acres.
The college enrolled 283 students in the fall of 2015, all but three of them undergraduates, according to federal data. Its accreditor, the Association for Biblical Higher Education Commission on Accreditation, listed its 2016 head count at 285. The college lists a dozen bachelor's degrees, four associate's degrees, a TESL certificate and a master's of Christian leadership as its offerings. Many are available online.
The federal indictment alleges a long series of deposits in the chain between Ecclesia, Shelton, Woods and Neal. In addition to the $200,000 grants, it lists additional instances where Ecclesia received state money, including sums as small as $30,000 and as large as $91,500.
Woods also sponsored legislation designed to direct state funding to work colleges in Arkansas. A bill passed at a time when Ecclesia was the only work college in the state.
Money Woods directed went through the Northwest Arkansas Economic Development District. The district stopped acting on Ecclesia's grant applications after being served with a grand jury subpoena in October 2015.
Between September 2013 and October 2015, Ecclesia paid Shelton a total of $267,500, according to the indictment. Paris authorized the payments but did not inform Ecclesia's Board of Governance, it says. He was interviewed by federal agents about the payments in late October 2015, at which point he made a report to the Board of Governance. That report allegedly said that the consulting firm's activities had positioned Ecclesia with large donors in a way that would have the college bringing in millions of dollars in the future.
Little information is publicly available about Ecclesia College's finances, because it does not file federal 990 tax forms. It is part of Ecclesia Inc., an organization that does not file tax forms with the IRS because it is listed as a church. It lists itself as part of an Ecclesia Network that includes operations called Strategic Missions, Ecclesia Relief and Development, Bibles for the Nations, Twila Paris Productions, Ecclesia Children's Ministries, and Happy Few Unlimited.
Ecclesia College is accredited by the Association for Biblical Higher Education Commission on Accreditation, an accrediting agency recognized by the U.S. Department of Education and the Council for Higher Education Accreditation that specializes in religious institutions. Ecclesia was last reviewed in 2011 and is scheduled for its next commission review in 2020.
Higher education leadership experts said the college is in an extremely unusual situation. College presidents are not typically the subject of federal indictments -- and those that are facing serious charges are typically expected to take a leave of absence or step down. For example, the State University of New York Polytechnic Institute suspended former president and CEO Alain Kaloyeros without pay in 2016 amid allegations of bid rigging for economic development projects. Kaloyeros resigned shortly afterward. He has recently argued that SUNY's nonprofit development arms should cover his legal bills as he fights federal and state corruption charges.
The optics of having an active president under investigation can be damaging for an institution as it tries to carry out business as usual or recruit students. A leave of absence can also help a president who needs time to prepare a legal defense, said Kent John Chabotar, former president of Guilford College and founding partner of the higher education consulting firm MPK&D.
Boards may hold off on terminating a president until guilt is proven, he said. But it's often best for everyone if presidents take a leave of absence, at the very least.
"Some boards are more strict about this than others," Chabotar said. "I just think best practice is if somebody is indicted, they're put on a leave of absence."
Ecclesia is also rare in that it does not report its financials publicly and it is closely related to a single family. That can raise questions about institutional oversight.
"In the greater field of higher education, we don't have scandals like this," said Raymond D. Cotton, a partner at the Washington law firm Nelson Mullins Riley & Scarborough LLP who specializes in higher education law. "Why? It's because we have a system of checks and balances, which we don't have here."
You may also be interested in...
Today's News from Inside Higher Ed
Inside Higher Ed's Quick Takes