You have /5 articles left.
Sign up for a free account or log in.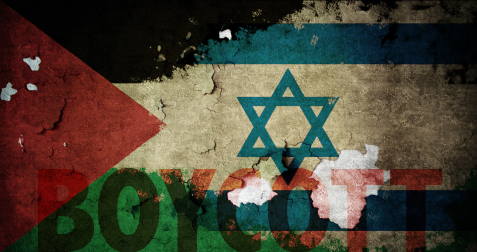 A new law that bars foreign proponents of boycotts of Israel from entering the country is prompting concerns among scholars who hold a range of views on the boycott, divestment and sanctions movement against the state.
The new law -- technically an amendment -- prohibits the granting of a visa or residency permit to a non-Israeli citizen or permanent resident "if he, [or] the organization or entity for which he works, has knowingly issued a public call to impose a boycott on the state of Israel" or "has committed to participate in such a boycott," according to a translation of key parts of the text from the Association for Civil Rights in Israel. Using a definition from a 2011 Israeli law that made advocacy for boycotts a civil offense, the amendment applies to academic, cultural and economic boycotts of Israel and areas under its control, including the West Bank.
Israeli officials have justified the ban as intended to keep out advocates of BDS who would seek to damage or delegitimize the state. Supporters of the BDS movement describe it as a nonviolent campaign to put international pressure on Israel in support of Palestinians' rights.
The new law comes as support for the BDS movement -- and the movement to boycott Israeli academic institutions in particular -- has grown in American academe. It also comes against the backdrop of the U.S. government's ban on entry for nationals of six Muslim-majority nations and President Trump's proposals to impose an ideological screening test for visitors to the U.S.
"This is introducing a political litmus test for anyone entering Israel," said Laurie A. Brand, the chair of the Middle East Studies Association's Committee on Academic Freedom and the Robert Grandford Wright Professor of International Relations and Middle East Studies at the University of Southern California, where she directs the Middle East studies program. "If people have expressed support for a boycott, that would lead to a denial of a visa or residence. We're concerned about this as a violation of free speech, freedom of conscience and specifically academic freedom."
Brand continued, "It's also really important to stress that there are many different forms of boycott out there, but this seems to put any sort of adoption or promotion of any kind of boycott into one basket. Someone who is calling for not buying products that are produced in a settlement is in the same category and subject to the same prohibition on travel or residence as someone who is calling for a broader sort of boycott."
Opposition to the law has come from scholars with all sorts of positions on academic boycotts. Ilan Troen, the president of the Association for Israel Studies, said the group opposes the law "even as we are opposed to all forms of boycotting ideas and carriers of ideas."
"Inhibiting the movement of scholars is fundamentally contrary to the values of an enlightened academy," Troen, the Stoll Family Chair in Israel Studies at Brandeis University, said via email. "There are colleagues in MESA [the Middle East Studies Association] who would boycott all Israelis. Although the Israeli legislation is apparently more discriminating, it is no less obnoxious."
"This law is a serious mistake," said Cary Nelson, a leading opponent of the academic boycott of Israel and emeritus professor of English at the University of Illinois at Urbana-Champaign. "Among those it could sweep into its reach are faculty members who support a two-state solution and believe in the legitimacy of a Jewish state but who also feel a boycott of West Bank products could promote the companion need for a Palestinian state. Whether one agrees or disagrees with them, Israel should honor their academic freedom, whereas this law dishonors it. There are faculty for whom Israel should consider barring entry, namely those who recruit for Hamas or other terrorist organizations, but not those who simply endorse BDS. Free speech in a democratic society has to encompass that right."
Nadia Abu El-Haj, a professor of anthropology at Barnard College of Columbia University and co-director of Columbia's Center for Palestine Studies, said the law "will have serious consequences for Palestine studies." Abu El-Haj is a supporter of the boycott of Israeli academic institutions and was among the leaders in the effort to push forward a resolution in the American Anthropological Association endorsing it (the resolution was narrowly rejected by the membership).
"Most international scholars who work on Palestine are signatories to the boycott -- and that says a lot about how experts understand the situation on the ground, including the most effective strategy for resisting the Israeli state," said Abu El-Haj. "I have a colleague who left yesterday to attend a conference at Birzeit [University, in the West Bank] and who may well be turned around at the Tel Aviv airport. That is a fate that many a scholar -- and most especially, Palestinian scholars abroad -- will face from here on out."
"It is now illegal for me to cross the Israeli border," Abu El-Haj said. "I will not be able to go to Palestine to visit family, to attend a conference or to do research. That's a serious matter -- especially for someone who has done nothing but support a nonviolent form of resistance to an extremely violent regime. If one cannot legitimately engage in even nonviolent resistance, what is left? Do we just stay silent and prioritize our academic careers at the expense of broader -- and far more important -- political and ethical commitments? That is not a choice I am willing to make."
Cynthia Franklin, a professor of English at the University of Hawaii at Manoa and a member of the organizing collective for the U.S. Campaign for the Academic and Cultural Boycott of Israel, said she is planning to teach at Al-Quds University, a Palestinian institution in the West Bank, next spring.
"I'm wondering if I'll be able to go. At this point, it's wait and see how they go about enforcing this," she said. "I've been three times in the past four or five years. Each time I'm very fearful going through the airport, because I am easily searchable and identifiable with USACBI. This isn't a new problem; it's just an intensification of an existing problem."
A New York Times article on the new law noted that Israel has turned away travelers for political reasons in the past. In February the Times reported that Israel had denied a work visa for a researcher for Human Rights Watch on the grounds that the organization acts in the service of "Palestinian propaganda."
Adam Hanieh, a senior lecturer in development studies at the School of Oriental and African Studies at the University of London who was planning to speak at Birzeit University was denied entry to Israel in September for unspecified "public security or public safety or public order considerations." Birzeit decried the denial as "part of a systematic policy of denial of entry to international academics, professionals and activists intending to visit Palestine." Israel famously blocked the star academic and linguist Noam Chomsky -- a critic of Israel's policies -- from crossing into the West Bank from Jordan in 2010.
Supporters of the law banning entry to boycotters described it as a needed step to defend Israel from those who would hurt the state. The Washington Post quoted Naftali Bennett, the leader of the right-wing Jewish Home Party and Israel's education minister, describing the measure as "necessary and logical." Bennett said that "it lets Israel defend itself from those who wish it ill."
Itai Bardov, a spokesman for the Israeli embassy in Washington, in an interview with Inside Higher Ed distinguished between critics of Israeli policies and "people who are actively trying to cause real damage to Israel, whether it's economical damage, whether it's to the basic rights of Israelis. They [those who are trying to cause real damage] could fall into this category of people who would not be allowed to enter Israel."
"The BDS movement and this boycott campaign, they're not calling for a dialogue, even a critical one, with Israel," Bardov said. "They're excluding any kind of dialogue with Israelis at all. One of their objectives is to damage Israel's right to be an equal member of the international community."
Writing for the blog Legal Insurrection, Miriam Elman, an associate professor of political science at Syracuse University's Maxwell School, described the ban as "a perfectly reasonable move for Israel to prevent foreigners from abusing tourist visas in order to try to destroy Israel."
"Israel isn't particularly unique in refusing entry to people determined to be threats to the state, but the law makes such bans more transparent because individuals would no longer be refused entry into Israel on a case-by-case basis, left solely up to the discretion of the government," she wrote.
Some mainstream American Jewish organizations have raised concerns that the law is counterproductive to Israel's interests. "Every nation, of course, is entitled to regulate who can enter, and AJC, a longtime staunch friend of Israel and opponent of the BDS movement, fully sympathizes with the underlying desire to defend the legitimacy of the state of Israel," David Harris, the CEO of the American Jewish Committee, said in a statement. "Nevertheless, as history has amply shown throughout the democratic world, barring entry to otherwise qualified visitors on the basis of their political views will not by itself defeat BDS, nor will it help Israel's image as the beacon of democracy in the Middle East it is, or offer opportunities to expose them to the exciting and pulsating reality of Israel."
The Anti-Defamation League said on Twitter, "Israel's democracy, pluralism, open society serve as best defense against #BDS. New law harms rather than helps."
Franklin, the member of USACBI's leadership, said that the entry law "exposes Israel's claims to democracy as being very specious ones. It is a ban that actually extends to liberal Zionists, so I can't help but wonder if this is going to end up building support for BDS in the long run -- given how extensive the ban is, and given that it is to me in contradiction of how a democratic state operates in that it should allow for some criticism of that state -- nonviolent criticism of that state."
A group of Jewish studies scholars is also circulating an open letter opposing the law, to be distributed to press outlets today. The letter, which one organizer said had received 138 signatures as of Thursday afternoon, describes the entry law as "a further blow to the democratic foundations of Israel."
"I personally am not a supporter of BDS, but I believe that Israeli governmental support for and expansion of the settlements is an ongoing crisis and threat to peaceful resolution of the Israeli-Palestinian conflict," said Mara Benjamin, an associate professor of religion at St. Olaf College and one of the organizers of the letter. "A ban that singles out people who have undertaken no violent action, only on the basis of diverse range of political positions, will have a chilling effect on scholarship (as well as on all people who care about having a healthy democracy in the state of Israel)."
"We don't know how the law is going to be implemented, but I would say that our group contains a variety of political opinions -- probably ranging from those who are against any kind of boycott of Israel, to those who are in favor of a boycott of the settlements but not of the country as a whole, to those who are in favor of BDS altogether," said David Biale, another organizer of the letter and the Emanuel Ringelblum Distinguished Professor of Jewish History at the University of California, Davis. "Certainly there are a lot of people like myself who favor a boycott of the settlements because we think they're illegal and have said so, and that means that it is conceivable that the next time I go to the country -- such as for the World Congress of Jewish Studies this summer -- that I might not be allowed in. That is a real concern for those of us in the profession."
"The real question of this law is: Is this just for propaganda reasons for the extreme right-wingers in Israel?" Biale asked. "Maybe it is; maybe they don't intend to enforce it as it's written. They already have plenty of tools if they want to exclude people from coming in to agitate or organize. They have done that; they've excluded people in the past."
"The question is whether this law, if it really is enforced, takes it to an entirely different level, and that is to go after people like myself who are supporters of the state of Israel but happen to disagree quite vehemently about the present government," Biale said. "If you begin to do that, then I think you've kind of crossed the Rubicon, at least as far as American Jews are concerned."