You have /5 articles left.
Sign up for a free account or log in.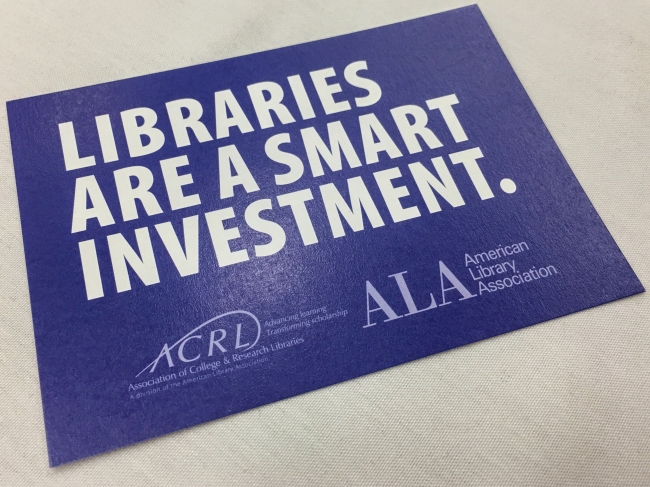 BALTIMORE -- Librarians are gearing up for a "marathon" effort to preserve federal funding for libraries, research, the arts and the humanities.
The Trump administration earlier this month outlined its first budget plan, which if enacted would bring cuts to many federal programs on which libraries rely and eliminate several independent agencies.
The budget proposes to eliminate funding for the Institute of Museum and Library Services, which manages a host of grant programs. Crucially, the institute administers the Library Services and Technology Act, a program that libraries across the country depend on to fund their own services.
The budget proposal is still just a blueprint, and in some sense it serves as a political statement from a new administration. Funding priorities will undoubtedly shift ahead of the more detailed draft, expected in May, and then again as the proposal is turned into appropriations bills this fall.
Seeking to energize its thousands of members to act before then, the Association of College and Research Libraries, a division of the American Library Association, used last week's biennial national conference to give the roughly 3,500 in attendance a crash course in advocacy. While librarians were browsing the latest in library technology, connecting with colleagues from around the world and learning how to do yoga at their desks, they also wrote to their representatives in Congress and rehearsed scripts for calling lawmakers to voice their support for library funding.
"We can't afford to view it as a political statement," Irene M. H. Herold, president of the ACRL, said in an interview about the budget plan. "We need to treat it as the serious threat that it is."
The budget cuts loomed over the conference. Keith Michael Fiels, executive director of the ALA, said the budget shows the administration is cutting library funding to upgrade the country's nuclear arsenal -- a reference to the proposed increase in defense spending.
"The scary thing is that this could actually happen if no one does anything," Fiels said. "Only a small band of brave individuals stand between this insanity and reality. Who are these brave heroes? They're us."
He, like other speakers, implored attendees to call their representatives. "This is the fight of our generation," he said.
Author Roxane Gay devoted 15 minutes of her Thursday keynote to reflect on life in the "age of American disgrace," a talk she has given in the months following last year's presidential election.
"We're at a really unexpected time where we have to defend factual information and the research that supports this information, and what's shocking is that this kind of thing is under attack from the executive branch," Gay said.
Carla D. Hayden, who was confirmed to a 10-year term as librarian of Congress in July, steered clear of politics in her closing keynote. She dodged a question about copyright law and did not address the proposed budget cuts except to say that the Library of Congress is "working on being America's library, and that can't be denied."
Hayden, a former president of the ALA, also argued that librarians can do more to promote information literacy.
"In this time of wondering who can we trust, we are the most trusted source you can get," Hayden said. "That very trustworthiness is our strength. That's what we should revel in and be confident in."
'A Mile Into a Marathon'
Librarians flocked to two "town hall" sessions to learn how they could get involved. They came armed with questions: Should we call or email our representatives? Use social media? What about marches and rallies? What if my congressman doesn't show up to town hall meetings?
Staffers from the ACRL, ALA and other associations told the librarians to gird themselves for a long fight.
"Advocacy is akin to a muscle," said Corey D. Williams, a federal lobbyist with the National Education Association. "We are a mile into a marathon. If you only exercise a muscle once, you're going to pull something. We need to get our advocacy muscles in shape."
James G. Neal, president-elect of the ALA, outlined a four-step plan for how librarians should prioritize their activism. First and foremost, he said, librarians need to focus on preserving library funding.
"No one else is," Neal, university librarian emeritus at Columbia University, said. "That's our responsibility."
From there, he said, librarians will partner with others to fight for funding for research and work-study programs, independent agencies such as the National Endowment for the Humanities and the Corporation for Public Broadcasting, and, finally, policies related to the free flow of information, including copyright law and net neutrality.
"We need to be vocal as a library community at this time," Neal said. "Public libraries, school libraries and higher education libraries are in this together, and therefore if we lose IMLS, we lose LSTA, we lose the literacy funding, that's a statement about the future of libraries. We need to own that problem collectively now. We will do the hard work in the trenches when we're working on funding for research and funding for work study, but now is the time to really represent the library community and the things we care about collectively."
That work began with postcards. Throughout the conference, attendees were encouraged to fill out postcards reading "Libraries are a smart investment" in big, bold letters on the front and send them to their representatives. The postcards included a prewritten message on the back:
"Dear [blank]. I'm an academic librarian from the state of [blank]. I'm concerned by President Trump's budget proposal to eliminate all of the small but critical federal support for libraries and our users in every community in our state. Here's why: [Blank]. Today, I am asking you to: [Blank]."
By the end of Thursday, the first full day of the conference, attendees had already filled out the 1,000 postcards that ACRL had provided, forcing a staffer to make a late-night FedEx run to print an additional 1,500.
But avoiding cuts to library funding will take more than postcards, speakers said.
"A bunch of librarians writing postcards to Washington is necessary, but it's insufficient," Neal said. "It's the people who use our libraries -- our faculty, our students, our publics -- who need to also own support for libraries."